It's official Week 5 of Triathlon Training – only two weeks to go!  Here's how the last 2 weeks have gone:
Tri Week 3: Swim 3,750 meters; Run 18.5 miles; Bike 43.0 miles
Tri Week 4: Swim 4,600 meters; Run 17.0 miles; Bike 48.0 miles
Much like I couldn't imagine the dedication a marathon plan would require when I was running 10K and 15Ks, I cannot imagine the intensity of a Half Ironman training plan!
Confession:  I am already eyeing a Half Ironman in November called Beach to Battleship in North Carolina.  :)  There's a Half Ironman in Florida in May, but I can't get ready for that while preparing for my Century bike race.  What can I say – I'm addicted to racing! 
I'm LOVING triathlon training.  I trained for a sprint triathlon in 2008 and it was a disaster (I was disqualified from the swim because I had a panic attack and quit).  My training is so different this time around:  I really learned how to swim, I have better mental strength, and my endurance is higher.   One thing I really love about triathlon training is that my body feels SO good – I don't feel beat up as I did when training for the marathon.  All this cross training is GOOD!
Onwards – breakfast: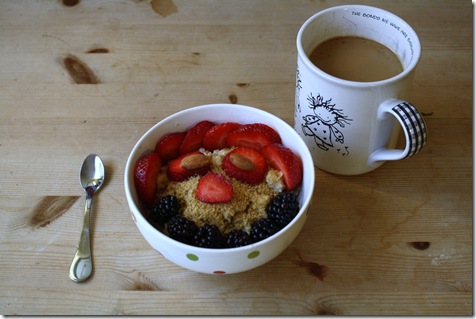 I had a bowl of smiley oatmeal.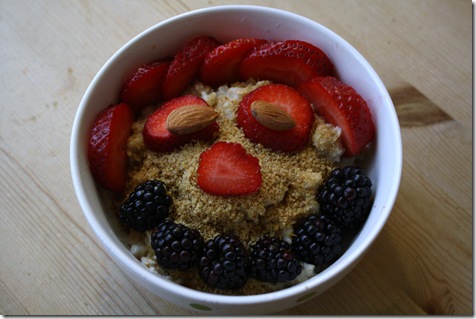 My oatmeal contained:
3/4 cup oatmeal
3/4 cup rice milk
3/4 cup water
1/2 banana
Toppings: flax, strawberries, blackberries, and two almond eyes 🙂
Everyone wish Maggie good luck today!  She's going to the vet to get her teeth cleaned – I'm nervous because they have to put her under.   I bought her this big bed yesterday so she has something soft to lay on and recover later: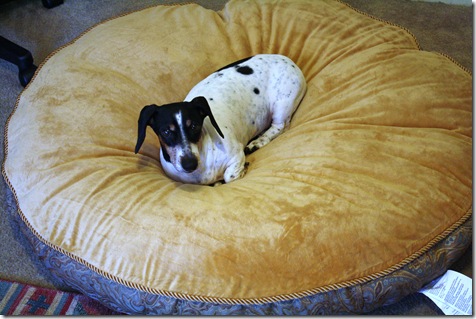 Total Immersion Giveaway
On the triathlon note, here's an awesome giveaway.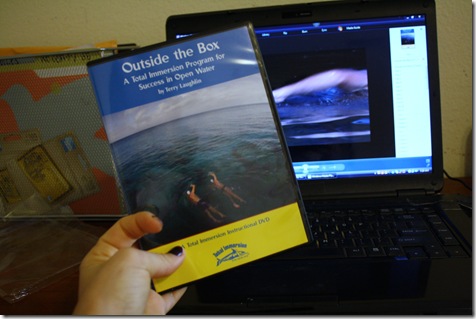 So many triathletes recommended I check out the Total Immersion system for learning proper swimming form and techniques for the open water swim.
This DVD is great! So simple to understand, and it includes clear and non-corny visualizations for improving your form.  I'm definitely going to apply a lot of these lessons to my open water swim!
If you'd like to win a copy of Total Immersion:  Outside the Box – A Program for Success in Open Water, simply leave a comment describing your dream fitness achievement.   Want to run a fast 5K?  Finish a Half Marathon or Marathon?  Swim in the ocean?  Do a Half Ironman?  Finish 10 push-ups?  Whatever your goal, share it and you could win!  I'll pick the winner Wednesday morning.