Did you miss the recap of Sunday's triathlon? If so, you should definitely check it out HERE ! And here's the video!
Lunch was easy – I just mixed a bunch of leftover together and TA-DA!  Out of the oven popped an incredible mini casserole.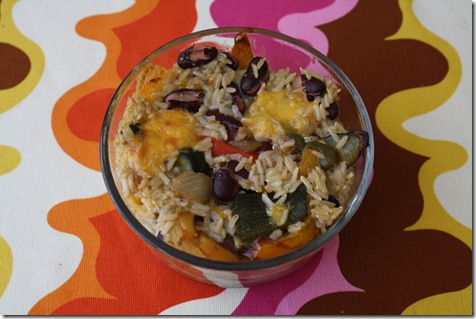 I love mini casseroles because we can never polish off a huge casserole before it goes off.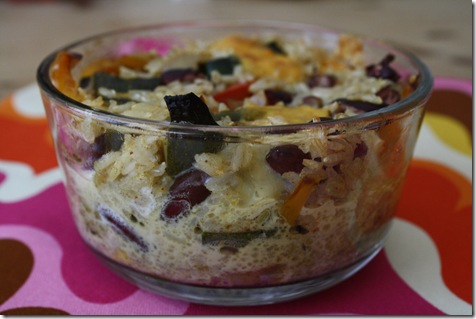 My casserole included:
1 cup brown rice
1/4 cup kidney beans
Leftover vegetable fajitas
1 egg
1 slice of cheddar cheese
Easy, easy.  And delicious!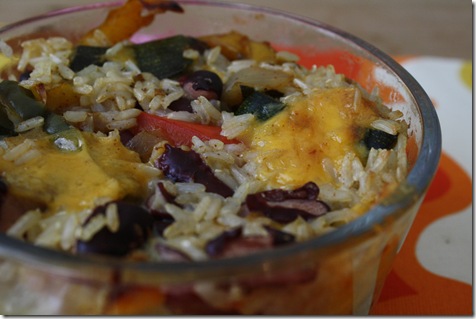 This morning, I took James on a 25-minute power walk.  I don't like to do intense cardio after an equally intense race, but I do find it helpful to get out and get moving.  It reduces soreness all over!
James is now pooped.  🙂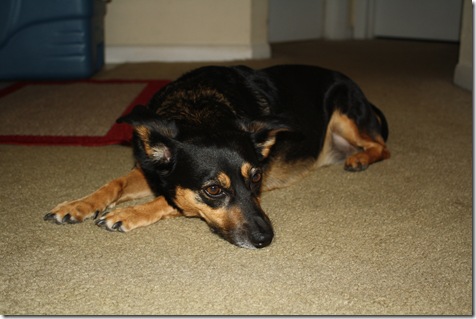 Racevine Giveaway
I've written about the very cool website Racevine before – its a place where you can add your own review of races and read other people's take on events, too.  Racevine is doing an incredible giveaway this week. You could win an entry into some pretty cool races and triathlons – check it out! 
The Itchy Runner
Help me solve the mystery of the itchy runner!
A reader named Sarah sent me the following e-mail.  She wrote, "I have a weird problem and I don't know if you've heard of it… I googled it and found it's a "real" thing but there are no real answers online.  I get really itchy all over when I push myself.  I've read it's an allergic response but there's no way I'm actually allergic to running, right?!!!  I'm not in super great shape yet so I think maybe it could be related to that?  It's really frustrating because I know I can continue to run but I'm forced to take lots of walking breaks so the itching doesn't get out of control."
I asked her for some more info and she added, "I have two kinds of pants that I wear, both of them are "athletic" type, not cotton, but I'm not sure how high-tech they are or if they are just stretchy.  It usually starts getting itchy on my abdomen somewhere, typically on my back and then gets all over my booty and my thighs.  Sometimes the back of my arms get it too.  I don't think it's due to sweat because I get sweaty long before I it and I never get itchy unless I'm running.  Although I can't say that I've really pushed myself so far doing other activities, except skiing and swimming.  My heart rate really gets going when I ski and I've never been itchy (thank gosh!) although I take breaks when I ski that are probably similar to the walk breaks I take when running.  I've done swimming sprint workouts and never get itchy there.  As far as whether I itch inside on the treadmill, it's not much different, except it will happen faster outside I think.  I know I can keep it at bay if I reduce my intensity when it starts getting itchy but that's really discouraging.  It will take forever to improve at this pace."
Has anyone had this problem?  What are the solutions?  What's an itchy runner to do!?