Did you miss the recap of Sunday's triathlon?  If so, you should definitely check it out HERE – it's a good read! 🙂
Last night, I made this video recap, which includes footage of my Husband being awesome and my epic bike crash.  As you can see, I crashed because I turned too quickly and too tightly.
My injuries from the crash are minor (because I had on a helmet – always wear your helmet, even for short, slow rides!).  MY left elbow is bruised and scraped, and my neck is really sore, but that's it.  Three cheers for helmets!
Many of you have asked what my race plans are now that I've done the triathlon.  Oh, you know me so well!  :)  I already am signed up for a few other races in the next few weeks:
April 3 – Croom's Fools Run 15 mile trail race.  I did this last year, and I'm so excited to do it again.  It's a lot of fun.
April 10 – Aflac Iron Girl 15K.  I am super excited for this oceanside road race.  Iron Girl has a ton of other races in the country – check out their website to see if there is one near you and use the coupon code  CCIGCLHTP2 (case sensitive) for $10 off online event entry until April 7.
May 23 – Echelon Gran Fondo Century Bike Race – That's 100 miles through the gorgeous Napa Valley, California!
I'll do another triathlon, but I'd prefer a sprint distance swim (half of what I did yesterday) and warmer weather.  :) 
On to breakfast: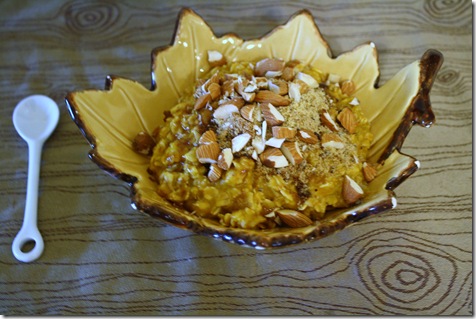 I had pumpkin oatmeal, which contained:
1/2 cup oatmeal
1/2 cup water
1/2 cup rice milk
1/2 banana
1/2 cup canned pumpkin
Toppings: flax, brown sugar, and almonds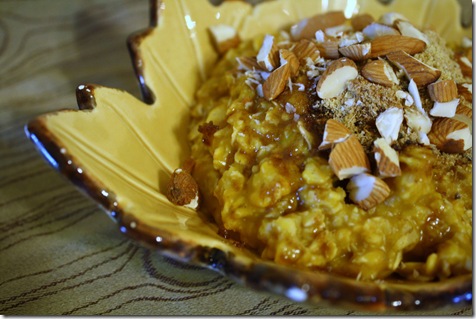 What races or fitness goals are you working towards right now?
PS – My favorite part of the video is when you see the Husband and I running side-by-side along the beach!  :)  And THANK YOU for all your sweet and supportive comments.