My mouth is doing the happy dance!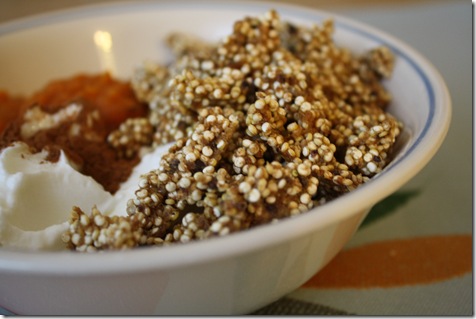 I love experimenting with different grains, and toasting quinoa is a fun alternative to cooking it on the stovetop.  It's super crunchy and makes a wonderful granola replacement!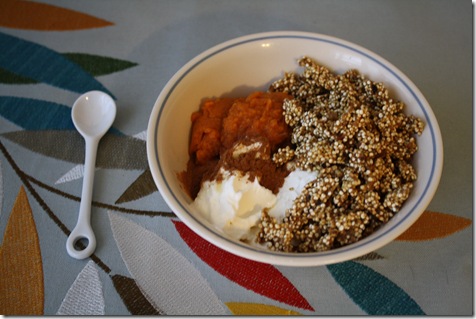 Ingredients:
1/3 cup UNCOOKED quinoa, rinsed
2 tablespoons flax
1/2 tablespoon cinnamon
1 tablespoon maple syrup
Ingredients for Pumpkin Yogurt
Directions:
Preheat oven to 350
Mix the first four ingredients together and spread out on greased cookie sheet.
Bake 10 minutes, stirring occasionally.
Remove from oven and let cool.
Serving alongside Pumpkin Yogurt and enjoy!
I think the word you're looking for is "epic."  🙂
The #1 Lesson
When you are born and raised in Florida, there is one lesson that is drilled into your head, over and over head: Assume every body of water has an alligator in it.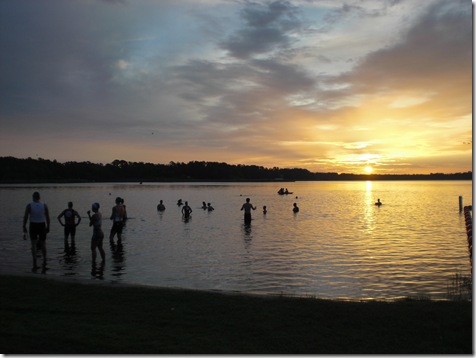 Gators are quite common in Florida.  It might seem exotic to you, but it's perfectly normal for me to spot a gator in a lake or the shore.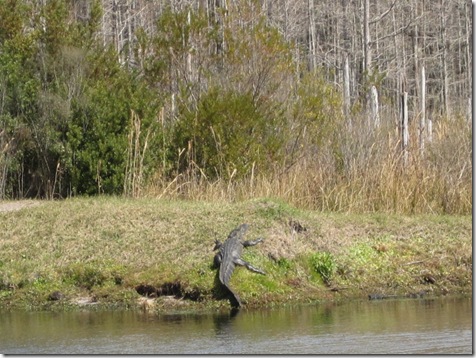 (All of those photographs are actual live, wild gators that I spotted on bike rides!)
When you're a child in Florida, your parents' biggest fear is that you're going to play by a lake and be snatched by a gator – it happens all the time to kids and pets.  Going swimming in a random lake is out of the question.  You're taught to never, ever swim in a lake unless it's an official swimming hole, and even that runs risks because gators migrate.
A while back, I watched a local news story about a group of drunk teenagers who went swimming a reservoir at midnight.  The one boy turned around in the water and ran smack into a 6-foot gator, which promptly bit off his arm.  He miraculously survived the gator "death roll" and even admitted that he was the biggest idiot EVER for going swimming in the water.  With only one arm, the kid said it was totally his fault, not the gator's.  Basically, he should've know better!
Why am I thinking about this now?
In 5 days, I am swimming 1.5 KM in a lake.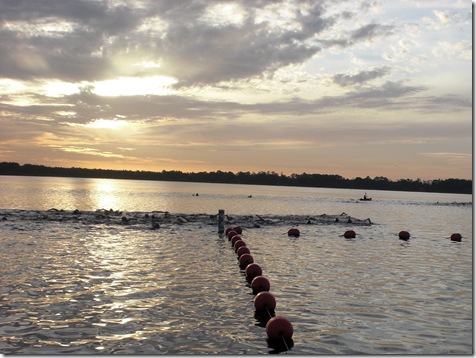 Normally, I keep my swimming to dry land, as I did when Megan, Ryan, and I did the Olympic Triathlon Relay (I was the run leg – recap is here).
But on Sunday… I have to get in the water.  And I'm starting to freak out a little bit. 
I tried to a sprint triathlon once before (you can read the recap at the end of this post), but I actually quit in the middle of the swim because I had a panic attack about gators and the murkiness and whatnot.
I really wanted to do a practice open water swim to acclimate myself to the water and hopefully get over my paranoia about alligators, but then I injured my deltoid.  I really do not think doing a full-length practice swim right now is in my best interest.  But I might try to go to the lake this week and just put my face in the water.
I keep trying to remind myself:
There will be 100 other people doing the swim at the same time I am.  All the gators will be scared away.
If a gator does attack someone, there are 100 other people to eat for breakfast.
The men's wave goes first, and the noise will hopefully scare the gators away before the women get into the water.
The odds of me being attacked by a gator during a triathlon are slim to none (I don't think it's ever happened before in Florida).
I have better chance of being hit by a car on my bike ride.
I have a better chance of twisting my ankle on the run.
It's all mental. 
Just had to get my FEARS out there.  It makes me feel better to type out all the reasons why I shouldn't be scared. 
Do you have a phobia?  What makes you nervous during races?  Would you be scared of the alligators, too?