It's been a slow, but productive, Friday morning over in Caitlinland! 
I can tell the interns are bored… maybe I should break free for a half an hour or so and take Maggie and James on a walk.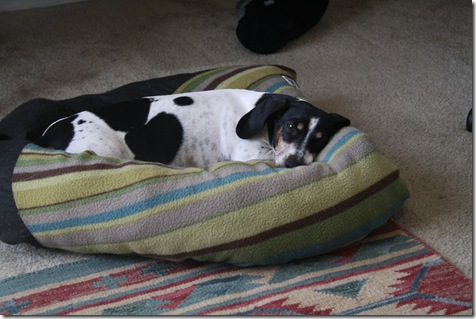 My tummy has been off all morning, but I prepared a delicious lunch and my appetite perked right back up (it never disappears for long!):
I had about 1 cup of brown rice with some canned Alfredo sauce on top.  I also mixed in steamed spinach and plain baked tofu.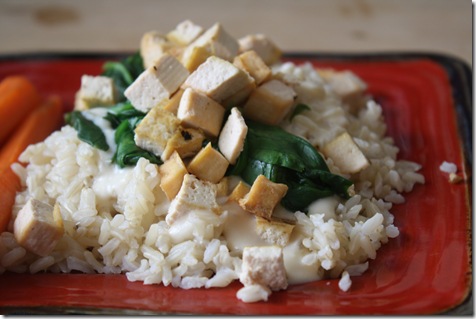 With two carrots, which I actually shared with the dogs.  They love carrots.
The Real Deal with Fat Talk
As mentioned earlier, I've been having a pretty tumultuous week in my personal life.  I don't like to be a Debbie Downer on the blog, but it's just been an unhappy week for a lot of serious and not-so-serious reasons.
On Wednesday, I caught myself Fat Talking in the shower!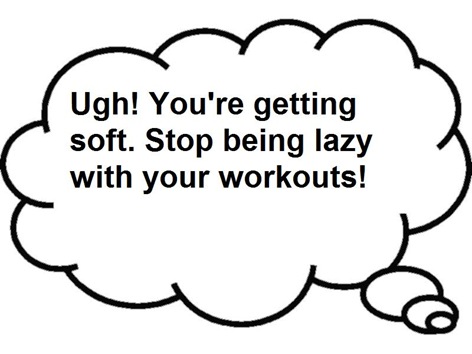 I was SHOCKED the moment the thought crossed my mind!  I truly have not Fat Talked at all, either out loud or in my own head, in months.  Part of me was horrified, and the other part of me was really, really confused.  Not only am I definitely not getting "soft," but even if I was – I would normally NEVER speak to myself in that horrible, disparaging tone.
I thought that running the Operation Beautiful website had truly rid me of all my Fat Talking habits.  I intellectually know how bad Fat Talking is, and I understand that it has no place in my life.  I replaced all my previous Fat Talk with realistic, positive thoughts.
Not only did I Fat Talk on Wednesday, but I caught myself doing it again this morning while I got dressed.  Again, the Fat Talk was almost like thought vomit.  And that's when I really, really understood for the first time…
Fat Talk has almost NOTHING to do with how you look, what you eat, or what you do in the gym.  It has EVERYTHING to do with how you feel about yourself, your life, and your circumstances.
Why did I revert to Fat Talking this week?  Honestly, I think it's because I couldn't deal with some of the other stress in my life, and it was almost easier to beat myself up about something completely unrelated to the situation.  In some twisted way, its better to punish myself than deal with the issue.  It's a habit so ingrained in us as women (and men, too)!  It breaks my heart.
Since my Fat Talking moments, I've been using all my Anti-Fat Talking tricks to go back to my normal, loving self.  Even just thinking about everything I wrote here helps me so much when I Fat Talk. 
I wanted to share this because I really think Fat Talk is something most people struggle with their entire life.  I do have a really positive and realistic body image, but even I – the editor of Operation Beautiful – have to fight Fat Talk occasionally!  Struggling with Fat Talk doesn't make you weak, but you can't let it win.  Life is hard enough without beating yourself up all the time.
Do you struggle with Fat Talk?  How does your circumstances and stress levels affect your self image?  Got any advice for me and other women who Fat Talk?