Thank you for all your sweet comments on The Real Deal with Fat Talk.  So many interesting thoughts!  It really helped me, too.
So, this afternoon I did a double swim – run workout with Ryan and Megan.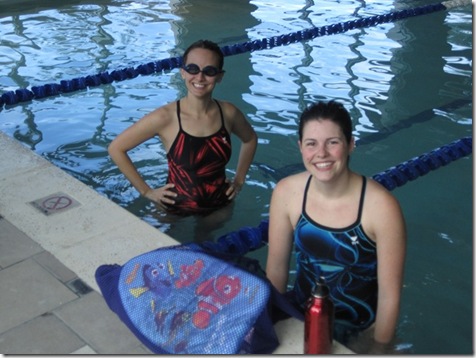 (I wear a cap when I swim, but I was done swimming and put the googles on for a joke.)  I look so ridiculous in swim gear.  As Megan said, "I don't know whether to feel like I'm at middle school church camp or a hard core athlete."
I was SUPER determined to do my 1,500 meters without stopping again.  I only have 9 swims left in my training, and I'm going to make them count!
It took me about 37 minutes to go the entire distance.  Whew.
After our swim, we changed out of our awkward gear…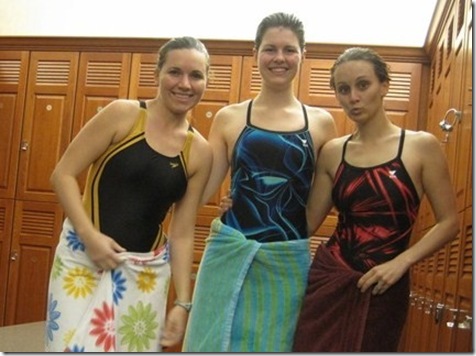 And into our running clothes.  I did 1.5 miles (run/walk style) on the treadmill before calling it a day.  Meghann and I have an intense trail run planned for the morning, and I didn't want to overdo it today.
Then, I did the Intro to Iron Pumping Challenge workout (shoulder, triceps, and biceps day):
Overhead press: 3 x 12 with two 10 pound weights
Dips: 12
Stability Ball Push Ups: Skipped
Planks: Skipped
Lateral Raise: 3 x 12 with two 5 pound weights
Cable Tricep Extension: 3 x 12 with 30 pounds
Stability Ball Leg lifts: Skipped
I skipped so much because I was already so sore from swimming.  Maybe you all can give me some advice…. So, I swim three days a week and that's the ONLY time I go to the gym, thus it also has to be my weight lifting days.  I have two days that are upper boy: shoulders, triceps, and biceps day and back and bicep day.  Obviously, that means I'm doing arm strength moves on the same day I'm swimming.  The trouble is I'm too tired to swim if I lift first, and too tired to lift if I swim first!  What should I do?  Eliminate one upper body strength day (like maybe back and biceps)?
Before the workout, I had a Glo Bar: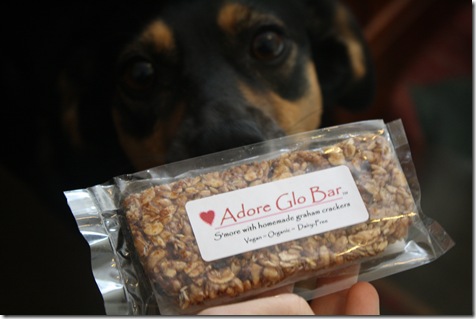 And afterwards, a spoonful of Barney Butter almond butter: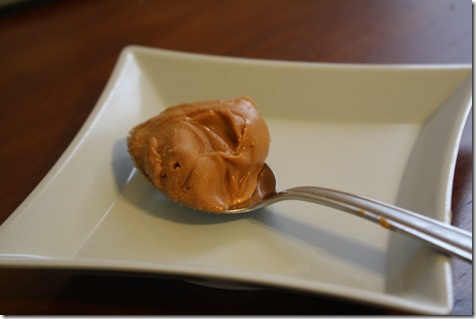 And a small bowl of organic fake Cheerios: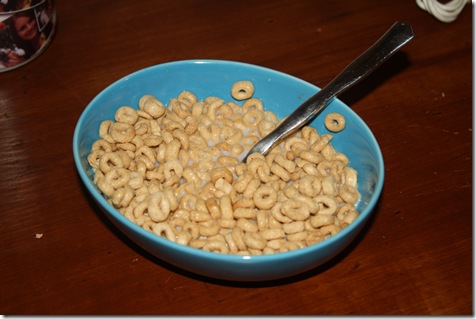 So… dinner was a little unusual for the Husband and I! :)  Neither of us wanted to cook, but we're sick of all our regular restaurants (well, I'm not sick of Royal Thai, but Hus is!).  We decided to try something NEW:
Yes… two vegetarians at a burger place.
We got take-out.  I ordered the veggie and cheese burger with a regular fry.  With peanuts on the side!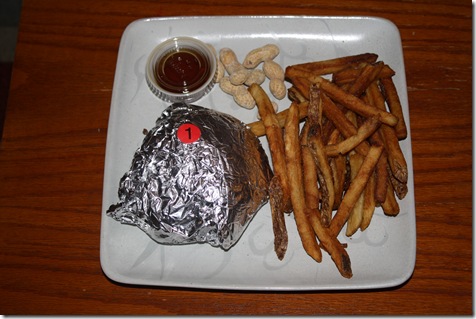 The veggie burger had cheese, lettuce, tomatoes, pickles, grilled mushrooms, grilled peppers, grilled onions, mustard, and a slice of American cheese.  It was pretty good – real cheddar cheese would've tasted better.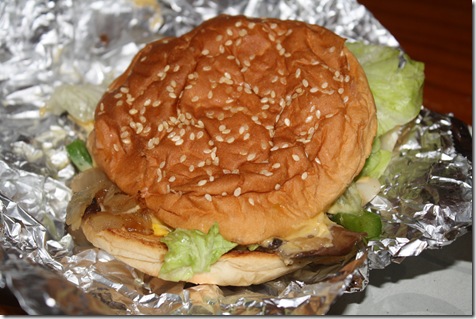 The fries… ohmigod… the FRIES!  I dipped them in vinegar and ketchup.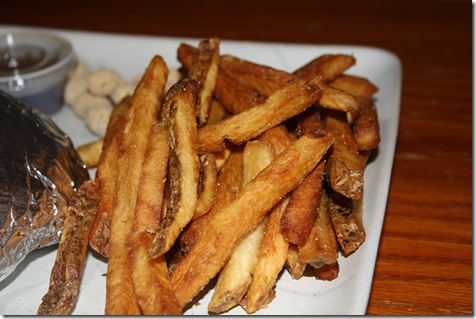 This is probably the closest I've gotten to "fast food" since I went vegetarian… And it was GOOD!  :)  I have a feeling you'll be seeing this meal again!
Time to watch TV with the Husband. I'm doing a LONG trail run with Meghann tomorrow.  We're going to my favorite trail!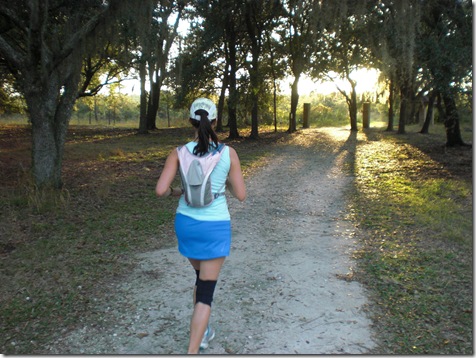 Can't wait!
See you tomorrow.  🙂