Have I mentioned my mom's cat is terrorizing my dogs?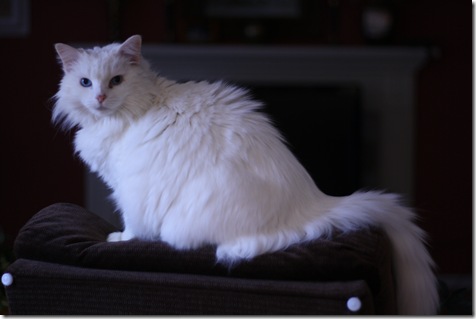 Evil cat.
James is so scared of her!  She will run right up to him and smack him in the face.  I ended up eating breakfast with both dogs in my lap!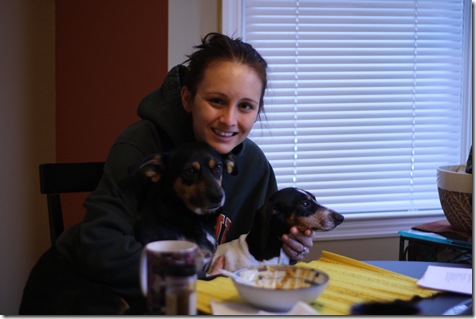 Breakfast: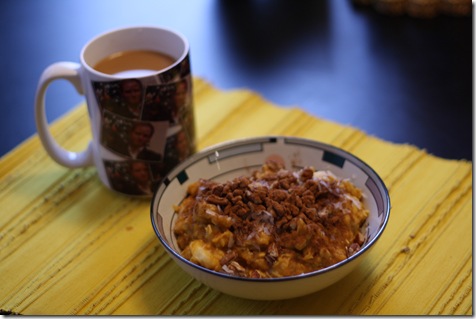 My oatmeal contained:
1/2 cup oatmeal
1/2 cup rice milk
1/2 cup water
1 sliced banana
1/4 canned pumpkin
Toppings:  pecans, coconut, brown sugar, and cinnamon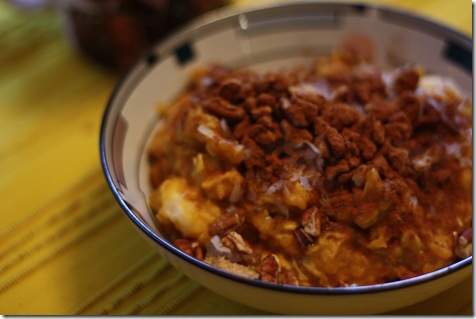 A New Season for Redemption
I am getting SO excited about the spring running season!  :) 
In Florida, we have two running seasons, generally.  "Fall season" takes place from August to December, and "Spring season" begins in March or so and lasts until May.  There are shorter races (like charity 5Ks) in between and through the summer, too, but the longer and bigger events take place during the seasons.
This Fall season, I raced in the following events:
Disney Marathon – January 10, 2010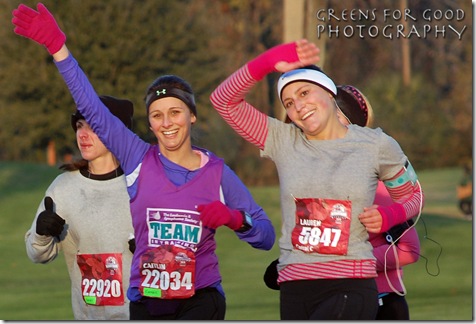 OUC Half Marathon – December 2009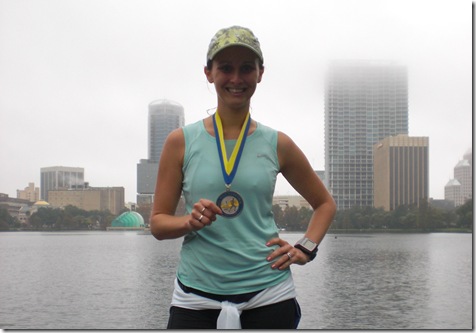 Founders' Day 10K 2009 – November 2009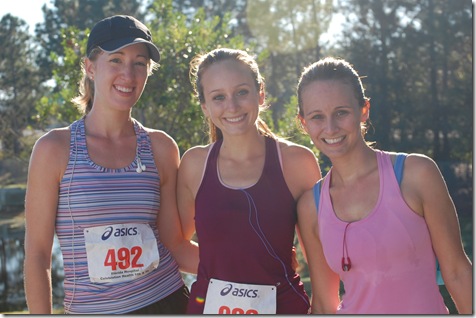 Miracle Miles 15K – September 2009
Rock and Run 5K – September 2009
In general, I would qualify the Fall 2009 season as "luckluster," which the exception of my Half Marathon and Marathon.  The Miracle Miles 15K was a HUGE disappointment… as in, I sat in my car and cried like a baby afterwards.  Totally unnecessary, but that's how I felt.
I am eagerly anticipating the start of a NEW racing season and a NEW chance for redemption!
On my race calendar:
Gasparilla 1/2 Marathon in Tampa – February 28
Olympic Triathlon in Orlando – March 14
Crooms Fool's Run 15 mile trail race in the Middle of Nowhere, Florida – April 3
IronGirl 15K in Clearwater – April 10
Century Bike Ride in Napa Valley – May 23
My attitude with these races is that I'm NOT going to try to hit new Personal Records.  I think the reason the fall season was so disappointing for me was that I tried to meet or break my previous records.  I was much faster in Fall 2008 than I was in Fall 2009 or right now.  I set myself up for disappointment in the fall by reaching for goals that were unattainable (not forever unattainable, but I wasn't doing the necessary speedwork to reach those times).
I'm going to set challenging but attainable time goals for each race for my CURRENT speed and fitness levels.  That way, I'll have more fun and still feel accomplished. 
Plus, the spring races are so different and fun!  I've got a Half Marathon by the ocean, a triathlon, a trail race in a forest, a 15K in city I've never been to, and a 100  mile bike race in Napa Valley!  Weeeeeeeeeeeee!
How do you set goals? Do you base your goals on your past performance or your current abilities?