Since I cut yesterday's run short, I thought I'd try to make up the missed miles today – that was, until I read the swim workout Ryan had written for me: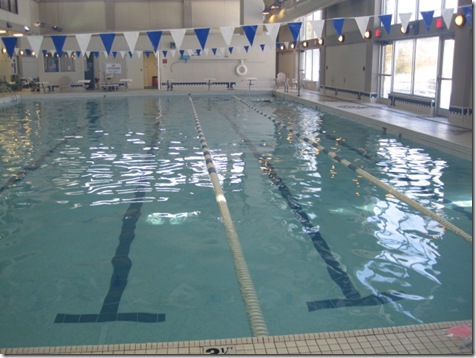 I read this and trembled in fear:
Distance:  1,500 meters
Warm up: 400 meters at 50% effort
Interval Set 1: 50 meters at 90% effort for first 1/2 and 75% effort for second 1/2.  Repeat 8 times with 15 seconds rest in between.
Interval Set 2: Kicking drill for 50 meters at 75% effort for.  Repeat 6 times with 15 seconds rest in between.
Interval Set 3: Stroke drill for 25 meters at 50% effort for.  Repeat 8 times with 10 seconds rest in between.
Cool down: 200 meters at 50% effort
This was an INTENSE swim workout.  I had just finished the Backs and Biceps workout for the Intro to Iron Pumping Challenge, and the swim was all about sprinting and intervals and it was LONG.  Swimming ALONE was enough of a workout – those miles will just have to be missed. 🙂
When I was "learning" to run, I loved how BAD I was at it at first (and I still have tons of room for improvement!).  I think this is why I never really get bored running… because I like the challenge.  Does that make sense?  I think it's really fun to learn something new. 
Anyway, swimming in my new running!  I feel pretty "eh" about swimming right now.  If you threw me in the middle of a lake and told me to swim 1,400 meters to shore, I might flounder.  :)  But I'm working on it… and that makes workouts a little more interesting!
If you're looking to get into swimming, check out:
Pre-workout snack was one of Angela's Glo bars: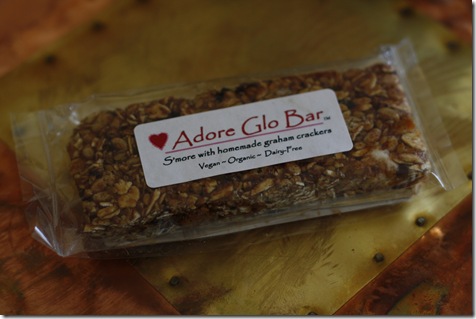 Dinner was a weird veggie platter.  This looks like a strange combo even when I prepared it.  :)  But it was good.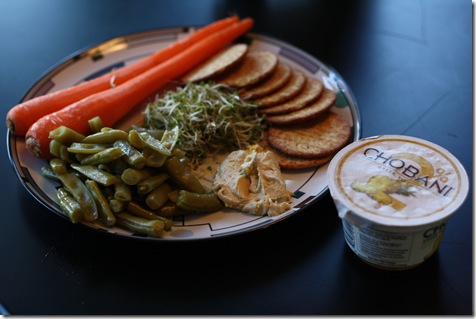 Carrots, sprouts, green beans, crackers + hummus, and Chobani.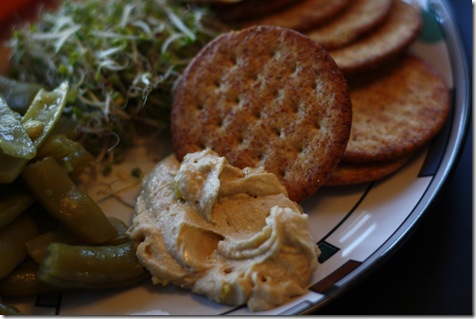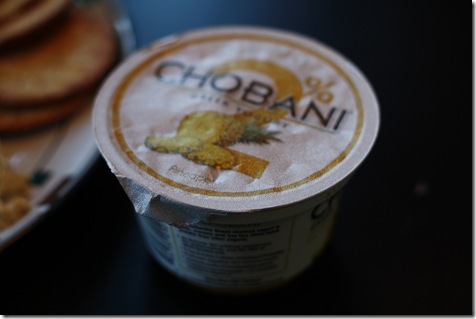 My mom and I are going to see Up in the Air tonight – it's our tradition to split a popcorn.  Yum!
Have a good night!