Thanks to all your comments… I made a decision about the triathlon (I was debating the Sprint and Olympic distances).  I went with….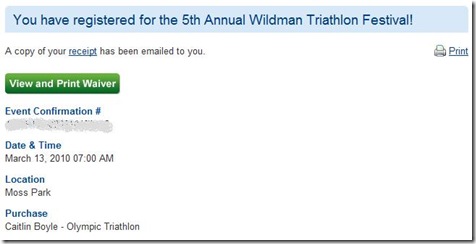 OLYMPIC! Gulp! So… here's the reasons I decided to go all the way:
My BFF Lauren (who ran the marathon with me and has done two triathlons) e-mailed me to say, "Sprint or Olympic, you're going to freak out as soon as you hit the water, so if you feel strong enough but you're just nervous, then I say go for the full."  Lauren knows me and my abilities pretty well, so I'm going to trust her on this one!
Also, these two comments in particular stuck out to me (I really, really appreciate all the support and wise advice you all gave to me – thank you):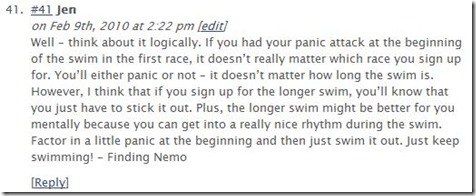 Although my first failed triathlon attempt was a Sprint, I know I'm better trained and in a stronger mental place now.  I CAN DO THIS. 
It is really important that I STOP doubting myself about the swim (and thinking about gators; Catherine is right).  The doubt is what ruined me the first time, and Sprint or Olympic – if I let that doubt crept in, I'm doomed from the start.
Although the Sprint would be challenging and fun, too, I really want to say that I did an Olympic triathlon.  I said I wanted to do an Olympic in 2010, and this is my shot!
I'm going to do an open water swim in the next few weeks to get my confidence up even further.   Maybe even this weekend! 
FEAR IS TEMPORARY, QUITTING IS FOREVER!  🙂
On that note, I'm going to bed. I am definitely sick and feel exhausted.  I had Pumpkin Yogurt and granola for a snack this afternoon, and a bowl of pasta and veggies for dinner.  My workout was skipped because I truly feel like I'd do more harm than good to exert myself right now.  :(  Hope I feel better tomorrow.
Have a wonderful night!