I REFUSE to get sick.  Do you hear that, immune system?  You cannot quit on me now!
Obviously, I'm not feeling my best.  :(  I don't feel sick-sick, but I've got that nagging sensation in my neck, shoulders, and chest that an illness is coming. 
I'm giving this stuff a shot: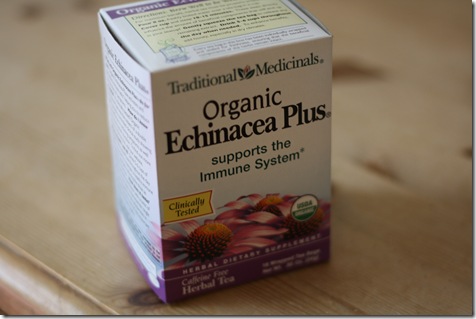 Absolutely no idea if it works, but 1) it's organic; 2) it claims to help my body heal itself; and 3) it's natural medicine… which is pretty much Caitlin's preferred triad of marketing tricks.  So I bought it.  It's yummy – here's to hoping it works.
Lunch: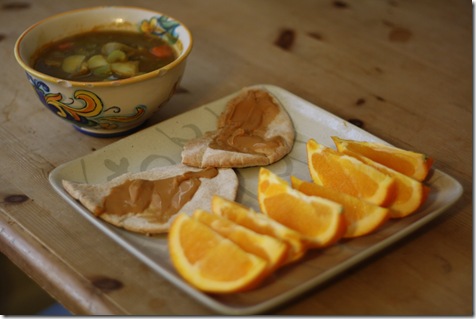 I made yummy veggie soup.  It's dreary outside, and I needed something to warm me up!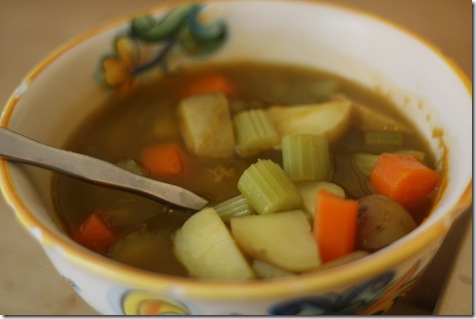 The base: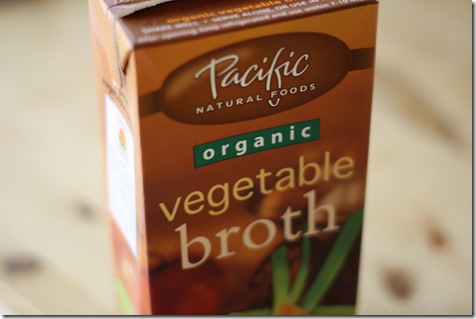 I boiled carrots, celery, and baby yellow potatoes in water for about 15 minutes, drained the veggies, and then poured in the vegetable broth.  After simmering for another 10 minutes, I had lovely "homemade" soup!
Plus, an orange (for Vitamin C!):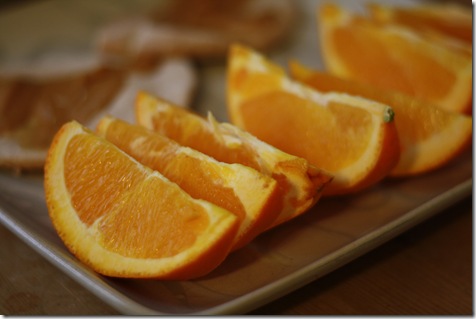 And a whole wheat pita with a smear of Barney Butter: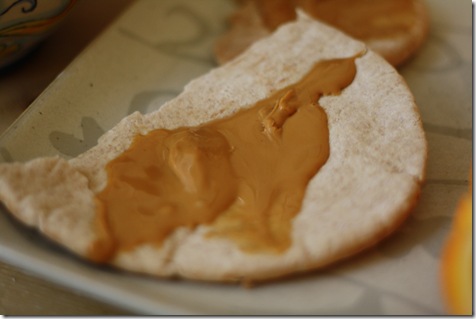 As far as my workout for this evening goes, it's kind of up in the air.  If I feel well enough to run and swim, I'm going for it.  Especially if I'm about to get knock-out sick, I want to squeeze in one last decent workout.  I think I caught the illness my uncle has… remember how I took him to the doctor last Monday?  He was so sick he couldn't drive himself!  Let's all pray that I didn't get that disease!
Speaking on running and swimming…
I'm going to submit my entry for the triathlon soon.  I have a decision to make:
I could drop down to the WAY easier Sprint Triathlon.  The distances are: 0.5 mile swim, 12.5 mile bike, 2.8 mile run. Or…
I could sign up as planned for the MUCH scarier Olympic Triathlon.  It's basically a double sprint triathlon.  The distances are: 1.0 mile swim, 25 mile bike, 5.6 mile run.
I am really, really nervous about the swim.  The Olympic's bike and run segments wouldn't be a big deal for me, but the swim is terrifying. I've been training for the Olympic distance.  But suddenly I just feel really anxious and scared!  I planned to do the Olympic originally because I want to not only CONQUER my fear, but slap it in the face.
I hardly ever let my fear control me, especially when it comes to sports…. but if you recall, I was disqualified from my first triathlon because I had a panic attack in the water.  I am planning to do an open water swim before the race, which I hope will help.
The race is in 5 weeks!
What do you think?  Should I play it safe or go balls to the wall?  What would you do?