Thank you so much for your positive mantra suggestions!  I loved reading them and will use a lot in the book.
Speaking of the book… I am really, truly in the home stretch of the first draft now.  :)  I cannot wait to turn it into my editor and see what she thinks.  It's sometimes hard to hear "constructive feedback" on your work when you're a writer, but I'm used to it from my past jobs.  Any advice just makes the piece that much better.  I'm pumped!
Realistically, I hope to wrap it up by Sunday night/Monday morning.  Once I finish this last chapter, I need to print out all 224 pages and read through everything. 
While I worked, I fueled up with Clementines – we have a HUGE box to eat up!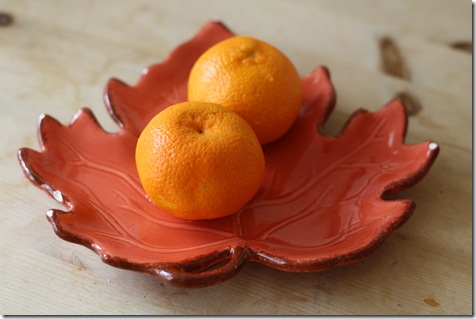 And yogurt and granola: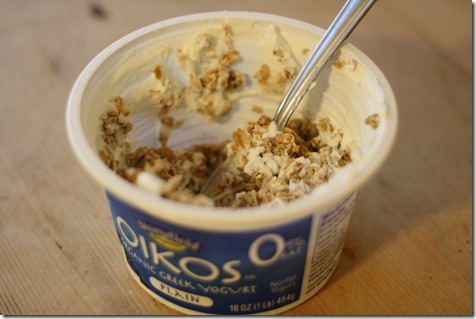 Plus, I ate the end of a bag of Stacy's Pita Chips – as addicting.
The Husband and I had a stand-off over who was going to make dinner tonight.  :)  Finally, he threatened to drive to Burger King and get a Whopper instead of cooking, which made me cave and whip up this easy meal: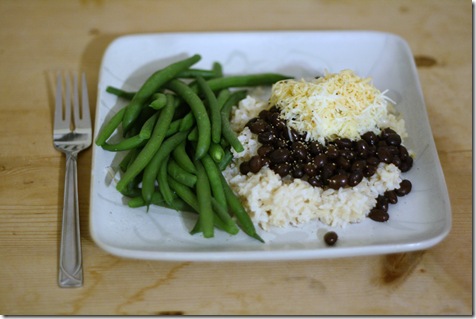 The vegetarian's emergency meal:  rice, beans, and a layer of cheese on top.  Plus, veggies for some color.   Way better than the Husband falling off the veggie wagon!
The dog won't stop fighting with each other! I'm not sure what's up with Maggie and James tonight.  Lovers tiff?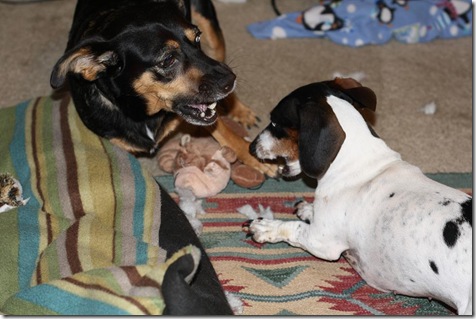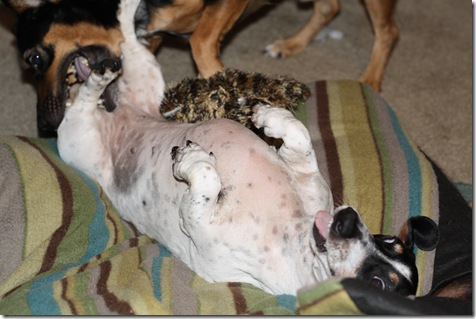 No wiener dogs or stuffed animals were seriously harmed.  By the way, new Puppy Pictures are up!
I'm going to go watch TV with the Husband, and while I do, I plan to do the following strength routine:
100 sit-ups
30 push-ups
2 30-second planks
And then I'm crashing EARLY!