Good afternoon! 🙂
Sorry for the delay.  The blog crashed late last night.   I think we've sorted it out, though!  If you had any comments/questions that I didn't get a chance to respond to, please just ask again, and I'll answer!  🙂
I had a delicious bowl of oatmeal for breakfast: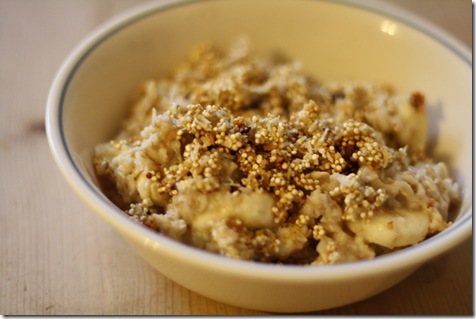 Just my regular banana oatmeal, but topped with flax and Toasted Quinoa.  Yum!
Then, I wrangled the computer for about half an hour.  After giving up (technology and I do NOT get along), I met up with Megan for a run.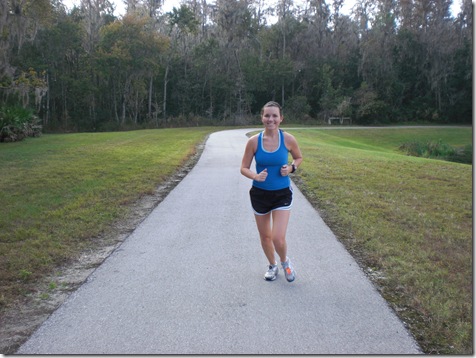 I brought my camera in my SpiBelt because I wanted to show you where we run!  It's so pretty.  We do this gorgeous loop around a lake.  It's the most beautiful in the early morning because it's usually foggy.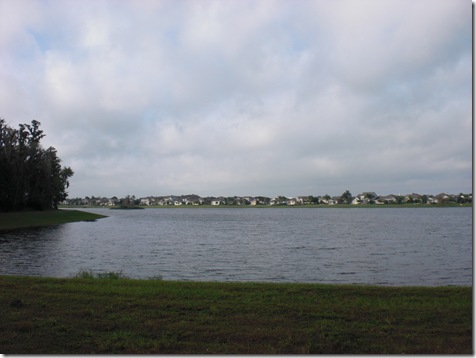 I also brought a piece of chalk with me so I could do an Operation Beautiful note!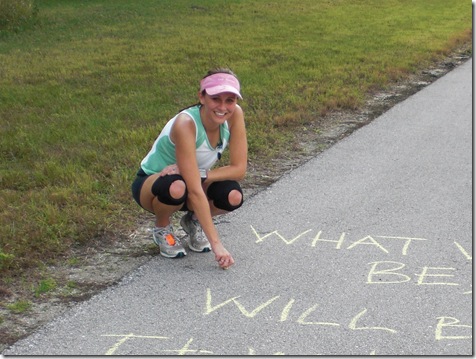 I think the "You are Beautiful!" message is great, but sometimes I like to get a little more creative.  I like to think about someone finding this note who really needs it…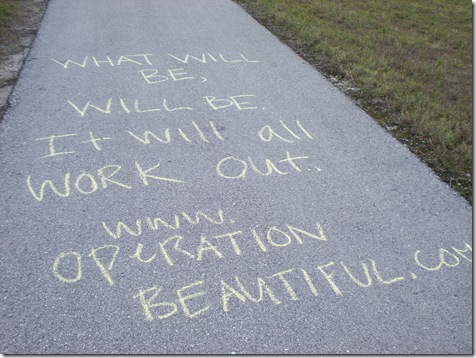 I'm so zen.  🙂
I left the nubbin of my chalk on the sidewalk, too.  Maybe someone else will participate?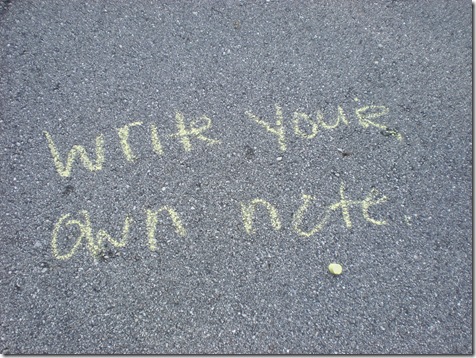 It was fun mid-run break.  🙂
We did 7.0 miles, but seriously… it was ROUGH!  Some days are just harder than others, I suppose.  We took a lot of untimed walking breaks and probably did more like 7.5 miles in total.  It was very hot out… it seems that Central Florida has forgotten that it's almost Christmas. 
Here are my stats (for the run):
Duration: 1 hour, 8 minutes
Distance: 7.0 miles
I had to run some errands afterwards, so I snacked on a Glo bar in my car: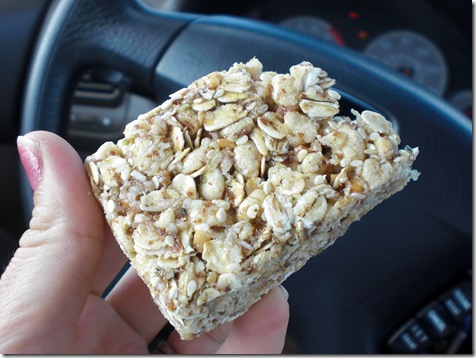 (Woah… need to re-paint my nails!)
And once I got home, I made an easy lunch.  Just whole wheat spaghetti, kidney beans, and broccoli.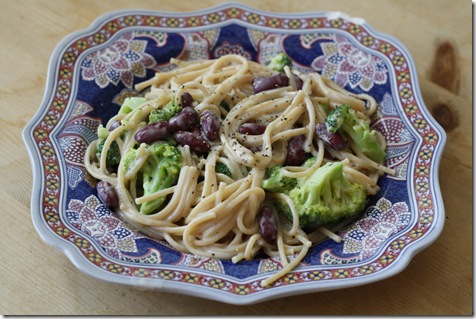 Oh cream sauce, I love thee.  I just buy the Paul Newman's kind; I've never made it from scratch but maybe I should try!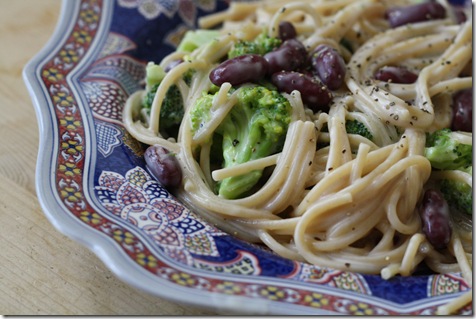 Chobani Winners!
I cannot believe that 925+ people entered the Chobani giveaway!  You guys must really LOVE yogurt!  :)  The Chobani people were so excited by your response that they gave me not one, but TWO cases to give away.
The winners of the "My First Job" Chobani giveaway are:
Laura: My first job was babysitting…not sure if that counts, we all probably babysat…the next one was at the local papermill doing data entry – when computers had green screens.
Kacie: I worked at a high school reunion company when I was in high school. Worst boss ever! But it was fun to work at the events and watch all these adults get drunk.
Inspiration Needed!
Sometimes, Operation Beautiful is criticized for being "superficial."  I understand why people who are unfamiliar with the mission might say that, but the truth is that it doesn't HAVE to be viewed that way at all.  It's not about how you look – it's about how you FEEL!  Sometimes, a person can see a simple message (like "Smile! You deserve it") on a Post-It and feel completely transformed.  And sometimes the messages that people write are so thoughtful, unique, and exciting. 
I'm working on the VERY LAST CHAPTER of the Operation Beautiful book.  It's a conclusion chapter, and one thing I want to include is a list of positive, motivational mantras.   I can't tell you how many e-mails I get that say, "I want to participate, but I don't know what to write!"
I can only think of so many positive mantras, though!  🙂 I want to know what you tell yourself when you need a pick-me-up.  Maybe I'll use it in the book.  And, in the very least, everyone else reading these comments will be inspired!
What's your positive message?