Previous long runs for Marathon Training:
I LOOOOVE to prove myself wrong!  🙂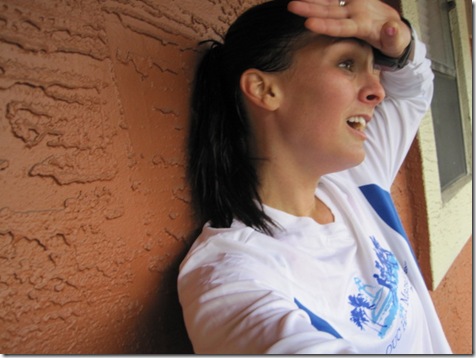 I set out this morning with one goal in mind:  pace under 9:30/mile for 17.0 long, long miles.  I was very nervous and thought this was a lofty goal.  But guess what? I DID IT!
Before I left, I had a bowl of granola with vanilla rice milk and a Clementine: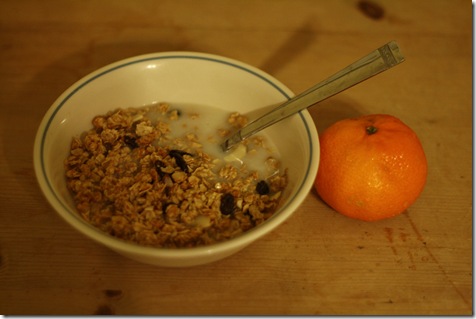 And then I started to LAYER.  It was really cold outside (by Florida standards).  I love running outside in "shorts but long sleeve" weather.  It's just so refreshing.
I've stopped using Body Glide, by the way.  I realized it wasn't helping my chafing AT ALL because I sweat so much that it just all melts away (gross, I know).  I begun to cover the outline of my sports bra with athletic tape, and it works really well! 
As mentioned, I chose to do this long run by myself because I might end up running the marathon alone – who knows! Lots of other bloggers and my BFF Lauren are running it, too, but I would never force someone to stay with me if they wanted to go ahead of me.  Similarly, I would never hold back just to stay with a friend (maybe for another race, but not this one).  So, I felt like it was important to get one solo long run under my belt.
The first 5.0 miles were uneventful.  I just chugged along at my goal pace and listened to music.
However, at Mile 5.0, I underestimated how deep a puddle was and completely soaked both of my sneakers.  It was BAD.  I stopped my watch, ripped off my shoes, and stared at my dripping wet socks in HORROR. 
I ended up wearing my socks on my hands for about 1.5 miles, spreading my fingers apart so the wind would rush through them and dry them out faster.  It worked quite well – I just looked incredibly stupid.  And my hands smelled like feet.  :(  I put my socks back on around Mile 6.5 and it was fine!  Whew!  No blisters.
I took Goo Shots at Mile 4.0, Mile 9.0, and Mile 12.0.  I also stopped at the grocery store at Mile 9.0 (and stopped my watch) to use the bathroom and refill my water bottle.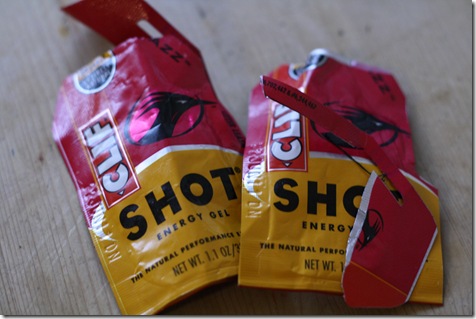 I was doing SO well until Mile 15.0.  I felt great, light, and fast.  And then….
You know how they talk about the "runner's high"?  First of all, I have never experienced this high.  I experience something I call "the disconnect."  And trust me, it doesn't feel good.
At Mile 15.0, everything instantly started to hurt.  I don't mean "I'm-about-to-be-injured-hurt," I mean, "my-body-hates-me-hurt."  I think you'll be hard pressed to find someone who doesn't think running 17.0 miles is painful.   My back, my knees, my thighs, my butt – EVERYTHING started to ache.  I took my first walking break (timed) at that point.
Pain is Stage 1 of "the disconnect."  Stage 2 is when everything suddenly stops hurting and it feels like my legs are no longer attached to my body.  That sounds good in theory, but I have now decided that really hate this because I feel like I have no control over myself – I'm just on autopilot. 
"The disconnect" lasted until the very end of the run!  But I was SO proud and SO happy for it to be over. I really can not believe my mileage splits – for me, these times are a-maz-ing.
Distance:  17.0 miles
Duration:  2:40:40
Average Pace: 9:27
Mile 1: 9:30
Mile 2: 9:26
Mile 3: 9:28
Mile 4: 9:26
Mile 5: 9:28
Mile 6: 9:44
Mile 7: 9:39
Mile 8: 9:19
Mile 9: 9:31
Mile 10: 9:32
Mile 11: 9:22
Mile 12: 9:23
Mile 13: 9:25
Mile 14: 9:14
Mile 15: 9:15 (with "the disconnect" and a walking break!)
Mile 16: 9:40
Mile 17: 9:16 (booyah!)
'Twas an excellent and emotionally fulfilling run!  🙂
I came home, showered, iced, and made a quick Breakfast #2: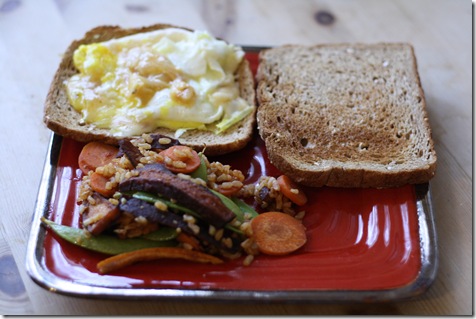 An egg and cheese sammie and leftover Chinese food.  Yum!
What's on the agenda for the rest of the day, you may ask?
Proofreading and fact-checking!  This is very exciting.  :) 
Have you ever experienced a workout "high" or do you experience something similar to my "disconnect"?  Or something else?