Update your Google Readers! http://www.healthytippingpoint.com/feed
I had a FABULOUS 14.0 mile run this morning!  I feel so accomplished and happy. :)  My Running Support Crew (Meghann, Megan, Kelly, and Debbie) didn't meet this AM, so I was on my own.  To motivate myself, I posted this note on my bathroom mirror last night: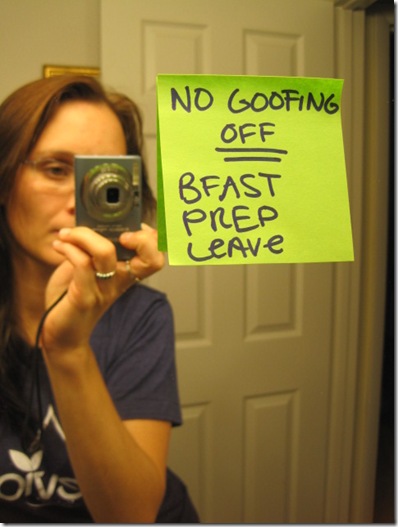 I tend to dilly-dally in the AM so I figured a reminder to get MY BOOTY OUT OF THE HOUSE was necessary. 🙂 It takes a long time to run 14.0 miles!
I woke up at 5:30 and ate a pre-run breakfast: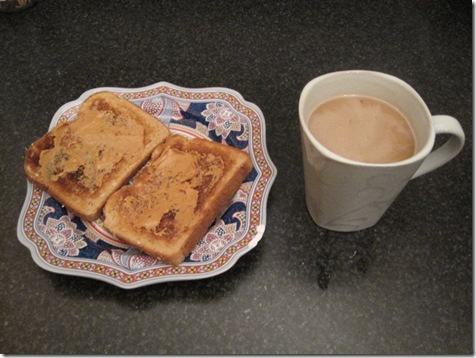 Then I wrapped my toes: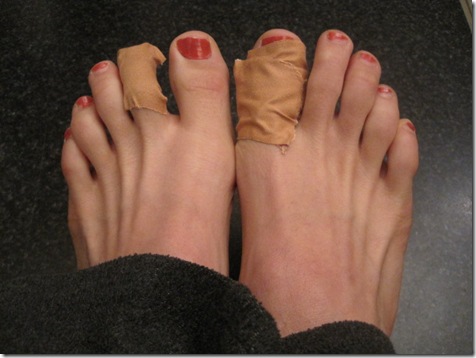 I slashed open the bottom of my big toe while moving furniture earlier in the week, and it's been so painful to run on.  My second toe on the left foot is freakishly longer than the adjacent big toe, and the toenail always ends up sore and inflamed (even though I wear shoes that are 1 size larger than my normal size).  I KNOW that baby is going to fall off at some point during marathon training. 🙁
And then I weighed myself: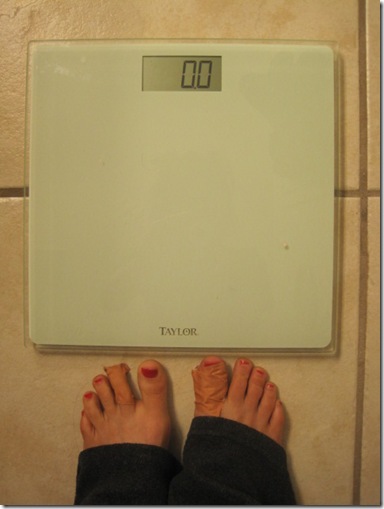 The one reason I own a scale is to weigh myself before and after long runs to determine if I'm dehydrated.  (I don't weigh for maintenance purposes; I base that on the way my pants fit.)  Ideally, I should weigh the same or a little more after a long run, because I should replace my sweat with water.  Today, however, I was 0.8 pounds lighter when I returned home — even though I drank 2.0 liters of water while running!  Crazy!
If you don't want to weigh yourself, just look at the color of your pee when you use the bathroom after a long run.  If it's dark yellow, you're dehydrated!
I left my house just the sky was turning grey-blue with a goal to run 10:30-minute/miles, which works out to a total of 2 hours, 27 minutes…. but I was feeling GREAT!  It was sooo easy to maintain 10:00-minute/miles.  I was in a good mood, the air was cool… it was just one of those perfect runs, and I smoked my goal time.
I took Goo at mile 7.0 and mile 10.5.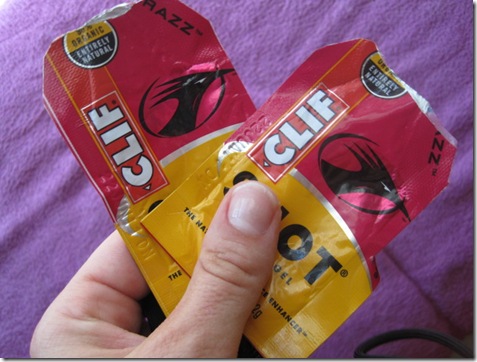 Here are my statistics:
Duration: 2 hour, 19 minutes
Distance: 14.0 miles
Mile 1: 10:14
Mile 2: 10:18
Mile 3: 10:19
Mile 4: 10:01
Mile 5: 9:56
Mile 6: 10:14
Mile 7: 10:05
Mile 8: 9:48 🙂
Mile 9: 9:45 🙂
Mile 10: 9:54
Mile 11: 9:52
Mile 12: 9:51
Mile 13: 9:32 🙂 🙂 🙂
Mile 14: 9:48
Yay, yay, yay!
I came home and immediately refueled with a protein shake: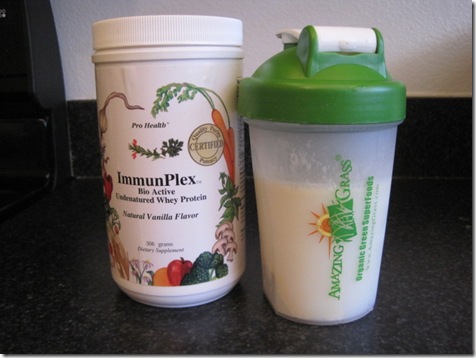 And then I had an everything bagel with cream cheese and two plums.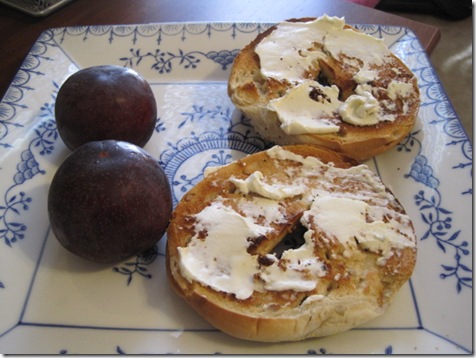 All in all, a fabulous way to start off my Friday.  Now… it's time to WORK! 🙂