In case you missed it, this weekend I:
I was SO excited to see the sun shining when I woke up.  I can definitely get behind the time change if it means that it's easier to wake up!  :) 
Since our friend Joe is currently sleeping on my couch, I prepared breakfast last night so I wouldn't disturb him. I decided to give the Fitnessista Breakfast Cookie another shot.  The first time I had one, I hated it, but I spoke to Gina at the POM Wonderful tour and she told me (like others had) to nix the milk.
The result – a YUMMY pumpkin-infused breakfast!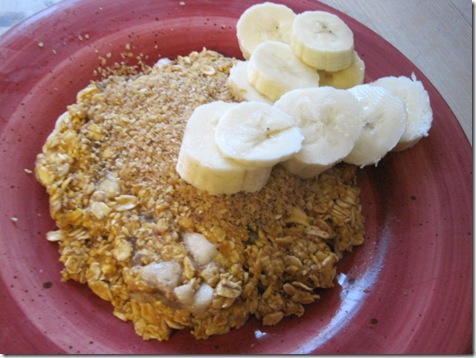 Last night, I combined the following in a mixing bowl and then flattened out on a dish to chill overnight in the fridge:
1/2 cup oatmeal
1/2 a sliced banana
2 tablespoons pumpkin puree
Drizzle agave nectar
1/2 tablespoon brown sugar
Cinnamon to taste
I topped the Breakfast Cookie with the other half of the banana and 1 tablespoon of flax this morning.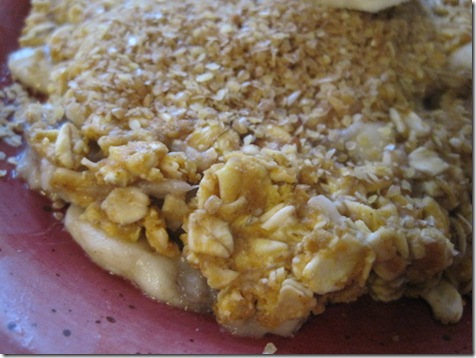 It was REALLY good!  Convenient, too!
FeelGoodz Flip Flops Giveaway
For the Operation Beautiful book contest, Morgan won a pair of FeelGoodz flip flips.  She later wrote me to say: "The FeelGoodz flip flops are soooo comfortable!  Usually I have to break in flip flops for awhile before I wear them, but these were comfy right away.  I was on my feet for three hours tonight at a swim meet and was comfortable the whole time!" 
I was so happy to hear Morgan liked the flip flops that I asked Feelgoodz if I could give away another two pairs!
Feelgoodz is committed to creating a sustainable business that is both environmentally- and socially-friendly.  According to Feelgoodz, "We use biodegradable natural rubber.  We use hemp and bamboo.  We use recycled paper and recycled flop hangers.  Also, it is imperative that our Thai employees are treated fairly.  We don't condone child labor.  We demand fair wages.  We expect proper working conditions."
Do you want to win a pair of Feelgoodz Flip Flops? TWO winners will be randomly chosen!  I'll pick the winners tomorrow at breakfast.
Simply leave a comment describing your favorite place to wear flip flops! 
*Please hold any non-Feelgoodz questions until my next post.  Thanks!*