I was craving soup, salad, and bread for lunch!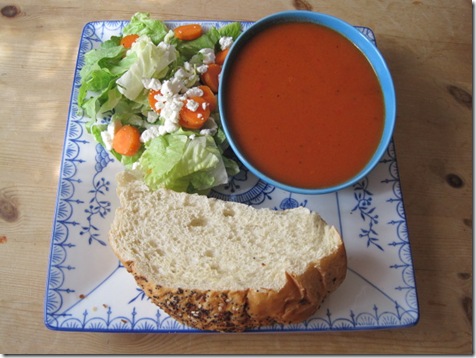 So that's what I had.  🙂
Wolfgang Puck's Roasted Red Pepper soup and a salad with goat cheese: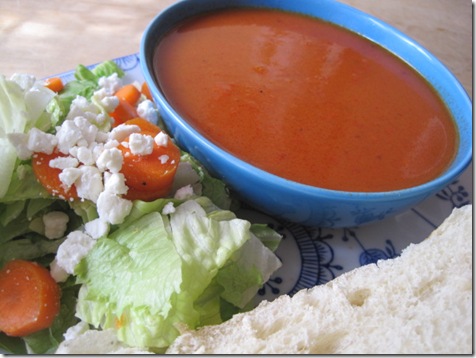 And an inappropriately appropriately large slice of Garlic Bread: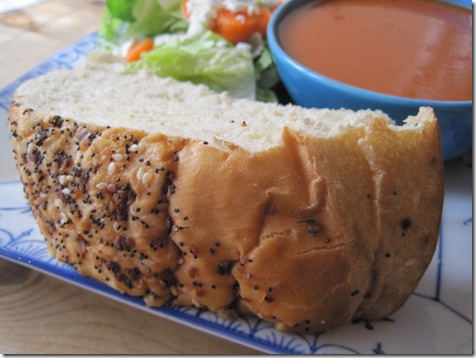 Plodders Have a Place, but is it in the Marathon?
A few people have sent me links to this article in the New York Times.  The article discusses the "cut-off" time in marathons and whether people who walk or walk/run a marathon should call themselves "marathoners."
When I first heard about this article, I thought to myself, "I can't believe so many runners are being such elitists.  Running is a sport for everyone to enjoy.  Racing is a great activity, and walkers and walk/runners are at least getting their asses off the couch."  But… then I read the article, and it made me reconsider my initial knee-jerk reaction.
Fun Facts About Finishing Times:
Runners in the Honolulu Marathon have no limits. Race rules state, "All runners will be permitted to finish, regardless of their time."  Last year, 44 percent of the field for that event finished in more than six hours — with some marathoners stopping for lunch along the course.
In last year's New York City Marathon, about 21 percent of the field finished in over five hours.
From 1980 to 2008, the number of marathon finishers in the United States increased to 425,000 from 143,000.  The finishing time has dropped considerably.
In 1980, the median finishing time for male runners in United States marathons was 3 hours 32 minutes 17 seconds, a pace of about eight minutes per mile. In 2008, the median finishing time was 4:16, a pace of 9:46. For women, that time in 1980 was 4:03:39. Last year, it was 4:43:32.
Stopping for lunch in the middle of a marathon?  Seriously?  That DEFINITELY does not make you a "marathoner."  🙁
The article draws a distinction between "participating" in a marathon and "racing" or "running" in a marathon, which I think is a good way to define the different approaches to 26.2 miles.  
There are logistical reasons why there must be a cut-off time, and I think asking the participants to maintain a 15-minute/mile pace (6.5 hours total) is reasonable.  After all, marathons raise money for charity, encourage healthy living, and give people a sense of accomplishment.  The more people that do it, the better!
Many people have written to me and said they felt nervous about doing a 5K or 10K because they felt "slow" and thought people would look down on them.  Don't ever feel like that if you're a new runner. I think all runners (except perhaps the snobby ones quoted in that article) really respect new runners or people tackling new distances.  Running is HARD, and you deserve kudos for crossing a finish line, period.  Truly, the only race is against yourself, unless you're an elite runner!
But at the same time… I really don't think you should call yourself a "marathoner" unless you run the majority of the time.   I have a lot of respect for the marathon distance, and I think the title of "marathoner" should be reserved for someone who ran the distance, even if they ran it at a slower pace.   In my world, walkers are more than welcome to participate in a marathon (just don't stand in front of me in the corrals at the starting line, please!). 🙂
I guess my opinion about the New York Times article falls somewhere in between.  I don't think you have to run FAST to be a '"marathoner," but you do have to actually run.   :)   However, I think everyone should be allowed to participate in the marathon, with reasonable time limits.  I DO wonder why the people in the article are getting so worked up – someone else's finishing time doesn't take away from your accomplishment. 
The New York Road Runners disagrees with me in some ways.  They said, "We don't encourage people to walk the marathon or to take 8 hours to complete it. It is a running event after all…. [However,] a marathoner is a marathoner regardless of time. Virtually everyone who tries the marathon has put in training over months, and it is that exercise and that commitment, physical and mental, that gives meaning to the medal, not just the day's effort, be it fast or slow."
What do you think?  What is the cutoff time for being a "marathoner"?  Or should there not be a time limit at all — 26.2 miles is 26.2 miles, whether you run, jog, or walk it?
Oh, and on another note – Am I a "marathoner" after one race, or do I have to do two?   I was thinking about this the other day!  🙂
Another side note:  Here's an article about Cheating Marathoners.