Well, this is certainly a post that I never thought I'd write…  Remember how Nicole and I drove to DC last weekend for the National Half Marathon?  Somewhere in Virginia, we pulled over for coffee, and I decided to buy a lottery ticket.
I didn't know it when this photo was taken, but my life had already changed FOREVER.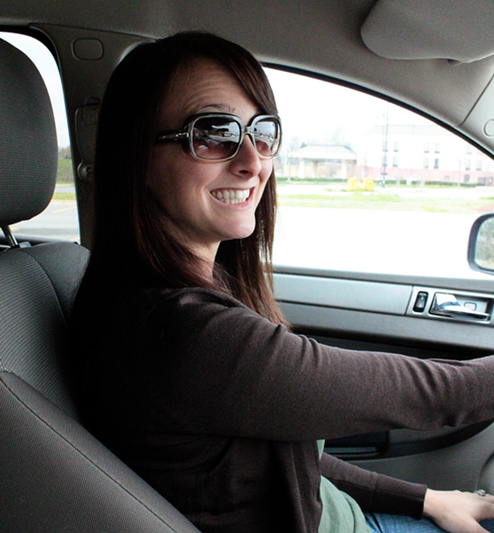 The Husband and I buy tickets every week, but I never, ever thought we'd actually win.  Then, on Tuesday, I found the ticket in my purse and pulled up the Virginia Lottery website…
My whole body started to shake.  I looked at the number on my ticket and the numbers on the screen over and over and over again.  I cannot even describe in words what it felt like. 
And that was before I scrolled down and realized…  We had won $125,000,000.  A HUNDRED AND TWENTY FIVE MILLION DOLLARS. I freaked out.  And then I threw up.  And then I prematurely tweeted…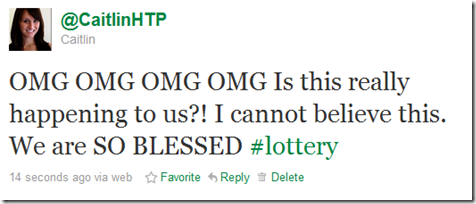 And THEN I called the Husband.  Yes, I tweeted before I called!  The Husband was at the clinic and came rushing home.  I didn't want to tell him WHAT was going on until he got to the house, but he could tell it was something big.  I think he thought I was pregnant – whoops!  But when I gave him the ticket and showed him the website, he didn't believe me at first… And then he fainted.
It's been SO hard to pretend like everything is normal on the blog for the last few days.  I've been BURSTING with excitement (obviously), but I didn't want to say anything until we had spoken to a financial advisor and a lawyer. 
We also had to proceed with business as usual – we have obligations to the clinic and to Girls on the Run that we couldn't skip out on just because we were suddenly millionaires.
So – what does this mean for the blog? 
I've decided to change my name to Wealthy Tipping Point because, obviously, I'm FREAKING LOADED now.   Do you like my new header?  Nicole made it for me!

We have taken the lump sum payment option and are going to transition out of our booking writing/clinic responsibilities over the next few months.
We'll be leaving on a six-month trip of the entire world sometime this summer.  We're going balls to the wall and will see every country possible!
We have promised our parents that we will give them money to retire and buy lovely homes.
We have also discussed donating a large portion of our winnings to charity, but we haven't picked which one yet.  Maybe I'll start my own Operation Beautiful charity! 
I am incredibly blessed.  I am excited to take YOU on this awesome journey with me.  I'm riiiiiiiiiiiiiiiiiiiiich!
Show me the money!!!!