I've been rush-rush-rush with work, but the BEST part of my day was definitely when I got to take a break and coach Girls on the Run.  Today was the Practice 5K Day!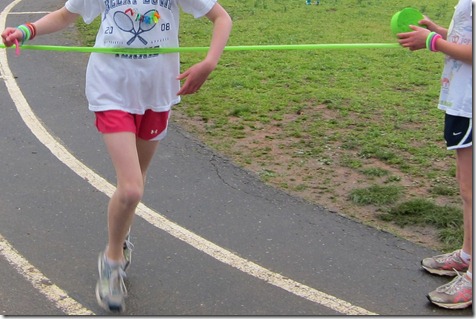 Some coaches choose to 'build up' the end-of-season 5K a little more than others… I am definitely in the "Let's get excited for the 5K!" camp.  GOTR is really a self-esteem program more than a running program, but I want my girls to be PUMPED for the 5K.  I also don't want the girls who are more inclined to walk laps than run/walk to feel underprepared on 5K day, either.
That's why I make a HUGE deal of out the first Practice 5K.  Now, it's not a race against each other, but it is a race against yourself… I always say the goal is to have fun while giving it your best.  We also don't shout out finishing times because I think that create competition.
We have, however, a fun finish line for each girl.  Coach Kristien (aka Husband) really liked that part.   I snapped a picture as each girl finished and will include it in their photo album at the end of the season.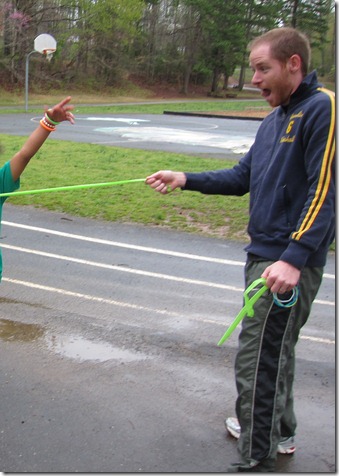 And once they finish, they get "Power Runner Rings" (plastic rings from Target) and squawkers to help cheer in their friends.  We also had snacks and cookies.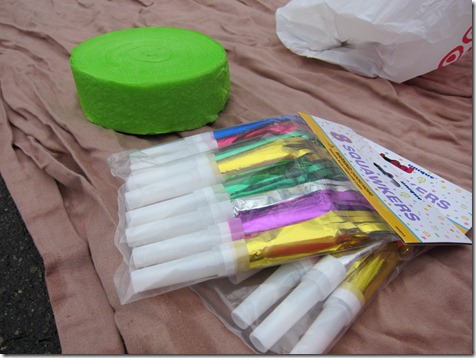 Although I didn't tell them their times, I did notice the lead girl finished in about 25 minutes! Insane, right?!  I'm jealous of her skills. :)  The other girls took about 35 – 55 minutes. 
And although I didn't run the entire thing, I did do about 1.25 miles with the girls and had NO LEG PAIN!!!! Some of the girls know that I'm injured and they were very happy to see me running again.  As was I!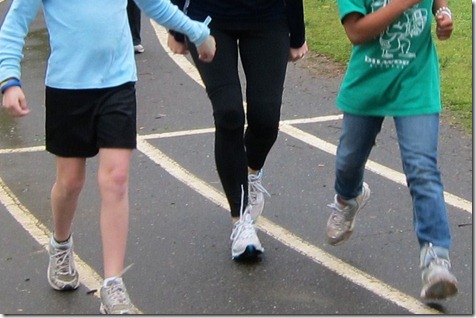 Onto the meals of the day thus far…
Breakfast was a double portion of cereal, almonds, a banana, and almond milk: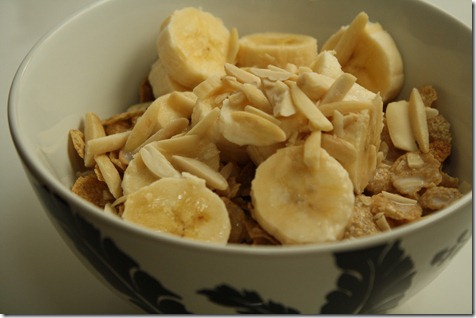 And Part I of lunch was this HUGE hummus and veggie wrap.  I ate most of it in the car as I drove to GOTR.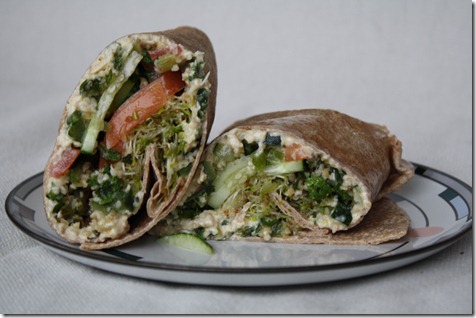 Mmm. Tasted as good as it looks!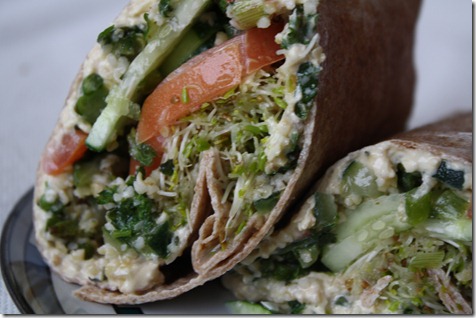 I'm about to rummage in the fridge for Lunch Part II and then I need to get on the road… I'm driving north for a Girls on the Run event.  I'm speaking about Operation Beautiful.  I'm excited for the event, but it's going to be a long night!