Because I can't think of 1 more to make it an even 30!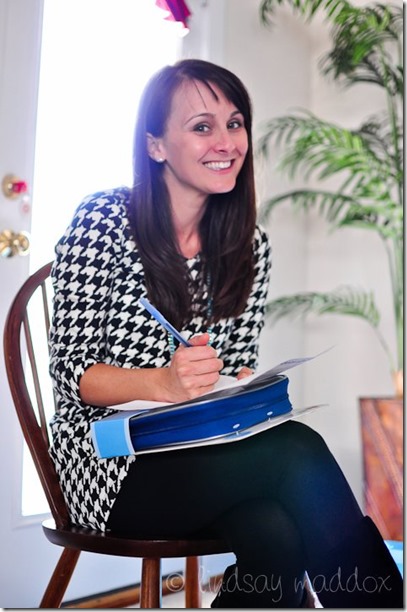 I have a natural immunity to mosquitos – they never bite me.
One of my pet peeves is when you're assembling furniture and the Allen keys are too wide to turn an entire rotation without running into the side of the furniture. Know what I mean? It's the worst.
My other pet peeve is when people wipe their mouths after brushing their teeth and get toothpaste on the towel.
My middle name is Joy.
I am the kind of person who truly enjoys the games at baby showers.
I didn't own a pair of closed toe shoes when I went to college (from Florida to Pennsylvania).
I had never changed a baby's diaper until I had my son.
I have written three books and another 40 pages of a fourth, but it's been languishing on my desktop for about two years.
Nothing makes me happier than the first signs of spring.
My friends and I exchange about 4,000 texts a month (!).
I have 2 tattoos, and neither are visible unless I'm naked.
I'm not a judgmental person, but I do judge people by their bumper stickers.
I've had the same cell phone number for over 13 years.
I was yearbook editor in middle school.
I had light blonde hair until I went through puberty.
I am really cranky when I wake up. I need 30 minutes or so before I'm human.
In real life, I have a pretty dirty sense of humor, but it rarely finds its way onto the blog.
If Spinach and Artichoke Dip is on the menu, I'm probably going to order it.
I almost bungee jumped once, but I backed out at the top of the platform and made them take me back down to the ground. I was terrified!
I can pop my shoulders out of joint and put both legs behind my head.
I went to a horseback riding camp when I was a kid.
When I can't fall asleep, I fantasize what it would be like to win the lottery.
I'm not afraid to get dirty or sweaty, but I find the idea of camping to be horrifying.
I used to be obsessed with The X-Files and even attended a convention. Nerd alert.
I kiss the airplane before I board for good luck. If I forget, I get really, really nervous (but no crashes yet, so…).
My favorite drinks are sangria (<—my recipe!), white wine spritzers, and gin and tonic with lots of lime.
I am a terrible driver (but I try hard not to be).
I would rather re-make the entire pot of coffee than drink a single cup of poorly brewed coffee. Life is too short to drink bad coffee.
Once, Ricky Martin kissed me on the cheek.
Share a random fun fact about you!