So clichéd but so true – time really starts to fly when you have kids!  Can you believe Claire was born two months ago?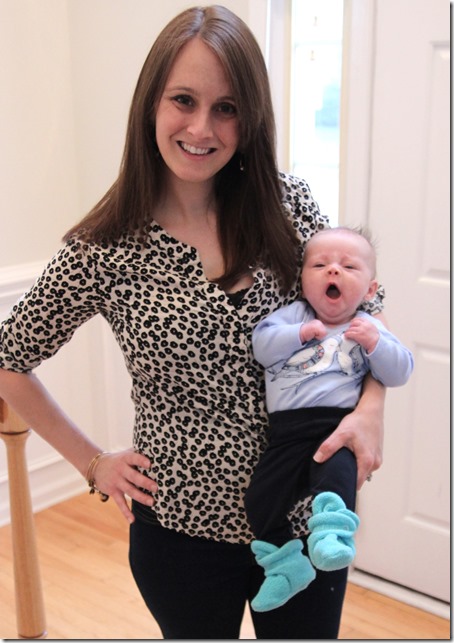 It's been a really wonderful two months!  A friend asks me how I was feeling about going from one kid to two, and my response is that I feel like Claire just slipped into the fray.  It's like she's always been here.
Let's do a quick "me" update and then I'll do a Claire update!
Mind After Baby
Like I said, I'm doing really well. I don't feel overwhelmed and nutty like I did after Henry.  I know how to do this baby thing, and I think I can do it pretty well, so we're surviving.  Also, the lack of sleep isn't impacting me like it did last time.  I was CRAZY SLEEP DEPRIVED after Henry.  This time – not so much.  Sleep deprivation does terrible things to your outlook and mood, so I'm thankful.
The hardest part of my day is doing bedtime with two kids when I don't have other adult help.  That really does me in.  Henry becomes a typical needy toddler at bedtime, and Claire usually has a screaming fit, and I end up feeling pulled in two directions.  That's the worst feeling – when I can't comfort anyone and everyone ends up upset.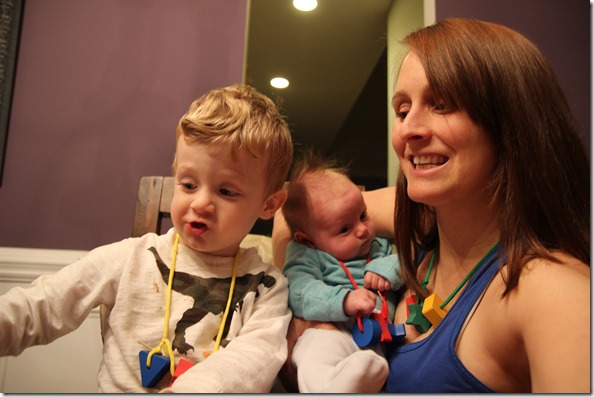 (Henry made us all necklaces!)
The other thing that I'm struggling is a life-work balance.  I've always felt like that phrase was total bullshit anyway, but now I'm really struggling to find enough space in my schedule for all the work that I want to do.  I can cook, clean, exercise, or even read a book while being "on" but I can't work.  We don't have additional childcare for Claire at this point but it may be necessary at some point.  I feel perpetually behind!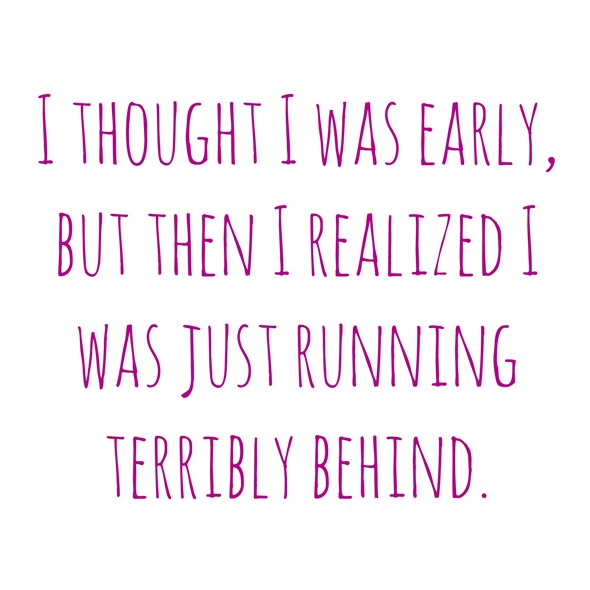 Body After Baby
I'm really proud of the things my post-baby body is doing!  I'm back to running and even did a 4.0 mile race.  I feel pretty strong and capable.  And I'm really, really enjoying having that 'me time' again.  It's also a great no-kids social outlet for me because I occasionally run with my girlfriends.
I'm still breastfeeding, although I actually breastfeed half the time and do pumped bottles the other half.  I do this for all the reasons that I exclusively pumped with Henry – I find public breastfeeding awkward, I need the ability to leave Claire with a bottle, I still have to use a shield because of flat nipples, and – quite frankly – I just don't love it.  I'm owning all those feelings (instead of feeling bad and guilty about it like last time) and just rolling with it.  It's nice to be able to breastfeed in the privacy of my home – I actually enjoy it and appreciate how much easier it is than pumping.  But pumping works for me, too, and I appreciate all the benefits that pumping allows.  I don't feel as hostile about pumping as I did after Henry, and I'm just trying to chug along until the end date that I've set in my head.
As far as post-baby weight loss goes… it's going!  I've lost about 25 pounds since giving birth, which means I have another 15 or so to go.  I'm trying to eat mindful portions and not go nuts on the chocolate and wine, and I'm losing about a pound a week.  Slow but steady progress.  
And a Claire Update
Okay – the fun part!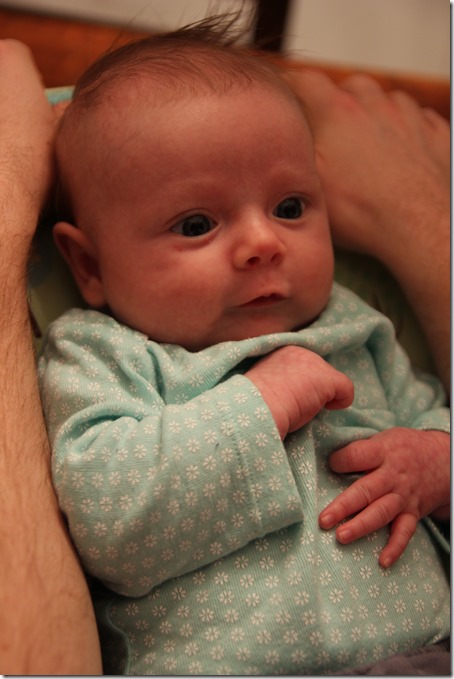 Gosh, I love her SO MUCH.  She is terribly adorable and so sweet.  She is incredibly easy.  I feel very blessed to have such an easy kid (I prayed really hard for a good baby!).  She LOVES to smile and cracks a big grin whenever she sees me, the Husband, or Henry.  She's also started to coo and squeal and will "talk" to you.  She's getting better at tracking people with her eyes and will turn her head to watch you leave the room.
She is CHUNKY and I love it.  Henry was always a skinny kid per the growth charts, but Claire is a chunker.  She's busting out of her 3 month clothes and has all these amazingly awesome rolls on her inner thighs.  I die.
Henry v. Claire: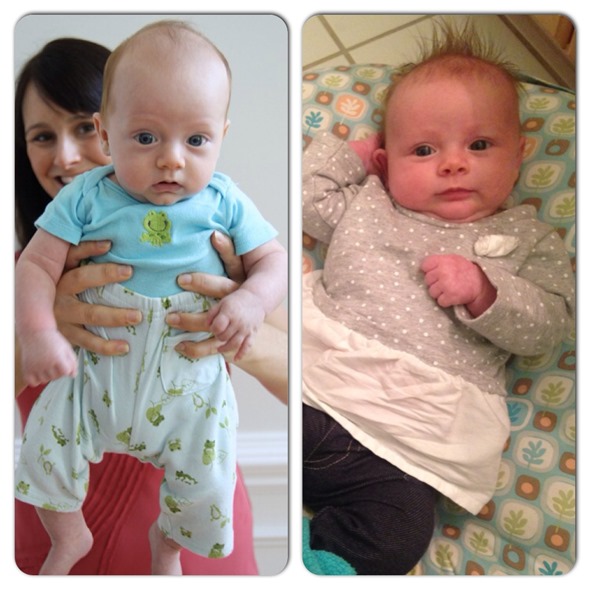 She is an award-winning sleeper, too!  She wakes up about twice a night to eat – at 1:30 and 5:30.  Then she does a light sleep until around 7:30 (so I end up being woken up a few times, but it's not a big production to console her). She goes down easily, and I'm trying to implement some 'pre-sleep training' techniques (like not always rushing to her immediately and patting her stomach v. picking her up to calm her) to try to move the process along even faster.  The twice-a-night wake-up thing isn't TOO bad but, obviously, I can't wait to sleep through the night again.
Henry is LOVING Claire, too.  He is a great big brother.  He sings to her and gives her pacifiers and like to pet her head.  He has even given her a few bottles!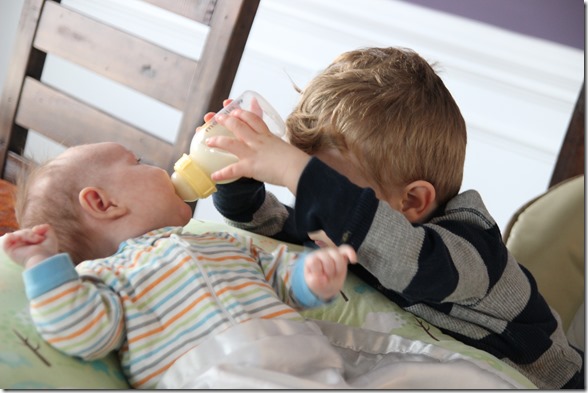 Once, he asked me if we could leave Claire at home while we went to the playground, and I died laughing before explaining that, no, we can never leave Claire alone at home.  He looked disappointed but quickly rebounded.  That's the only real sign of jealously that I've seen.  It's been much, much better than I expected overall.
Here's to many more awesome months!  <3