First run back!  This is how I felt about it: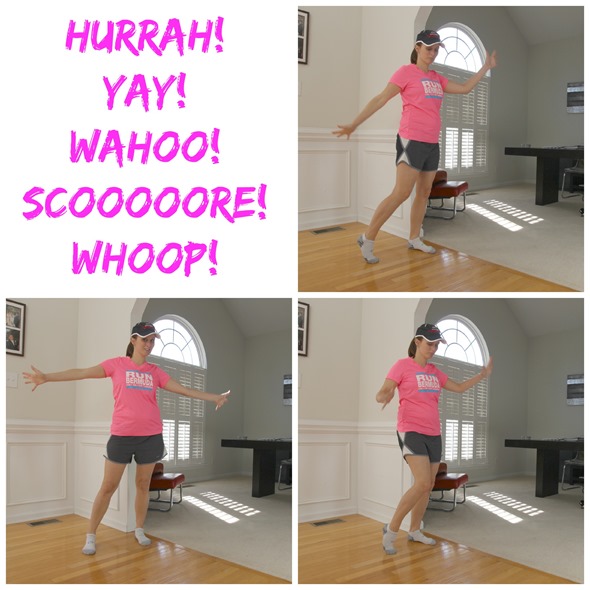 (That is me doing a jig.  Hah.)
Just like I did post-Henry, when I received the doctor's okay to start exercising, I drove home and immediately went on a run.  Too pumped to wait long!  WAHOO.  I was so excited to get back out there after months and months of not doing anything intense at all (except, you know, delivering a baby).
It felt so good to run again.
And the actual running part wasn't so bad!  I want to follow the Couch to 5K plan for a few weeks and then accelerate my training a bit, but for this run, I just wanted to see where I was at.  I set out to do my favorite 2.2 mile loop and planned to walk as needed.
Verdict:  2.2 miles in 28:30 minutes.  Not too shabby!  Loads more running than walking, and I think I could've gone even faster, but I made myself a bit nervous towards the end and started to pull back (it would suck to injure myself on my first go!). 
At first, I was surprised that after months of doing little more than walking, my cardiovascular strength didn't seem too tapped.  My legs were definitely feeling it – the result of running with an extra 19-odd pounds on me and not doing any strength training for eons.  But it wasn't too terrible.  In fact… it felt pretty amazing!  I love the freedom of running.
Oh, also – my favorite Pitbull song (here is one reason I love Pitbull) came on at the end of my run.  This is one of the best running songs ever!  Fireball!
So – there you have it. My first workout of 2015.  What was your first workout of the New Year?