While it appears via social media that everyone I know was BBQing, lake swimming, and watching fireworks this weekend, I was… not.  I had a fun and productive weekend, but it wasn't very holiday-ish.  We have a BIG BEACH TRIP planned for next week, so we're saving our energy (and dollars) for that.  Instead, I filled my weekend with…
My First Dance Class!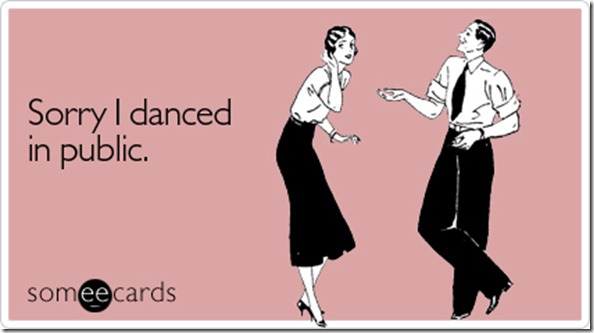 I've been talking about making it to a Zumba-like class forever.  The one thing holding me back?  Intense fear of public embarrassment.  See, I cannot dance.  Like, at all.  I can kind of shake my butt in time to music – if and only if – I have several drinks in me, but sober?  No way.  But here's the thing – I see the people at my gym Zumbaing and they look like they are having SO MUCH FUN.  So I've always wanted to try it.  And this pregnancy is the perfect chance for me to branch out and try stuff like this.
This weekend, I had an idea – instead of jumping into the beginner's Zumba class (and I consider that a "jump"), why not take the old lady dance class?  My gym has this hybrid strength/dance class that is very popular with the senior citizens.  Anyone is allowed to take it; I guess it's just really popular with a certain group of women.  I was the youngest person in class by 30 years (and one of the few not working out in a cardigan <— side note: adorable) but I could actually keep up with the steps.  And by the way, 50% of which were way harder than I expected, so rock on, older ladies.  Rock on.
It was really fun!  I felt awkward at times, and I know that I wasn't totally following the moves, but I tried to just let myself go and enjoy it instead of getting all worked up over being perfect.  I had the most fun when they played a more Zumba-ish clubby song… but I think I may take that class a few more times before trying the real thing.
Taking Apart the Crib (and the Putting It Back Together)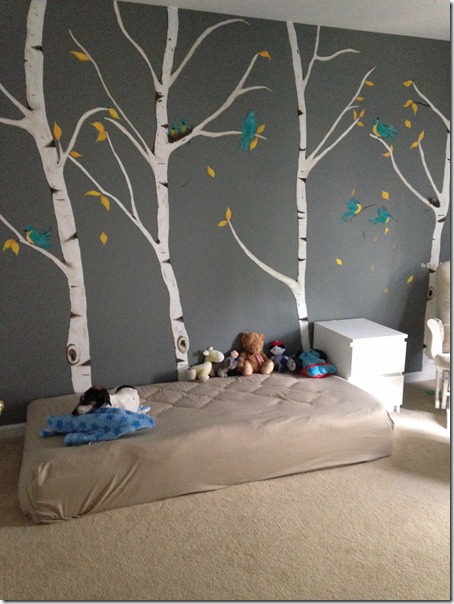 My last post mentioned that Henry escaped his crib for the first time.  The comments on this post were really great and super helpful/informative about making the transition from crib to big kid bed.  I got pretty freaked out that he was going to injury himself falling out of the crib, so on Friday, I decided to take apart the crib and move his twin mattress (which has been waiting for this day) into his nursery.  This is not that way that I *wanted* to do things originally – I wanted to design his big boy room and move him into a new special space when we did the bed transition – but I felt like I had to get him out of the crib.
It.  Was.  A.  Disaster.   I quickly realized that this is the toddler version of baby sleep training (posts on that –> Part I and Part II).  But after an hour and a half of going back and forth with him, I decided that Henry is just not emotionally ready to transition.  He kept telling me he was scared and wanted "old bed" back.  It was so sad!  Henry is never scared of anything, so I definitely listened to what he was saying… And re-assembled the crib (what a nightmare!).  We pushed the twin mattress up against his crib in case he tried to escape again.  Now, I'm not worried about him hurting himself with a fall (and he hasn't tried to get out again – I think he now realizes the 'consequences' of escaping). 
This kind of reminds me of getting rid of bottles – I tried to force it on him at 12 months because his doctor told me to, but it was so hard at one year.  He just wasn't ready.  I gave it three month months, and then saying buh-bye to bottles was a piece of cake. So, here's my new plan for getting him out of the crib:  I want his big kid room to be all ready for him so the transition is more exciting.  And I'm going to wait a few months and try again – hopefully, the next time we try, it will be "his idea." 
I Shopped – A Lot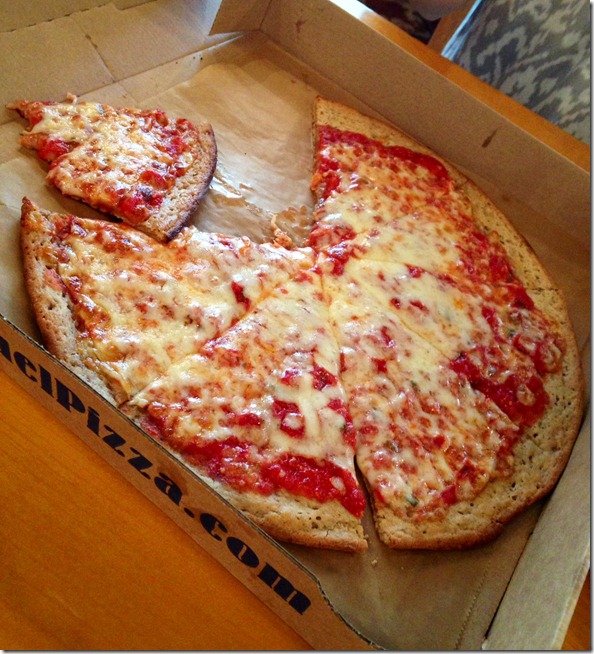 Speaking of the big kid room, I spent all of Saturday shopping with BFF Nicole.  Nicole is SUPER CRAFTY and loves to decorate; I've enlisted her to help me design Henry's room.  She's temporarily out of projects at her house so she jumped at the chance.  She's come up with an awesome concept – now, we just have to implement it!  The big task for Saturday was to find a new dresser.  We shopped for so long that we ended up needing a pizza break.
I really wanted a solid piece of furniture, so we went to a bunch of secondhand shops and a few big box stores before settling on an awesome unfinished dresser.  Nicole helped me pick out a stain and then she came over and did the first coat (Kristien finished it up yesterday – it looks awesome!).  What a good friend, right?!
I Watched a Lot of TV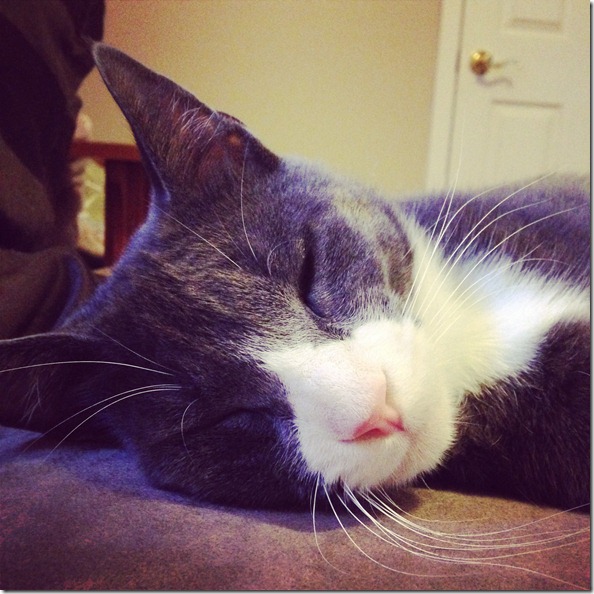 Like, a frightening amount.  We are now almost done with Season 3 of Parenthood.  Every night, we say, "Do you want to watch something else? Like a movie? Nahhhh, let's just watch more Parenthood."  And it never fails us.  Ever.  That show is awesome.
I Cleaned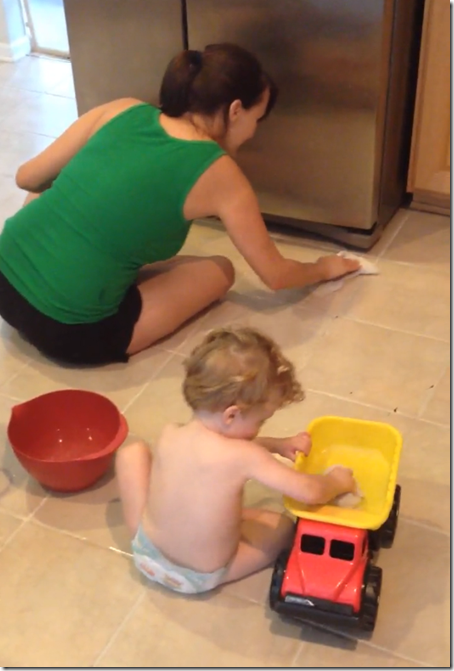 I did my quarterly scrub-the-floors-with-a-rag clean.  Henry helped.  <3  We also did a ton of lawn care, organized the garage, and tackled the mountain of laundry that's been taking over our closet.  It's nice to start Monday off on a tidy foot!
So… that was my weekend!  How was yours?