Just for fun – I thought I'd write my Wedding Recap.  Yes, it was five and a half years ago, but I don't think I ever wrote a recap (I know that Meghann posted one for me while I was on my honeymoon).  Can I just say that I am SO grateful that I did not get married in the age of Pinterest?   I think I'd be so stressed out by DIY projects and plans for the perfectly staged-unstaged photo.  Hah! 
Alright – here we go.  When we got married, we were pretty young, relatively speaking, but we had been living together for several years at that point.  Lots of our guests (we had about 80 guests) came down for New Year's Eve, so our wedding 'weekend' ended up being a celebration that stretched over several days!  Our awesome families came together and chipped in for about half of our wedding; while it wasn't a true budget wedding, we were definitely cost-conscious. 
We got married on a great golf course in Orlando, Florida.  That allowed us to have the ceremony and reception in one place, and the golf course took care of so much of the organizing and catering.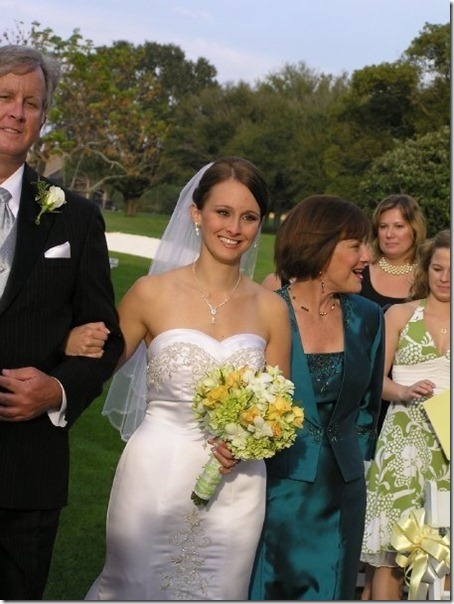 My dad and mom walked me down the aisle, a tradition that I had seen in many of my friends' weddings and wanted to incorporate into mine.
We didn't really have a "theme" for the wedding, but we tried to incorporate a little bit of Florida into things – most of our guests were from up north and were really pumped about a trip to Florida in January.  Our colors were yellow, green, and white – Kristien actually picked the colors and the bridesmaid dresses out!  My bridesmaids carried daisies and green mums, and I think my bouquet had yellow roses and orchids.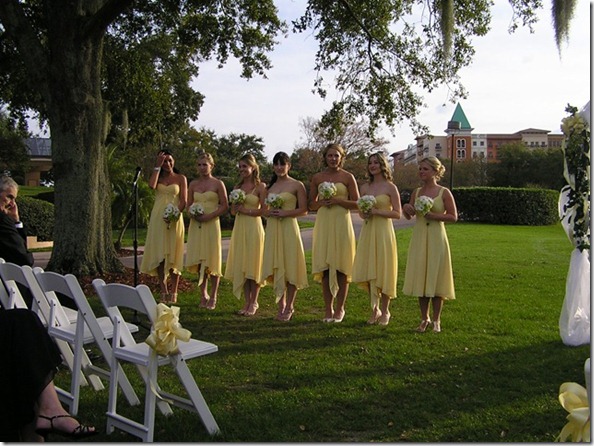 Oh, and my dress? I snagged it for $500 from David's Bridal.  I liked my dress, but I didn't love it.  In hindsight, I wish I had sprung for the dress I really loved that was twice the price.  I do remember being really pissed that I paid $100 for my veil, which seemed so overpriced.  I guess if Pinterest did exist back then, I probably would've figured out how to make my own!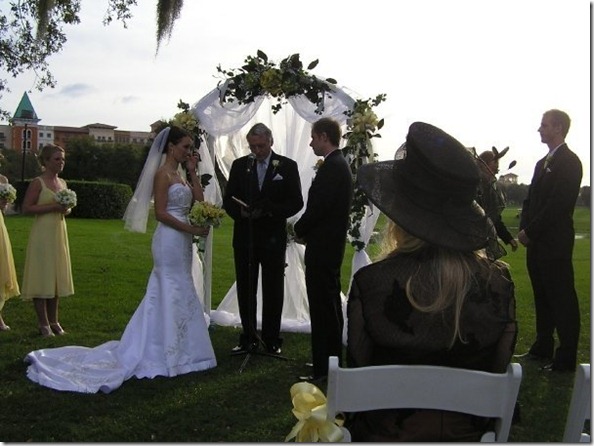 I had a minor panic attack a few weeks before the wedding because I realized that we didn't have any 'backdrop' to get married in front of.  My mom and MIL worked their magic with some pretty fake flavors and ribbon and dressed up an arbor. 
We wrote our own ceremony (I used examples online as a guide) but said the traditional vows.  I remember my heart pounding hysterically the entire time – I was so nervous / excited / in love!  After we said "I do" and kissed, the DJ broke into "All You Need is Love" by The Beatles, which was really fun and upbeat.
We took family pictures while our guests had a cocktail party – I wish we had been able to go to the cocktail party, but Kristien and I were both dead-set against seeing each other before the ceremony.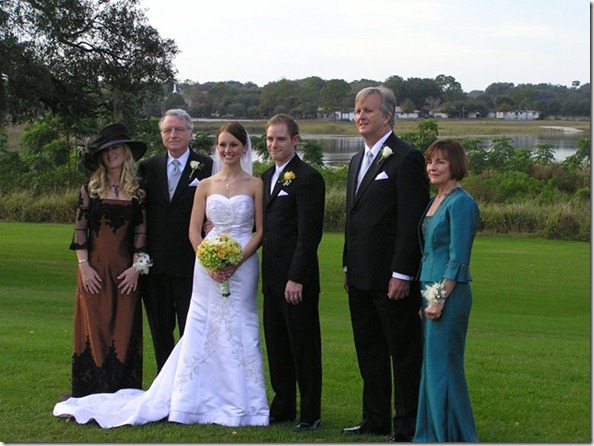 Oh, wondering why I'm mainly sharing photos from friends' point-and-shoots?  Well, most of my professional photos bombed – my biggest wedding regret was our photographer hire.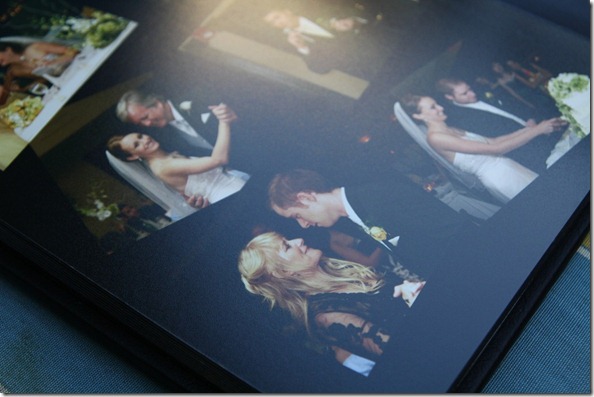 Actually, a few months after our ceremony, we hired another photographer and retook our portraits.  I wrote about that in this post –> Do Over.  The wedding photos that are up in our house were actually taken six months after we tied the knot!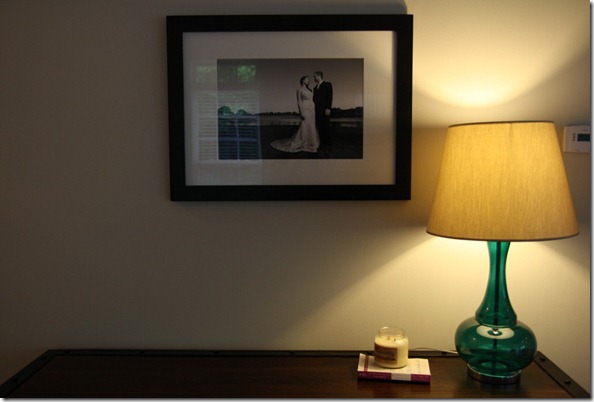 Speaking of documenting the day, I wish we had paid for a videographer.  At the time, I thought that was a huge waste of  money, but I really, really regret not having a wedding video. 
Okay – back to the reception.  We had signature cocktails!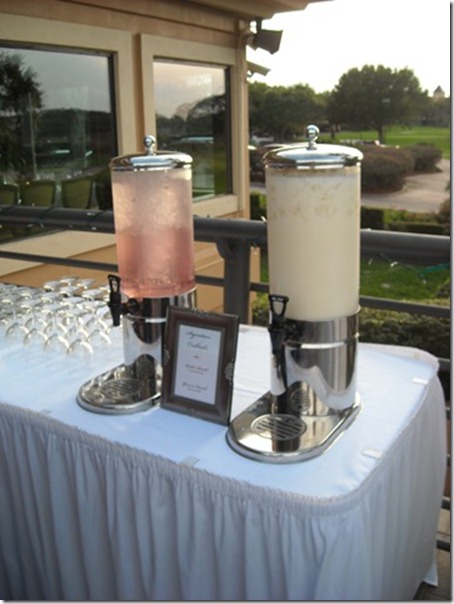 A months or so before the wedding, we went to the bar and ordered a bunch of drinks to "help" us choose our signature drink.  It was a tough job, but someone had to do it… We ended up choosing:
Coconut Breeze
2 shots Malibu Coconut Rum
Splash Cranberry
Top off with Sprite
Serve over ice
Key Lime Pie
1 and 1/4 shot Licor 43
Splash Sour Mix
Splash Rose's Lime Juice
Splash Cream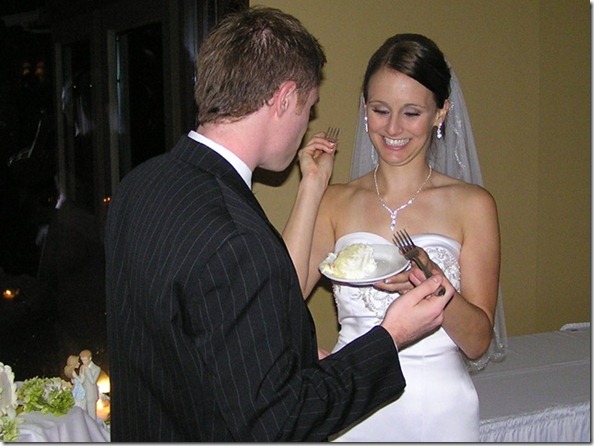 Our reception was super fun!  We had an awesome open bar and a buffet-style dinner.  Side note: I loooove buffets at weddings.  My wedding cake was handmade by my auntie, who is an excellent baker, and although we did not smash cake into each other's faces, we did all the other traditional reception things – garter and bouquet tosses, mother-son and father-daughter dances, and MOH and best man speeches.  Our first dance was to Snow Patrol's "Chasing Cars," which is our song. 
We left the party around 10 PM – we splurged on a towncar to take us to the airport. All of our friends went to the Orlando clubs after our wedding – it was fun to hear the crazy stories the next day!  Hah.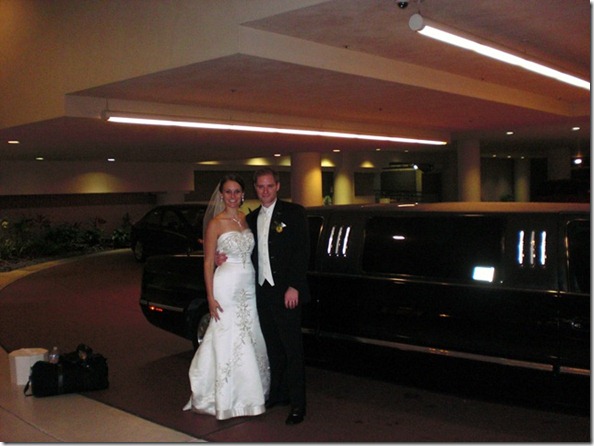 We stayed in the airport's hotel and woke up the next morning SUPER EARLY to go on our honeymoon.  It was crazy – I had to leave my wedding dress in a trash bag at hotel reception so my mom could pick it up the next day.
We didn't want to travel internationally for our honeymoon, so we did an awesome 7-day honeymoon in San Francisco and Napa Valley.  It was great to go to Wine Country in the off-season because there were no crowds and we got loads of personal attention.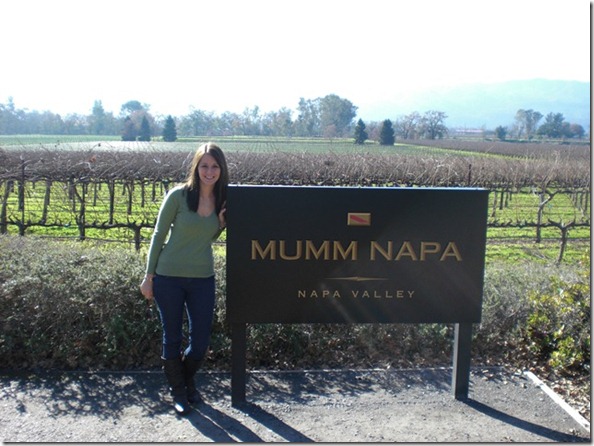 Since we'd been living together for a while and had all the home stuff that we needed, we didn't do a traditional registry. We used a website called Smart Honeymoon, which let us 'register' for activities like wine tasting and massages. Our amazing guests ended up paying for almost all of our honeymoon! It was truly an awesome blessing and a very memorable experience – we lived like a King and Queen for a week.
So – that was our wedding!  Feels so long ago, but it was fun to take a little trip down memory lane.  <3 <3 <3
What I Learned After 1,000 Days of Marriage
What the Husband Learned After 1,000 Days of Marriage
When you got married, what items did you splurge on – and what do you wish you had/hadn't?  What unique things did you do during your ceremony and reception? Did Pinterest exist when you were planning your wedding?