Wine – awesome for drinking.  Wine bottle – excellent for emergency foam rolling.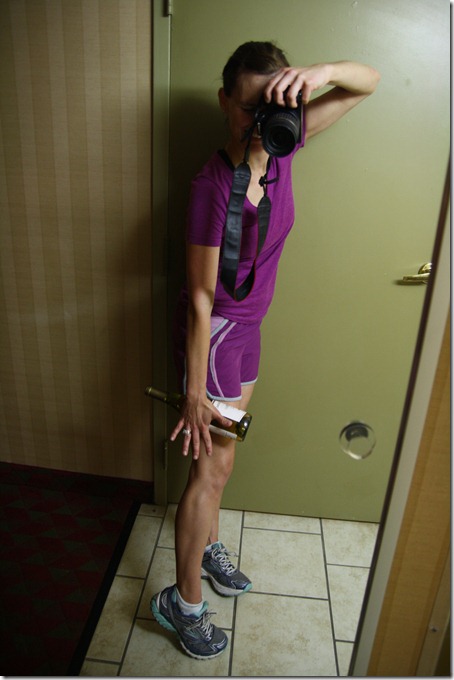 Wahoo! I'm home. And I'm so excited. Kristien and Henry had a blast while I was gone – three nights in a row – and did lots of fun activities. They went on numerous nature walks, attended swim school, and bought new sneakers (for Henry).
And when I walked through the door, I was greeted by this happy face:
Awww!  Long-term readers may remember that, last year, I went away on a business trip, and when I came home, Henry flat-out ignored me. Granted, he was about six months old and (no offense) was probably rivaling Maggie for lowest IQ in the house, but it just broke my heart.  I cried and cried and cried (thanks, hormones).  Now, when I come home from trips, he squeals and screams, "MAMMY!" and sits in my lap for half an hour, petting my face. It's so sweet. It's nice to be wanted, ya know?
VEGETABLES, get in my belly.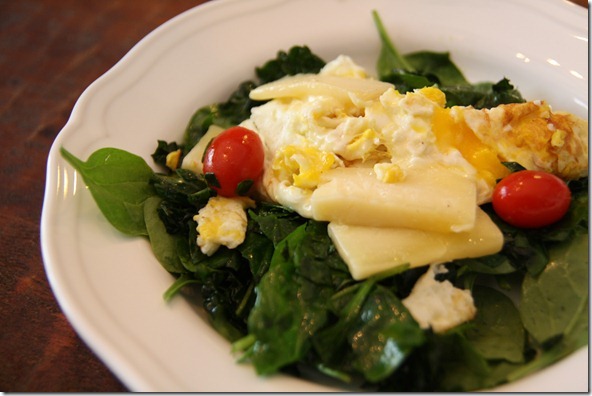 January Joiners Update
It's time for an update from our January Joiners. Remember them?  Every year, I profile a few HTP readers who have *big goals* for the New Year.  We've only got a few months to go, but I thought now would be an ideal time for an update.  Gotta stay strong to the end, right?  You can read the original January Joiners' commitments here, and the first round of updates here.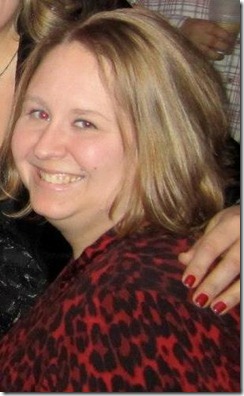 Christine's 2013 goals were to lose weight, go to the gym regularly, and run a 5K.  Here's her update: "We moved to a new town and with my husband's summer work schedule the packing and moving fell squarely on my shoulders.  Needless to say, I stressed and stressed for two months and really didn't take very good care of myself.
But, now that we're settled (notice settled, not completely unpacked) I'm back at it.  Actually, I found it surprisingly easy to slide back into my old, good habits.  I've lost a total of 17 pounds this year, I can walk 3-5 miles comfortably, and I've just started up a 5K training program with a local running store to train for a turkey trot!  I'm tracking all of my food and currently trying to get more veggies into my diet.
Even with the minimal activity I've added and the smallish amount of weight I've lost I've lowered both my blood pressure and cholesterol, which were never bad, but now I'm at optimal levels and I want to stay that way!
The biggest change for me, though, has been my emotional health and the way I feel in my own skin.  I know I have a long way to go but I feel more comfortable clothing shopping instead of dreading the idea that nothing will fit me.  I like to throw on my hot pink running tights (yep, that's right) and run around the neighborhood and not give a second thought to what anyone will think.  This is a big change for me and something I'm not sure I could have done a year ago.  I'm also really glad I ditched the gym; I'm much happier outside.  I still have three months left in 2013 so I have a lot of time to make more changes and continue to improve.  But, already, I can feel my lifestyle changing and that is the best feeling!"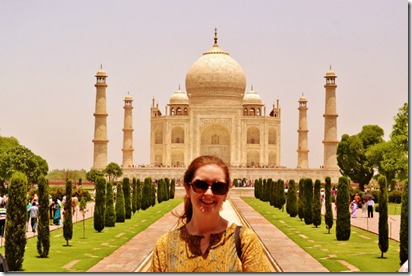 Maeve wants to lose 20 pounds, run injury-free through 2013, and work on her abs.  In her last update, she had started using the Gympact app to help create accountability.  Here's her latest update:
"It's crazy to think that ten months have passed since I committed to taking control of my health. I've definitely enlisted as many people as possible in the process to make me accountable and to support me in my goals. My best friend is a running buddy, I am working with a trainer, and I even took the summer off from drinking alcoholic drinks (excluding a few birthdays that I gave myself permission to cheat).
While I am not sure of exactly how much weight I've lost so far, I'd put it in the range of 10-12 lbs. More exciting, however, is that I can now bench press 60 pounds when four months ago, I could barely do 20. I can run five miles uninterrupted, where in January I was wheezing after one!
The biggest challenge has been balancing a busy NYC lifestyle full of cocktail bars and beautiful restaurants with staying focused on my health and fitness. Being vocal about my goals has definitely helped, and lots of my friends are more into outdoor and fitness related activities than I expected. "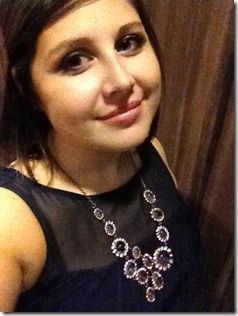 Meagan wants to get truly healthy in 2013 in preparation of having a baby.  In the first round of updates, she was struggling with getting back on track after her grandma fell ill.  Here's her latest news (HINT:  It's a big one!):
"I really struggled in the middle of the year.  I was working out regularly (tried several new things like barre classes and joining forces with a personal trainer that I LOVED), eating well, and absolutely nothing was happening on the scale.  So frustrating!  I went to the doctor and everything was normal, but she recommended starting a low-carb diet, which my husband and I jumped into with gusto.  The first few weeks went great!  We both lost weight immediately, felt great, and I thought everything was back on track.
Two weeks later, I started feeling a little off.  Not quite sick, but definitely not myself.  Low and behold, I'm pregnant!  Needless to say, we are absolutely thrilled, but it has certainly caused me to shift gears ever since.  Low carb is a big no-no while pregnant and nursing, so I'm back to eating lots of whole grains, dairy, and (to be 100% honest) whatever else sounds good and stays down!  My appetite in the first trimester has been a mess.  I can't stomach things I normally love like fresh salads, broccoli, or cucumbers, and I have a major sweet tooth so far.
According to my doctor, I will need to be careful about weight gain between now and April, so I am trying to be very mindful of not overdoing it with the cravings and treats.  So far, I've actually lost a few pounds (thanks all-day morning sickness!), but I know that only gives me some leeway for later on when gaining weight is normal and necessary.  Aside from being very queasy and tired, I've been able to keep up with my normal workouts with only small modifications – no high impact cardio for the time being, no crunches, etc.  I've given up caffeine almost completely, but I've found that popping into the gym at my office over lunch helps give me a nice energy boost to get me through the afternoon.
I'm incredibly excited for this next chapter in our lives, and focused on being as healthy as possible more than ever!"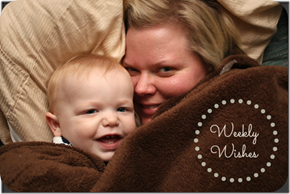 Jillian's goal for 2013 was to run more and lose weight. Here's her update:
"I've had some really great ups and downs over the past year. In January, I was still dealing with some serious postpartum depression, but I was in denial. Finally (around June) I came out of it. In June, I started working out hard and eating really well. I was super motivated and lost 10-ish pounds, but after a few short weeks I lost my motivation and became stagnant again. I stopped working out, but happily, my mood remained positive, I wasn't feeling so lost or without purpose.
I had found a new found love of my blog (which you can read here!) and spent more time there, writing (even if not all of it got posted). It just felt good to get everything out that I was feeling, even if not everyone can understand. I've since gained back the 10 pounds I lost and I struggle daily with keeping myself motivated to work out and eat well, but I'm mentally back to me.
Sure there are bad days and good days, but overall I am feeling better. I'm hoping that I can use this last quarter of the year to get myself motivated to lose some weight, especially since medicine IS the best (and cheapest) medicine! I really want to use this time, for me."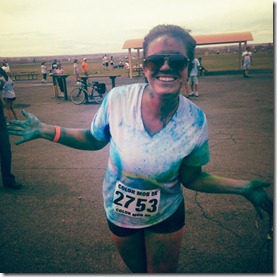 Kerry's goal for 2013 was to continue to love herself and her body, and to also run the Marine Corps marathon in October. Here's her update:
"My commitment is going really well!!  In preparation for a Marathon I'm running on December 8th, I've been running one race per month.  I've also started working with a personal trainer in preparation for a trip abroad to the beach in November, and I'm working on goals for 2014 (which include running a sub 24 minute 5K and earning my certification to teach yoga).
I've scored a "big kid" job, and things are looking good!  In total, since October of last year I've gone from a size 10/12 to a size 4/6 and I feel more confident than ever.  I've also managed to maintain a vegetarian lifestyle since January 1st of this year."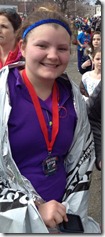 In 2013, Sierra wants to fundraise for Team in Training and run the Rock 'n Roll Half Marathon in Washington DC.  She's says she's happy it's autumn now because she had a not-so-great summer.
"Summer was rough, both in terms of food and working out. I did gain some weight, but a part of me is curious if I am putting too much pressure on the number on the scale.  The past few weeks I've been focusing on getting in 4 workouts in a week, a couple of run/walk days and a couple of strength training session. It's now starting to become routine. I had a good friend (that is an amazing athlete) recently tell me to just do me and not focus or compare myself to others. It has helped!
Now that the working out is become routine, I'm starting to discuss on watching what I'm eating and the nutrition choices. I want to enjoy food, but not make it everything. I won't end the year making my weight loss goal. Instead, I want to end the year with a healthier version of me mentally, physically, and spiritually than at the beginning of 2013."

Jennifer hoped to train for her first marathon in 2013.  At our last update, her knees were acting up, so she's temporarily ditched the idea to run a marathon and picked up other forms of cardio, including biking and swimming, as well as strength training. Here's how she is doing now: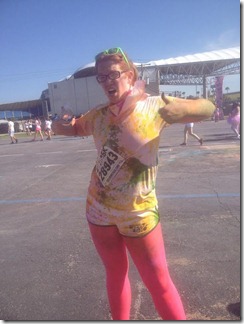 "You've caught me right in the middle of an attempt at Paleo eating, something I've been considering since joining Crossfit a couple of weeks ago..  It's definitely hard, seeing as I just started a new job as a ESE PreK teacher and I have snacks around ALL day long!  But I am my first week in, and I am already feeling better.
I absolutely love how encouraging the people at my Crossfit Box are.  I am glad I overcame my fear and joined…even though I did not know anyone in the classes.  I did a Color Run over the summer, which I am including a picture from.  I have been sticking with 5Ks, but I am definitely falling in love with running all over again.  I am hoping to find a race to do this summer when I visit England!  I've always wanted to participate in a run while I was traveling, and I will be in England this summer visiting my boyfriend…so, it seems like the perfect time."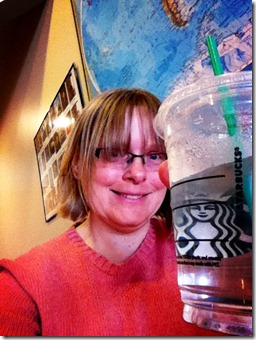 At 41 years old, Arlene wants to be consistently healthy in 2013.  I asked her how's she is doing, and she had some exciting new – she wrote a book!
"I've been so busy giving birth to my first book baby — a romance titled DIVA IN THE DUGOUT, coming out in mid-October — that I totally dropped the ball on the diet and exercise front. As a result, I'm right about where I started 2013, at 240 pounds.
I know writing/editing/promoting and eating well/exercising aren't mutually exclusive. But for me, they don't seem to mesh well. When I'm writing, I'm not watching my weight and when I am watching my weight, I don't write. So I've used writing as an excuse to return to old, bad habits.  I should use this JJ update as a reminder to recommit — I could accomplish quite a bit in the next three months, if I get serious. But with two more novels set to come out next March and April, I'm not sure it'd be wise to make any promises. Not keeping them would just make me feel bad."

Sarah's goal for 2013 included returning to working out and losing the 22 pounds she gained since getting married. Here's her update:
"I am going fabulously! Since January I have dropped 7.5kg (16.5lbs) and 35cm (14 inches) total from my hips, chest, waist, arms and thighs!
In terms of fitness achievements, I have done a personal best on a 10km run of 68 minutes (beating my previous best by 9 minutes) and I can run and entire 10km now! I have joined a running club that I am really enjoying and I have really given my blog more of a healthy living for those who travel type blog (before I was mainly writing up the latest brownie or cupcake recipe I had – not ideal).
So for the rest of the year, I turn 30 on November 7th and I want to have a healthy BMI by then (another 3.3kg/7.5lbs) and then I want to get to goal of 68kg (4 more kg/8.5lbs) by Christmas!"
Jennifer's goal for 2013 was to figure out how to lose the baby weight and be a healthy mom while living abroad in Thailand.  Last time we spoke, she had just started baby-wearing, which gave her more freedom to move around.  Here's her update:
"I am happy to report that I am back to my pre-pregnancy weight and size! I still want to tone up a bit, which has been hard since gyms here do not have child care and my husband is out of town a lot, but we are making a deal that when he is home, I get to go to the gym on the weekends!"

So – what about my resolution for 2013? If you recall, my resolution was to have less resolutions. Hah. So that's going well.  My big goal of the year (Half Ironmaaaaaaan) will hopefully be checked off in a few weeks!
What was your 2013 resolution? How has it evolved as the year as gone on?