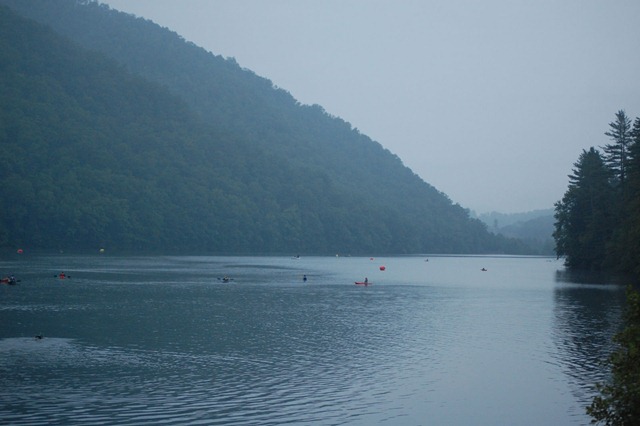 Some call me nuts, some think I'm crazy.
I'm almost as sleep deprived as when I had a baby.
I thought it'd be cool to do a Half Ironman.
So I found Coach Marni and training began.
I could already swim, bike, and run,
but I said, "Doing this for 70.3 miles would be pretty fun!"
Here are my biggest concerns about race day –
That I'll panic and drown in the bay.
I'll hit a pot hole on the bike and fall.
I'll fuel inadequately and hit The Wall.
If you've never met The Wall, it's a terrible thing.
Your mind falters and your muscles sing.
What if I poop or pee in my trisuit?
What if my timing chip falls off and there's a dispute?
What if I can't finish within the cut off?
What if I fail to get rid of this cough?
But no! No! No! I cannot think like this.
I must imagine that the race will be bliss.
I must visualize that I will be fast.
I must imagine that I'll kick the swim's ass.
I must think positive about the bike and the run,
because – really and truly – this is all super fun.
Yes, it's true, I've rhymed run/fun twice.
I'm a writer but my poetry should be on a breathing device.
But one thing's for certain, one thing is true.
When it comes to 70.3, I will follow through.
I'll hang up my medal and look at it with pride,
and then I'll grab Henry and we'll go play outside.
Because the Half Ironman is just one small part of my life.
I'm a mother, a worker, a friend, and a wife.
But whenever I feel down and out,
I'll remember this accomplishment and give a shout.
We all need a challenge, to see how far we'll go.
To carry us through each day's high and low.
But when this thing is over, after I say, "Ouch!"
I think I'll get horizontal and reacquaint myself with my couch.