A few weeks ago, I traveled to Minneapolis for a blogger tour of General Mills headquarters.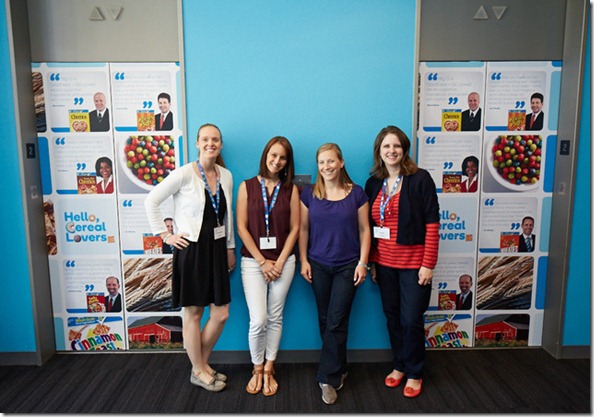 For transparency's sake, our travel expenses were reimbursed but I'm not being paid for this post or am I being otherwise sponsored by General Mills.
The Husband and Henry came, too, and when we arrived in Minneapolis, we joined fellow bloggers Emilie from Baby Loving Mama, Jenn from Fit Bottomed Girls (we walked a half marathon together in Central Park a few years ago!), and Kath from Kath Eats. I was excited to meet Emilie and see Jenn again, but the Husband and I were super excited to see our old friends Kath, her husband Matt, and their son Mazen.
Henry and Mazen are only a few weeks apart. They were fast friends!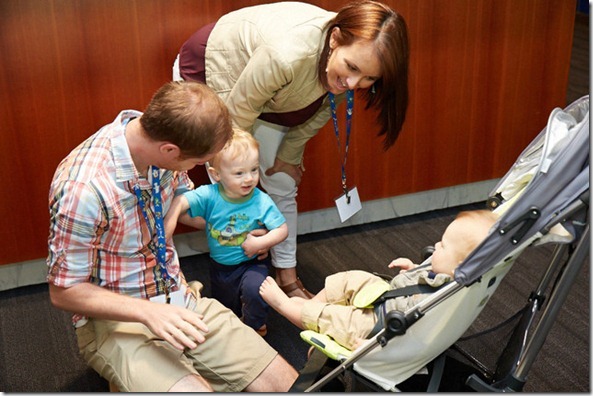 General Mills manufacturers many, many products under a variety of brand names, but we were really there for the cereal.  Chex is one of my favorite cereals because most flavors are gluten-free, I can find it at any grocery store, and it's super versatile (hello, Breaded Baked Tofu and Peppermint Bark Chex Mix).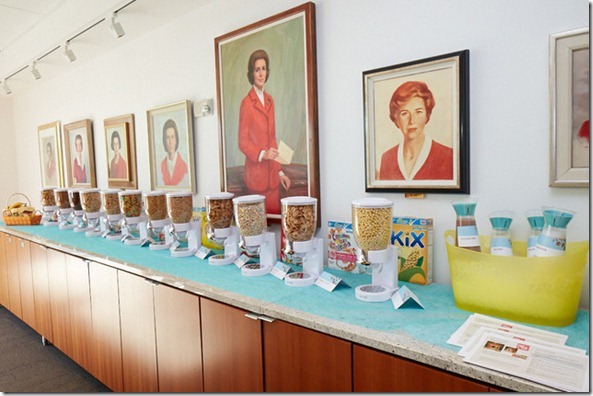 Now, as someone who believes in the power of a diet that is based on whole, natural, and unprocessed foods, I have some concerns with some of General Mills' products (for example, the use of GMO ingredients and artificial coloring in children's cereals).  General Mills was very open to discussing these issues, and I'm excited to share their feedback with you.  That being said, in the realm of what they do (manufacture processed foods), I feel like they're making tremendous strides in transforming their cereals to be healthier options (using whole grains and reducing sugar, for example).  And while we all know that whole, unprocessed foods are the superior choice, I think it's important to recognize that not everyone has regular access to such foods, whether due to their busy schedule, location, upbringing, or income. Whole grain fortified cereal is a really nutritious, accessible breakfast option for many people in our country, especially for families living in food deserts or on reduced incomes.  But I'd really like to save that discussion for my next post on General Mills!
Today, I'd like to focus on General Mills' policies for working mothers and fathers and use it as a springboard for a larger discussion.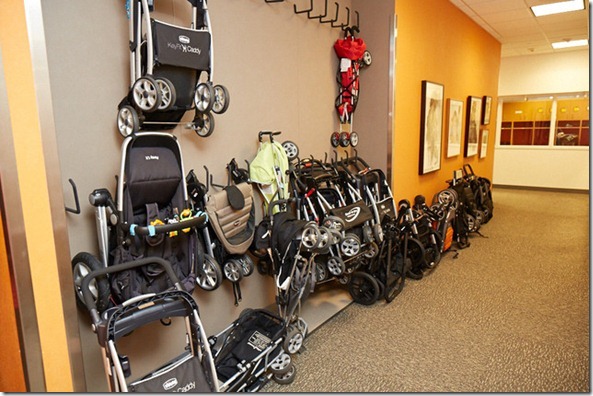 Maternity and paternity benefits are something that have interested me for years.  Did you know that at least 178 countries guarantee some sort of paid maternity leave? And at least 50 countries provide paid leave for dads? (Source) I was outraged when I discovered that in America, there is no legal requirement to provide new mothers with paid leave after the birth of their child.  This is hard to believe, but America is one of four countries in the entire world that doesn't require some sort of pay. The other countries with no mandated pay are Liberia, Swaziland, and Papua New Guinea.

In America, many mothers and fathers are guaranteed job protection under the Family Medical Leave Act.  The FMLA provides for up to 12 weeks of unpaid leave a year and only applies to employees of all public agencies and to employees of private companies with at least 50 employees.  FMLA not only applies to birth mothers and fathers but also to parents who are adopting a child, people who are caring for an ill family member, and in various other circumstances. (Source) While FMLA requires that companies give employees unpaid leave, employees can use paid sick or vacation days for some or all of the FMLA period so they can still collect wages.
On the state level, California requires some paid family leave, as does Washington and New Jersey. Some states also allow mothers to use short-term disability to cover a portion of the parent's salary while they are on leave; generally, short-term disability will cover a portion of your wages for a six week period. You may also be able to use private disability insurance. (Source)
The end result is that in America – the country that talks BIG TALK about 'valuing families' – many mothers can only take a few weeks off before they have to return to work.  A quarter of women return to work less than 8 weeks after giving birth, and 10% are back in four weeks or less. (Source).  Numerous studies illustrate that short maternity leaves can trigger maternal depression and stress – but seriously, did we need a study to tell us that? Nope – it's common sense. I imagine that it's hard to feel happy when you're still recovering from a vaginal delivery or a c-section, aren't sleeping regular hours, and feel a tremendous amount of financial pressure because you've already lost several weeks worth of wages. Short leaves can also sabotage breastfeeding efforts.  Women who have longer leaves are more likely to breastfeed. (Source)
I understand that the maternity and paternity leave issue is a very complicated one. Paid leave would cost the government and private companies a great deal of money.  And there many be some professional and economical consequences to extremely long maternity leaves. But our system seems so horribly broken.  As I said, we say we value families, but we don't even give mothers three months of paid leave so they can focus on bonding with their newborns!
Back to General Mills….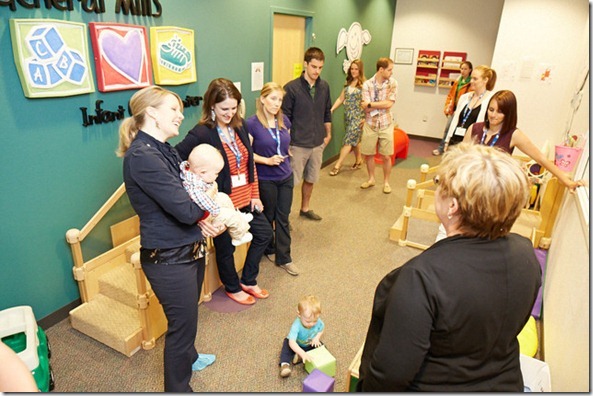 I was so excited to learn more about General Mills because I feel like it's a company that is doing great things for their employees.  For example….
On average, General Mills gives employees 26 weeks of job-protected leave (10 more than required by FLMA).
The amount of paid leave varies by employee (and is based on how long they've been with General Mills), but

Working Mother

says the average at General Mills is two weeks of paid leave.  Not fabulous, but certainly much more than required.
Fathers at General Mills get two weeks of paid paternity leave.  AWESOME!  Dads need paid leave, too.
General Mills allows new parents to 'phase back' into work with a flexible schedule, reduced hours, or a work-from-home arrangement. 
General Mills offers adopting parents $10,000 in aid to help cover the costs associated with adoption.
Could General Mills do more?  Sure.  I love it when companies offer moms a fully paid leave.  But the company goes well beyond the minimum, and every mother that I spoke to at the company had nothing but positive things to say about their policies.
When moms come back to work, General Mills makes it easier to continue breastfeeding with 'Mothers Rooms.'  Thanks to the Affordable Care Act (aka Obamacare), employers are required to provide time and place (not a bathroom!) for nursing moms to pump for up to one year. But General Mills really goes above and beyond with their amazing Mothers Rooms.  I saw a Mothers Room in nearly every department. All moms have to do is 'reserve' the space for a certain block of time, and they have a peaceful, safe space to pump.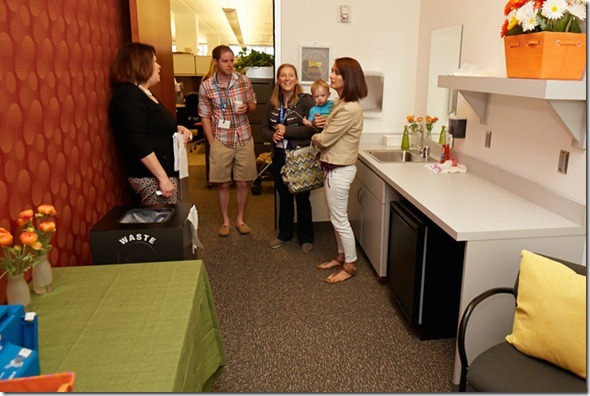 I've written a lot about my experiences with exclusively pumping (and quitting), and I have to say – if I worked a traditional corporate job, I would've LOVED to have this space to pump.  To know that no one could hear my pump… that I had a fridge to store my milk… that I had a peaceful place to take a quick cat nap…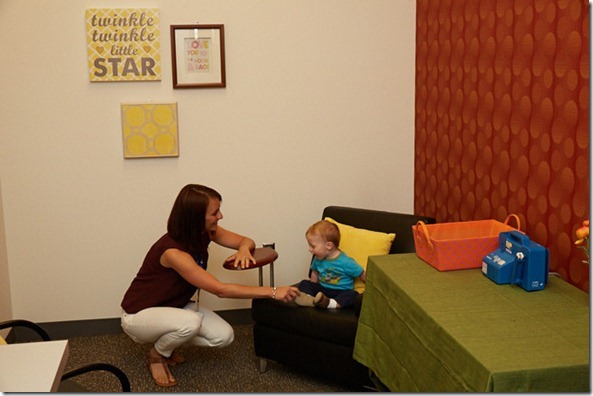 The coolest thing was that the room included a hospital-grade pump. All the moms have to do is bring their own tubes and shields.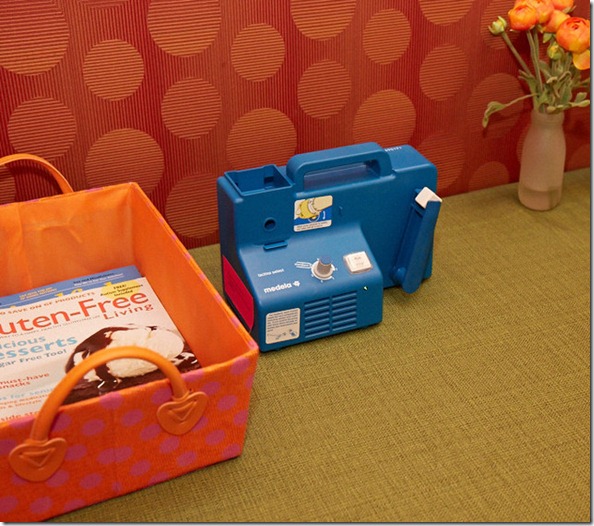 General Mills also has an on-site daycare, which I got to visit.  It was a very well-organized, fun place, and I imagine that the moms at General Mills love being able to pop downstairs to say hello or feed their children.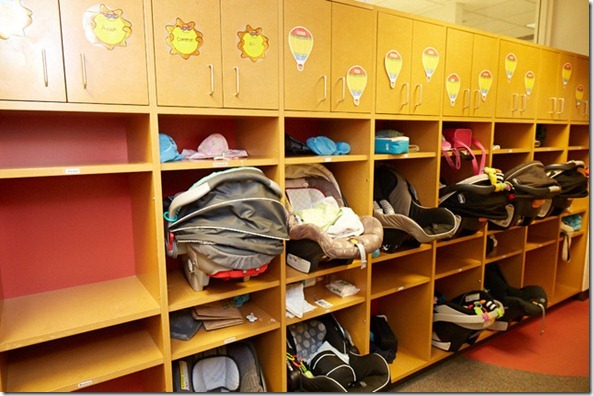 As a brief side note…
I was also very, very excited to learn that General Mills is a supporter of gay, lesbian, bisexual, and transgender rights. Benefits for same-sex parents are the same as heterosexual couples. General Mills CEO Ken Powell voiced the company's opposition to a state constitutional amendment that would define marriage as a union between a man and woman (voters rejected the amendment, and same-sex marriage is now legal in the state).  And Ken Charles, the General Mills Vice President of Global Diversity and Inclusion, testified in front of the Senate in support of the Employee Non-Discrimination Act, which would protect GLBT employees.  In a blog post, Mr. Charles wrote:
"We value diversity. We value inclusion. We always have … and we always will.  We're proud of our workplace, and we're proud to be a leader for diversity and inclusion in our community…. We believe a diverse, inclusive culture produces a stronger, more engaged workforce – and strengthens innovation. Inclusive communities are more successful economically as well… Obviously, there are strongly held views on both sides. We acknowledge those views, including those on religious grounds. We respect and defend the right of others to disagree. But we truly value diversity and inclusion – and that makes our choice clear."
I feel that support of GLBT rights are extremely important and closely related to family issues, and I was so happy to learn more about General Mills' position on the topic.
I want to say that the legal requirements, regulations, and realities surrounding issues like maternity and paternity leave are very complex.  I researched this post to the best of my ability, but I'm sure I'm leaving out some important elements to the discussion – and I'd be happy to hear your thoughts and experiences about the topic in the comments section.
My situation – an entirely self-employed household – is a little unusual, so maybe one day I'll have to write a post on how I felt about juggling my 'leave' and work.  But in the meantime… let's discuss the topics covered in this post!  What kind of maternity benefits did you get? Did your partner or husband get time off, too? What benefits would you love to see your company offer new parents?