Check out the original Ironman March post for a printable training plan so you can follow along, too!  It's not too late to start – you can always make it Ironman March + One Week in April.


Today concludes the first week of the Ironman March challenge – my mission to swim, bike, and run an Ironman's worth of distances in one month.  I have to say – I continue to find REAL Ironmans so incredibly inspiring.  I can't believe you guys can do what I'm attempting in one month in ONE DAY.  Major kudos.
As you may recall, the distance goals for this week were: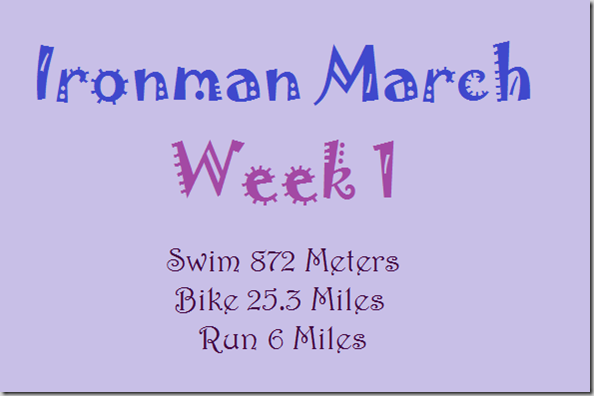 How did I do?  Including the run that I'm going to do RIGHT NOW, I worked out five days this week.  I ran three times for a total of 9.3 miles (goal exceeded!), I swam 1,000 yards (goal exceeded!), and I took one 45-minute spin class.  I've decided that two spin classes meet my weekly bike goal of 25 miles and change, so I didn't hit that target.  But I'm really proud of myself regardless.  I've been to THREE cities this week, slept in FOUR different places including my own bed, and flown on SIX flights!  Staying on track with exercise was really challenging, and I'm impressed that I took the initiative to find a spin class while I was in Boston. 
Since Ironman March is more about the overall monthly challenge of swimming, biking, and running the Ironman distances, I do plan to 'make up' the lost bike with an additional spin class next week. 
I know many of you are participating in Ironman March, too.  How are you doing with the challenge?