The other day, a reader made a really awesome suggestion, and I loved it so much that I've decided to make it a personal challenge for March.  I hope you'll join me!

I'm really (REALLY!) pumped for triathlon season, and trust me – if I could start doing races RIGHT NOW, I would.  But the temperatures still need to get a little warmer.  In the meantime, I'm working hard on my training.  But I need to mix it up a bit… In lieu of a traditional 'training plan,' let's do IRONMAN MARCH.  Basically, over the course of March, I'll aim to do the Ironman distances – 2.4 miles of swimming, 112 miles of biking, and 26.2 miles of running. 
This may sound like a BIG goal (and I can't imagine doing a real Ironman… all in the same day!), but if you break it down week-by-week, it's totally attainable. We're talking about 872 meters of swimming, 25.3 miles of biking, and 6 miles of running per week. The goal of this challenge is to encourage myself to regularly do all three sports every week, get used to doing bricks (back to back workouts of different sports), and get in the TRIATHLON mindset.
I anticipate the hardest part of this challenge will be the regular biking – I may do spin classes instead of actual biking.  That's okay though – it's still in the spirit of the challenge! 
To make it easy to follow along and keep track of your progress, I made this simple PDF.  Click here to print out a copy for yourself!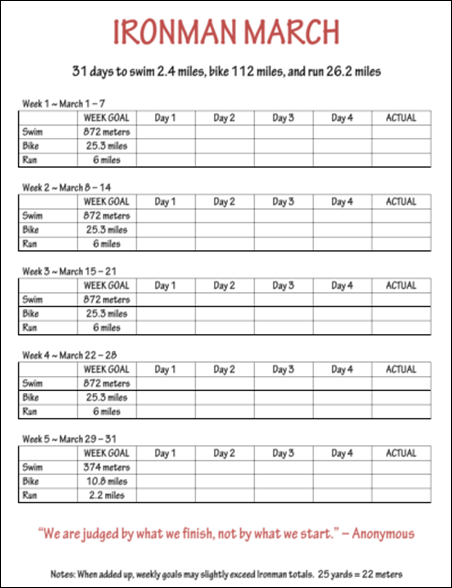 Just to explain the chart a little bit:
Next to each to next sport, there are four spots for you to enter each workout's total.  Do NOT think you have to do four days worth of each sport during the week – that would be crazy (and probably  impossible).  I just gave you four spots for maximum flexibility.  Your chart may look like this:

In this scenario, you swam twice, biked once, and ran twice.  Maybe you did that over 5 separate workouts, but maybe you did a back-to-back run and swim and completed your weekly total in 4 workouts.
Or your chart could look like this:

This example has one day of swimming, two spin classes, and three runs.  Again, maybe you did this in 4 days, running a mile after taking a spin class.  Note – I'll probably count two spin classes as making my bike goal for the week.
You could even do the entire challenge with just three workouts a week – one swim, one bike, and ne run.  That's totally feasible, too.
So – I'd love for you to join me!  I'll be checking in throughout the month, and like I said, I'm hoping this challenge really focuses my efforts on getting ready for all three sports.  Happy triathloning!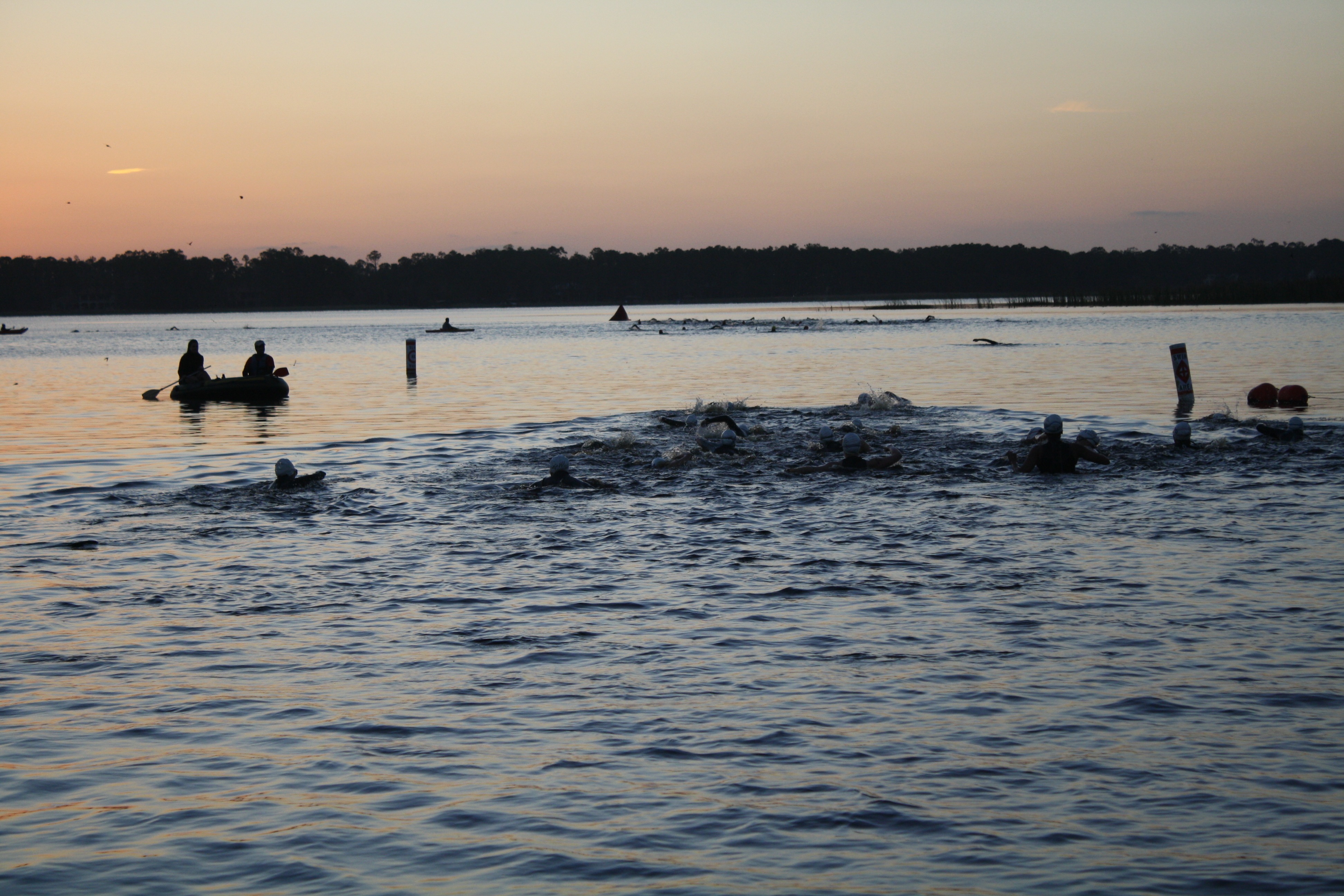 For more, check out my So You Wanna Do a Triathlon series.