I am feeling really good about training lately.  Ironman March is motivating me to seriously mix up my workouts, so I always look forward to exercise.  My muscles hurt in so many new ways, too!  I took yesterday off (Sunday's back-to-back run and swim did me in), and today, I went to spin class.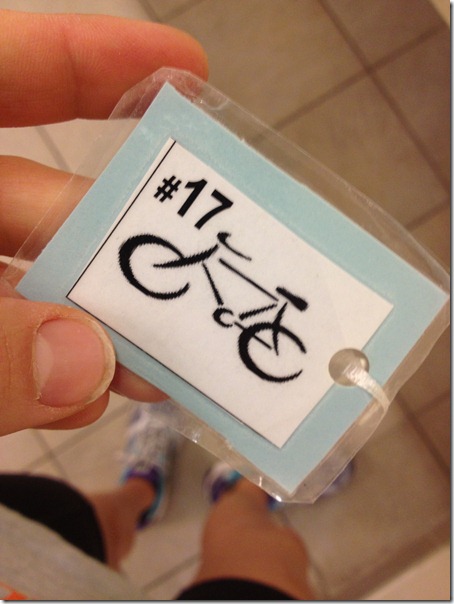 While on the bike, I was thinking of these 4 Burning Bike Questions…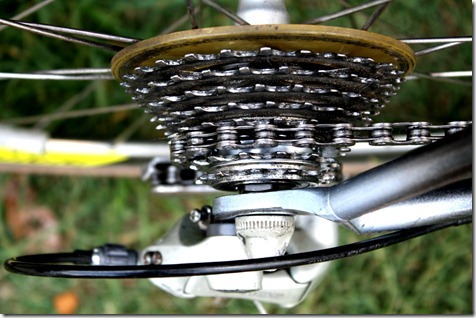 Why does my booty hurt so much?  Your butt hurts when you begin riding for several reasons.  First of all, your body just isn't used to the sensation of being in a bike seat.  You do have to 'break in' your butt.  If the following issues are properly addressed, normal butt soreness should cease after a few days of riding.
Your butt may also hurt because 1) your bike or spin bike is not properly fitted and 2) you are not wearing padded bike shorts.  Here's a great article on proper bike fit.  To me, the most important part of bike fit is making sure your leg is not hyperextended at the bottom of your stroke.  There should be a slight bend, but not a crunching or straining to keep your foot in the pedal.  Regarding bike shorts – they are key.  Sure, they look kind of doofy, but you have to wear padded shorts to ride a bike.  I cringe when I sit behind people in spin and they are in running shorts – OUCH.
I really love my AeroTech Designs shorts.  They were given to me to review on the blog about four years ago, and they have totally stood the test of time + miles.  Plus, AeroTech is a small American business – yay!
Can I train for a triathlon a spin bike?  Yes and no.  "Yes" in the sense that spin class is a pretty decent replication of riding a real bike.  For a sprint triathlon and maybe an Olympic, regular spin classes may be adequate in terms of endurance, muscle preparation, etc.  The key word is adequate!  "No" in the sense that spin class is not a perfect replication of riding a real bike.  Cycling in a triathlon is a lot different than being on a stationary bike.  You are dodging people and obstacles.  You encounter (real) hills and – most importantly – turns.  A real bike requires you to engage your arms and abs in a way that a spin bike does not.  And especially if you wear clip-in shoes, you won't be able to really practice clipping in and out on a spin bike (it can't fall over at stoplights!).
So, can you train entirely via spin classes?  Yes for shorter tris, but it's not the ideal way to train, just like swimming only in a pool – not open water – and running only on a treadmill (Training Entirely Indoors: Is It Wise?)  is not ideal either. You won't be as fast, you won't be as efficient, and you won't be as prepared.  But it can work for shorter distances, especially if spin class or a stationary bike is your only option due to weather or childcare restraints.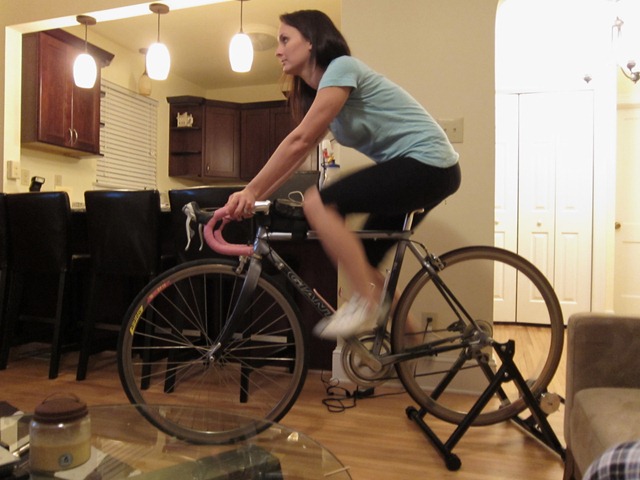 How do I get faster?  Hah!  This is one of those "I know the answer but cannot implement it in my own life."  I am slow-as-molasses on the bike. The way to get faster, I am told, is speed work, volume, and strength training.  But even when I was putting in 75+ mile weeks on the bike, I never got faster over short distances.  It's hard to balance speed, distance, and strength training, especially if you're training for a triathlon and also working on swimming and running!  And doubly difficult if training is your hobby and not your job.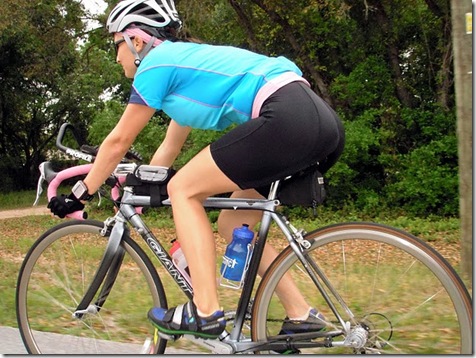 Also, I blame my slowness on my shortie legs.  I don't know if that has any merit, though.
In the space that I can dedicate to training, I am really working on speed, though.  Hopefully sprints in spin class and a concerted effort to do more squats and lunges will pay off.  Of course, as I already said, spin class is not the perfect solution, so we'll see.  In the past, I really 'phoned in' the bike portion of the triathlon (those 75+ mile weeks were when I was training exclusively for long bike rides, not tris), so I'm hoping that any small steps in the right direction will pay off come race day.  Honestly, I have nowhere to go but up!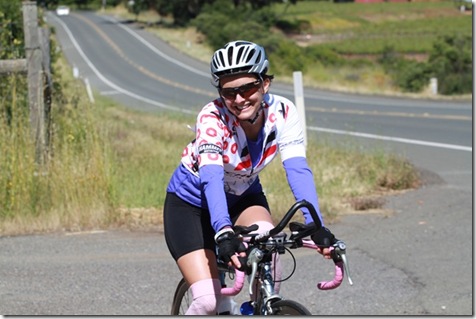 Do I really need a $1,000 bike?  No, no, no!  Sure, fancy road bikes are awesome (and I would love to own one), but you can get a decent bike for less, especially if you buy used.  Mine was about $350, and I bought it on Craigslist – the seller even tossed in a pair of bike shoes!  Here's my guide to buying a bike.
Happy Tuesday!