Have I got a fun speedwork trick for you!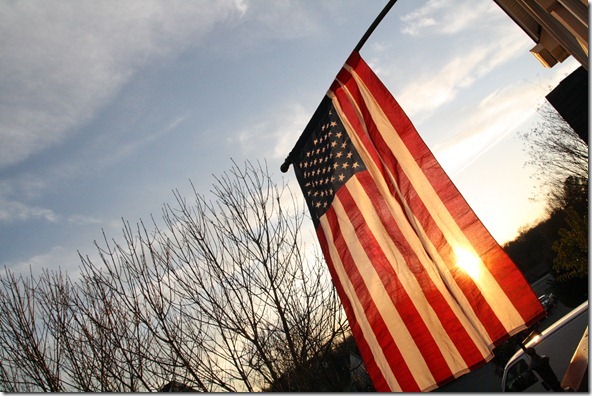 I enjoy the act of doing speedwork and have gotten into the habit of doing it once a week.  But I haven't been doing it the 'traditional' ways (and by that, I mean around a track or using a stopwatch).  I've been doing it to music.
Here's what I do:  after a five minute warmup, I switch to a upbeat station on my Pandora app.  And then, every time the song's chorus comes on, I sprint.  Choruses tend to only last 15 – 20 seconds or so; the sprints are short but fairly frequent.  I finish things off with a five minute cooldown.  Today's sprint to the chorus workout was about 2.5 miles long.  Done and DONE!
And I was wearing NEW SHOES, which felt oh-so-great.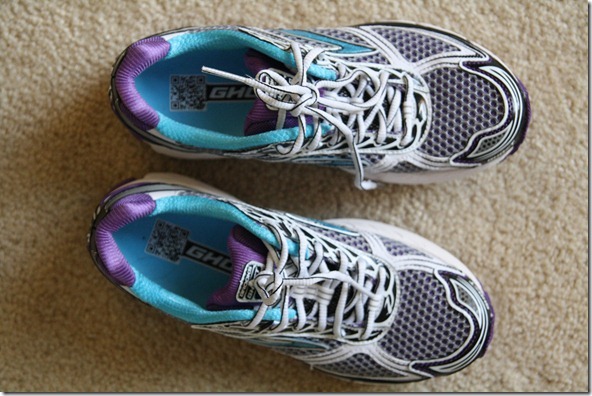 I am part of the Brooks Run Happy blogger ambassador team for 2013.  I'm really humbled and grateful for this opportunity because (as you guys know) I'm just a 'normal' runner, trying to get out there on a fairly regular basis and pound the pavement.  Running is both my hobby and my sanity-saver.  It's cool that Brooks wants to work with both running superstars (I'm looking at you, Frayed Laces) and – um – hobby runners like me.
There's lot of fun things coming up as part of the Run Happy program, including a reader workout clothes makeover (ooo!).  But up first:  a review of a pair of Brooks shoes.  And you guys know that this couldn't have come at a better time for me because my old shoes were shot (Do You Need New Running Shoes?).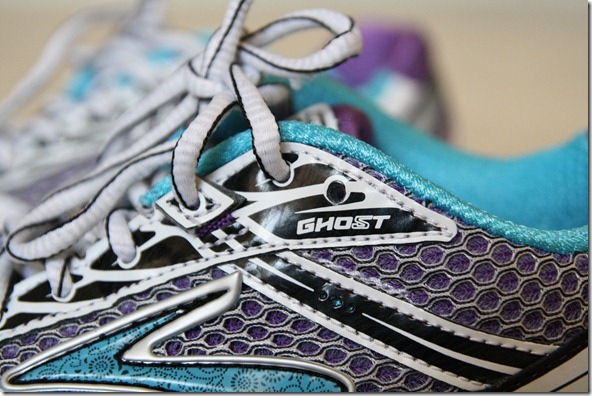 These are the new Ghost 5s.  I selected these as my shoes to try because 1) they were the most affordable neutral shoe option presented to me (although, at $110, they are certainly a pretty penny – but the older Ghost 3s are only $75 on Amazon) and 2) the Ghosts received Runner's World 'Editor's Pick' award.  If Runner's World thinks they are awesome, you know they are something special!
My feet felt supported and cushioned in the lightweight Ghosts, and I liked how I didn't feel like I was surrounded by marshmallows.  They were firm yet soft – if that makes sense!  Brooks says the shoes are "so supremely smooth and impeccably balanced, it's scary" and Runner's World remarks that the Ghosts are "a versatile shoe that can handle whatever workouts you throw at it." 
The shoe is designed for neutral-footed runners (like me) and feels spacious.  I used to wear Wides in the Brooks Summons, but the regular Ghosts felt just fine.  The tread on these babies were great, too, although – I admit – anything would've felt grippy after running in my way-way-way-too-old shoes for months on end.  The traction was very much appreciated as I did all that speedwork.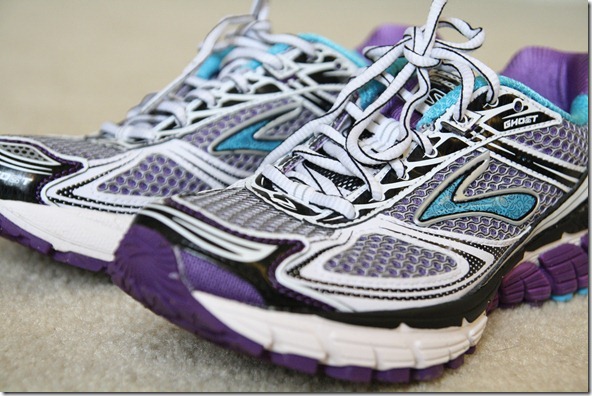 Also – how cute are those colors? I know neon shoes are a 'thing' this season, but I like regular old white + a color – the purple with the aqua detailing is pretty!
All in all – I'm a Ghost convert.  You can bet I'll be buying another pair when these wear out. 
Do you love Brooks?  Or are you a fan of another type of running shoe?