Watch out!  If you blink, you may miss him.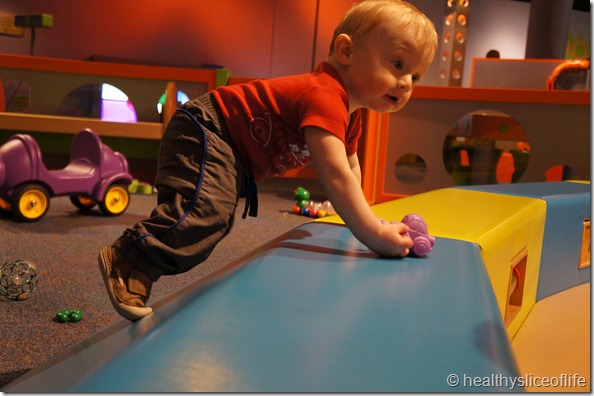 I had a truly excellent Valentine's Day.  Actually, now that I think of it, it was probably the best Valentine's Day that I've had in several years.
I had two dates on Valentine's Day.

  Wahoo, hoo – look out, sexy.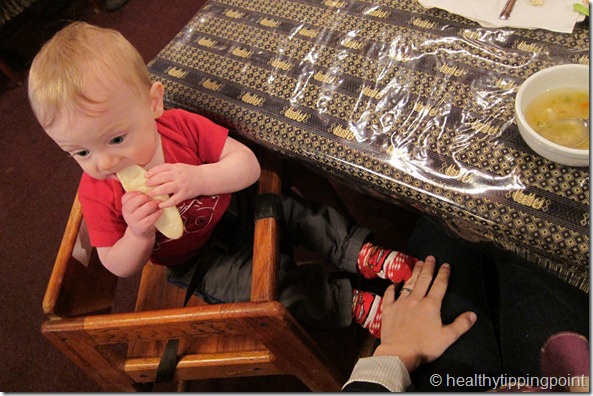 Henry and I had lunch all by ourselves at my favorite Thai restaurant.  It was fun!  He tried tofu (yum), and I had a blast picking toys off the floor over and over and over again.  He's really into chip clips right now – I keep a bunch of clip chips in my bag at all times.  He's not strong enough to open them, of course, but they are the perfect size for gripping.  
He's also into plastic keys, which I very often grab out of my purse and try to open the car with.  Whoops.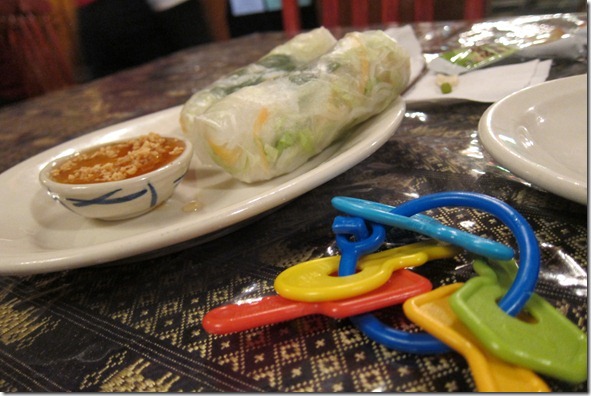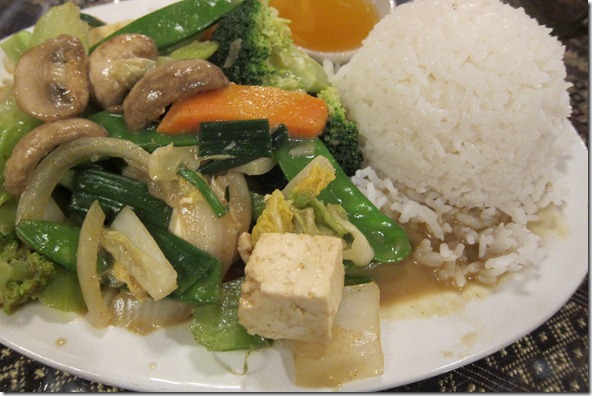 The yellow curry was bangin'.
After lunch, we headed out to mom group.  We meet at a different location every week, but this week, we went to Discovery Place.  I've been three times this week!  I've realized that Henry sleeps really, really well on days we go to DP so… I pretty much want to live there.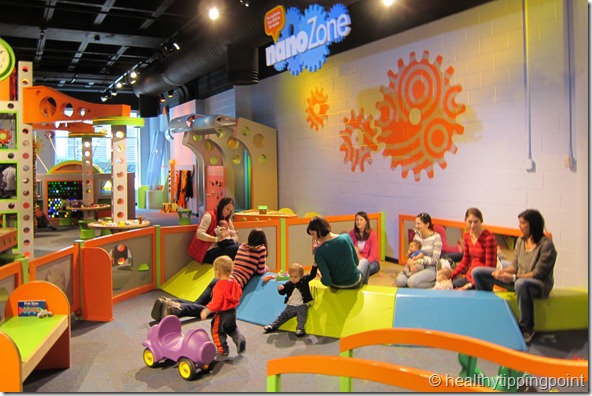 Here's the group that attended, save for Andrea + Alice.  We've got a fun mix of big kiddos (I think the oldest is about 1.5 years) and little ones (8 week nugget) and a good mix of boys and girls.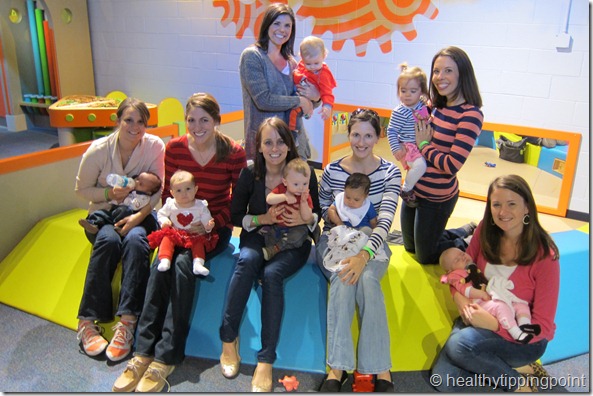 It is funny to watch Henry with the group because he's kind of the awkwardly aged one – not big enough but not little, either.  He crawls after the toddlers and tries to walk after them but just face plants.  Soon, my boy, soon!
We also checked out the aquarium.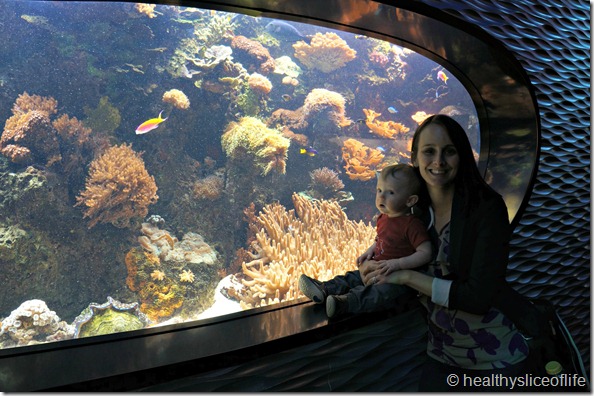 It is REALLY nice to have a mom group.  It's awesome for the stay-at-home-moms to get a break (yay, adult time), but some of our moms work full-time – they just take a long lunch around our meet-up times so they can come. Some wonderful bosses, I tell ya!
Henry and I came home, I changed and make a quick dinner to go, and then DadHTP dropped by to babysit.  I haven't done much babysitting, truthfully, because it makes me so nervous.  But I'm trying to release control to other adults that I trust… It's hard.  But Valentine's Day is a good excuse for a babysitter, right?
I had to laugh when I got a text from DadHTP at 8 PM that stated: "Baby is alive and asleep."  That's what I like to hear!
Anyway, I took my meal to Kristien's office, where he was just finishing up with the last patient.  We didn't want to brave restaurants on Valentine's Day, so we ate at his desk.
I brought quinoa, greens, and some canned giant beans in pasta sauce (from Trader Joe's).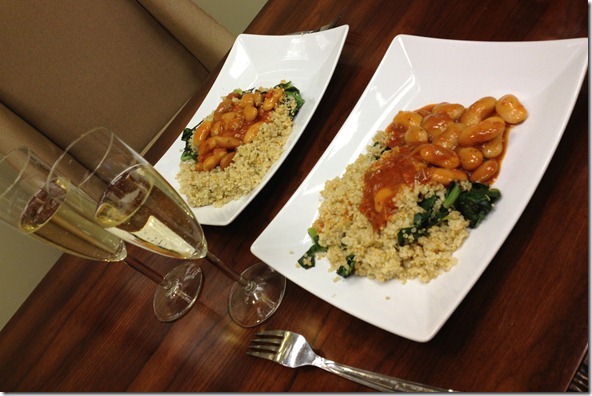 And bubbly!
I found this Moscato at TJ's – it was only $5.99.  If you like sweet whites, I definitely recommend it.  I'm happy to see that bubbly sweets are surging in popularity.  It used to be so hard to find sparkling Moscato, and now I feel like it's everywhere.  Yum.
Our big date night entailed bowling.  We used to bowl a lot back in Orlando but rarely go in Charlotte.  We should go more – it was so much fun.  And I actually broke 100 and won (for once).  He may have let me beat him for Valentine's Day…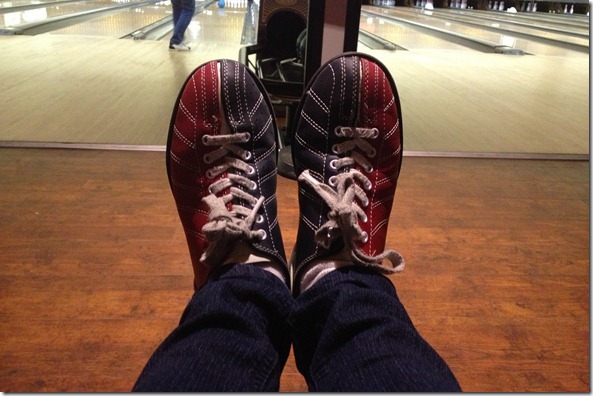 A truly excellent day!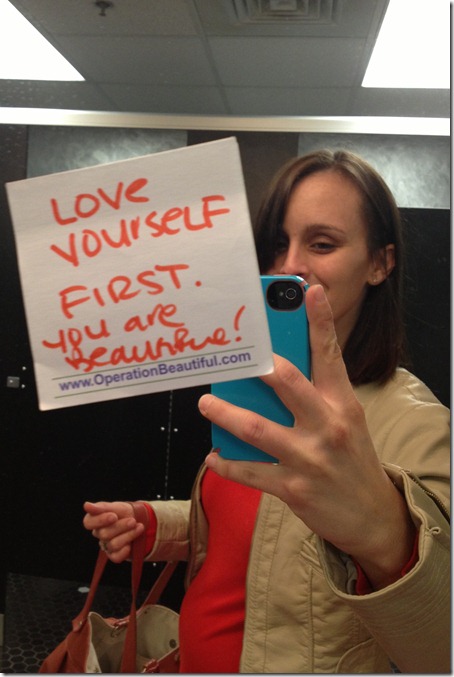 And now… Happy Weekend!