What's the game-changing play that turns dreams into reality?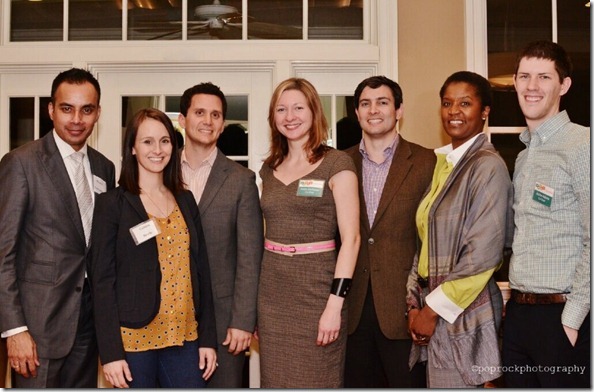 Event photos courtesy of Pop Rock Photography
On Tuesday, I took part in the Center for Intentional Leadership's "From Idea to Impact" event.  I sat on a panel with three other individuals and engaged with an audience of about sixty people.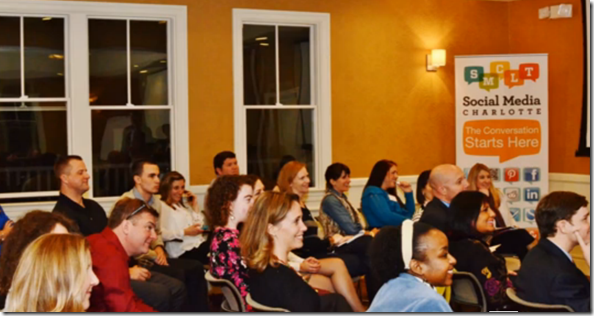 We all have ideas of how to make a difference, but how do we actually go about doing that? How do we get started? Is it through Social Media? Is it networking or marketing? Does it take big bucks to make a game-changing play happen? Can we do it in our current job or in a large corporation? We put together four people who collectively have done it in almost every environment and situation.
The panelists included: Rye Barcott, the author of It Happened on the Way to War, a bestselling memoir about serving in the U.S. Marines while co-founding Carolina For Kibera, a non-governmental organization that develops leaders and prevents violence in the Kibera slum of Nairobi, Kenya; Bridget B. Sullivan, an event industry veteran who launched Ignite Charlotte; and Manoj Govindan, the Marketing and Strategic Partnership Executive for Technology Innovation Portfolio (TIP) at Bank of America (BAC).  I was the fourth panelist, billed as a blogger, motivational speaker, and author.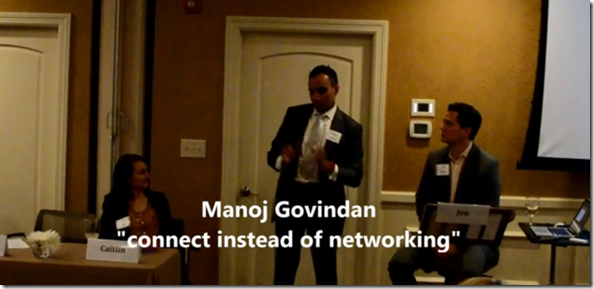 I took notes on my iPhone as my fellow panelists spoke, and I wanted to share some of their thoughts:
Rye Barcott said he was inspired to create his African non-profit because "talent is universal but opportunity is not."  He spoke a lot about how the "glamour is in starting" – a new project is fun and exciting, but even the best ideas and most worthwhile tasks involve drudgery.  It's important to keep your eye on the prize and focused on your desired end goal.  Speaking of starting, Rye brought up that old (and oh-so-true) adage: "Start before you're ready because you'll never be really ready."
One aspect of Rye's talk that really intrigued me was his discussion of the OODA Loop.  This is a concept developed in the military for combative situations (Rye was a Marine). OODA Loop stands for "observe, orient, decide, and act" and the loop implies that the OODA should be done over and over again. OODA Loop is designed to be done quickly and efficiently in order to gain an advantage over your rival.  I love the idea of OODA Looping, but one of my questions for Rye (that I didn't get to ask, unfortunately) was – "But how do I know that I'm making the RIGHT decision?!"  I have lots of ideas and struggle to commit to one.
Manoj Govindan's biggest point was that "networking is so 1980s."  I loved this concept.  According to Manoj, networking is all about selfish intentions.  You want a job, you want an opportunity.  The better tactic is to seek to connect others.  If you know two people who should really meet, put those resources together!  Even if you don't get an immediate benefit from their partnership, it's for the greater good, and their successes will eventually help you, too.
Bridget Sullivan talked a lot about CAN'T v. CAN and WILL.  I loved her messaging because I'm all about this, too – remove the negative talk and replace it with something positive and proactive.  Whenever Bridget thinks or says something with the N'T contraction, she replaces it with a CAN and WILL thought. 
Bridget also mentioned The Four Agreements by Don Miguel Ruiz.  I'd never heard of this book before, but I went home to investigate and discovered this site, which sums up the Four Agreements quite nicely:  Be Impeccable With Your Word (say what you mean, don't put yourself or others down), Don't Take Anything Personally (be immune to the harmful opinions of others), Don't Make Assumptions (find the courage to ask and express what you really want), and Always Do Your Best (and your best changes from moment to moment).
What did I talk about?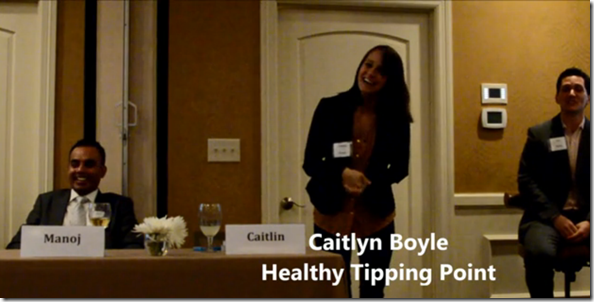 (I don't mind when people misspell my name – happens all the time when you're a Caitlin, Caitlyn, Kaitlyn, Katylin…)
Well, perhaps my notes and what I ended up actually talking about differed, but here's the points that I wanted to convey:
Success is not in limited quantities.

  The best ideas are the ones that empower and give credit to others.  I believe this is why Operation Beautiful has been so successful – 12,000+ notes on every continent in four years, spawning

two books

and so much wonderful press…

even the Today Show

!  Operation Beautiful empowers and supports the people who participate.  It's a social media revolution of hope, love, and self-esteem.  
Don't undervalue yourself.  I told a story about how I hired a freelancer to do a project for Operation Beautiful.  While interviewing her, I had a certain dollar amount that I considered the maximum that I was willing to pay.  At the end of the interview, I asked her what it would cost, and she paused and spit out a number that was 1/4 of what I was thinking. It was so low that it was ridiculous. I was tempted to snag the deal, but instead, I gave her some advice, "Don't undervalue yourself! I would be robbing from you if you charged me that" (I offered her double what she said, and we both went home happy).  The bottom line – business is like dating.  If you undervalue yourself, no one else will value you.  If you have a talent, you're worth it.
Don't be afraid to take chances

.  Here's how

Operation Beautiful

began:  In 2009, I posted a note because I was having a bad day; I went home and blogged about my experience.  The idea quickly went viral, and within three days, my lovely HTP readers had sent me about 75 photographs of their own notes.  I didn't know what to do with all those notes!  I called my mom and I said, "I don't know.. Maybe this could be a separate blog.  But what if it fizzles out?  What if people stop writing notes?  I'll look stupid."  My mom assured me that there was never anything stupid about trying.  I stalled, searching for more excuses – I was really afraid of my idea imploding.  I said, "But Mom…

I don't want to register the domain name

. It's like, $9.99.  What if I waste $10?"  Seriously.  Operation Beautiful almost didn't exist because I was afraid to spend TEN WHOLE DOLLARS!  I look back on that conversation and can't help but laugh.  The obstacles that I thought I was facing seemed so important and big at the time, but in hindsight – they were nothing!  Don't be afraid to pursue your dreams… you can never know where they will end up.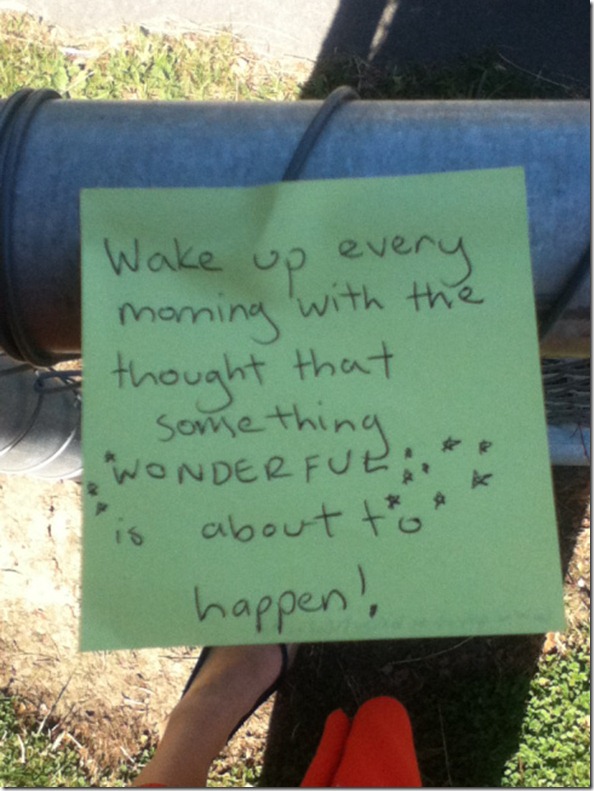 What's your game-changing play?