Getting too big to hold like this!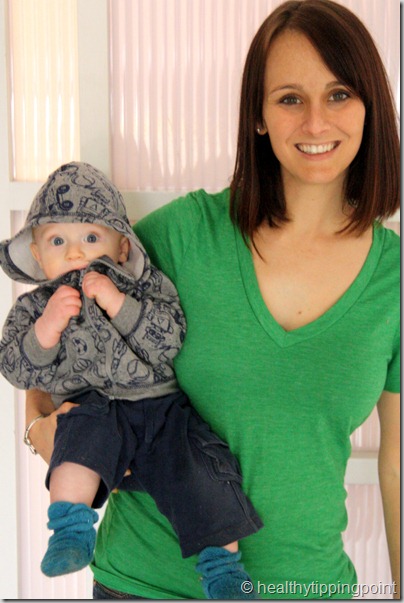 I can't believe Henry is seven months old.  Here are the comparison pictures!
Time flies, babies grow, hairstyles change.
I'm writing this from my hotel room in New Orleans, so I'm going to make this update a 'brain dump' kind of post.  Plus, Henry is slowly destroying the room, so it's gotta be quick.  More on that below.
Mind After Baby:  Feeling a lot better lately.  I went through a really anxious period around Months 3 – 5 but have definitely improved.  The more I talk to other moms, the  more common that I realize anxiety is for us.  After all, we have a LOT of responsibilities, especially if we are also working, 'even' if only part-time.  But I feel better now.  Thanks goodness.
Body After Baby:  Whoo hoo.  Can I brush my shoulder off for a moment?  This momma is feeling HOT HOT HOT.  However, none of my pants fit anymore!  I'm either right at or a little under my pre-pregnancy weight,  but my pants just fit weirdly in all the wrong spots.  I think I breastfed my butt away.
Speaking of breastfeeding, I'm trying to hang on for one… more… month.  I'm really taking it day-by-day at this point. 
My right wrist is permanently killing me from lifting Henry and feeding him bottles in awkward positions.  Kristien is going to start giving me acupuncture, and I'm going to invest in a wrist brace.
Kristien is the best dad ever.  I wish I could put it into words, but it's awesome to see him engage Henry in such a loving and caring way.  He is also so proactive and attentive with baby care (diapers, feeding).  I love knowing that because of Kristien's behavior, Henry will be a good dad to his children, too.  It's not the only path to teaching boys to be stand-up men, but Kristien is definitely starting a good cycle!
Henry is doing great.  He is, as I'm sure you've gathered, becoming extremely mobile, especially for his age.  He is now a pro at furniture surfing and crawling (although he does this weird lopsided crawl).  He is very fast at everything, and it is getting increasingly difficult to change diapers.
In terms of other developments, Henry started to babble this month <—a few days after I got really worried over why he wasn't babbling yet (hah!).  We're got lots of dadas and babas but no mamas yet.  So unfair!
Sleep is going well thanks to

sleep training

.  He's been sick twice this month, and that really screws it all up.  But he gets back on track almost immediately, which makes it totally worth the effort and time.
Still no teeth.  Busting out of 3-6 month clothes finally. He's a little squirt.
Henry is quick to smile and laugh, quick to look away at something more interesting than whatever you are showing him, quick to go from room to room, and quick to… oh lordy.  Do everything!  He is so FAST and active.  Everyone who meets him says, "Oh, he's so smiley! He's so cute!  Oh… he's so ACTIVE."  And then they look at me sympathetically.  I wearily thank them.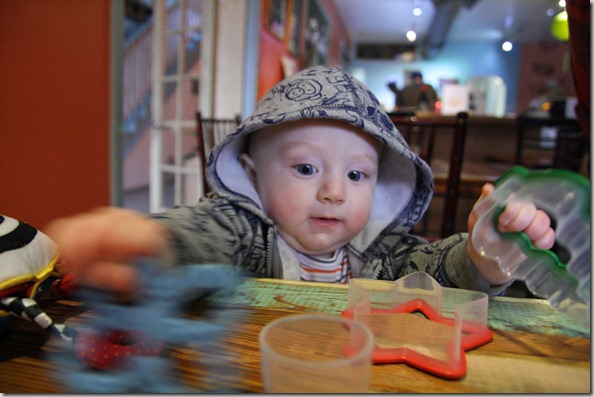 And last… but not least… I run my first post-partum half marathon THIS SATURDAY!  I am so excited, a little nervous, and really proud.  Here's to hoping my no-butt can successfully haul the rest of my body across the finish line.