This is a follow-up to my first post in the Baby Gear series:  Newborn Baby Gear.  Here's what Henry (and I) are obsessed with as of 4.5 months.
Rainforest Jumperoo:  Henry LOVES his jumper.  When I walk by it with him in my arms, he makes motions like, "Put me in! Put me in!"  Since his head control was so good, he's been hanging out in the jumper since about 3 months (I put a book under his feet because he couldn't reach the ground yet).  Now, he's officially big enough for it all by himself.  He loves to play with all the toys – I never installed the batteries so it's a silent toy – and jump jump jump all day long.  If only I would let him!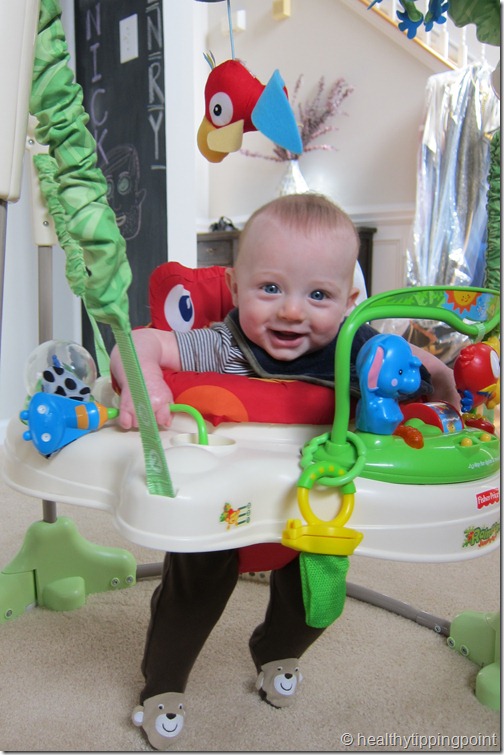 Cradle 'N Swing My Little Snugabunny: I thought the swing was going to be a 'wasted' item because he was never into it when he was a newborn.  But suddenly, around 3.5 months, it became VERY useful in helping him nap or fall asleep when he really didn't want to (but desperately needed to).  There are several swing settings, it plays music, and there is a mirrored mobile at the top for baby to look at.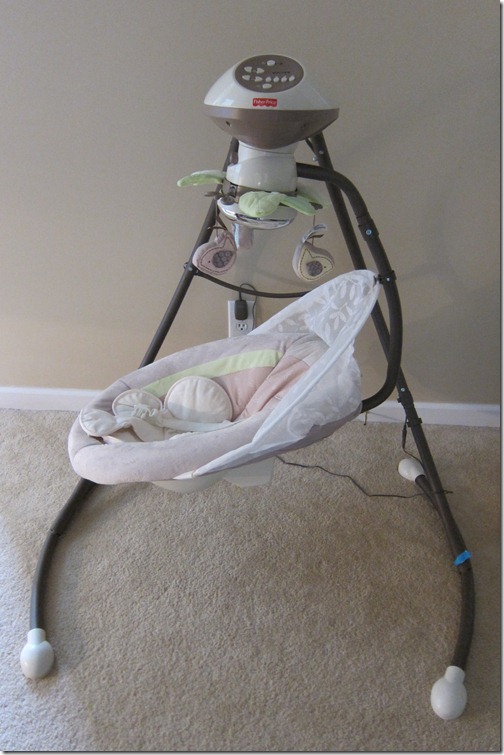 My only complaint is that I don't think the seat is padded enough for heavier babies.  I put some blankets underneath the pad, and that helped a lot.  Henry is now nearly too big for the swing, so it really is a short-term item, but – like I said – if it gets them to nap, it's totally worth it.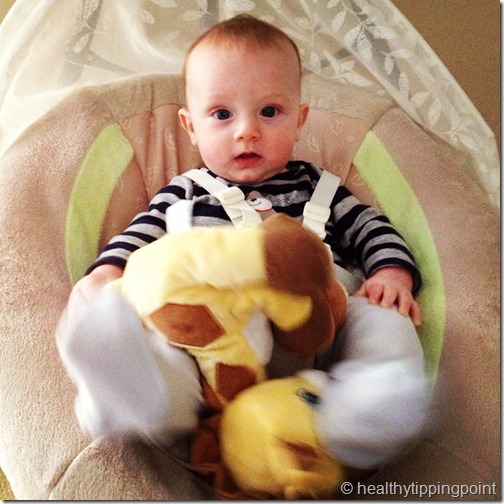 Baby Play Mat and Boppy Newborn Lounger:  Henry loves both of these items, although he is beginning to outgrowing the Boppy.  These two items are fixtures in our bathroom, as Henry hangs out in them while I shower.  I have to say, of all the baby items that I received for my shower, the Boppy lounger was the most useful and most used.  I think it's an excellent gift to give a new mom.  I bought the play mat on consignment for $7.  Now that Henry is older and can reach for things, he really enjoys it when I hang things from the bars.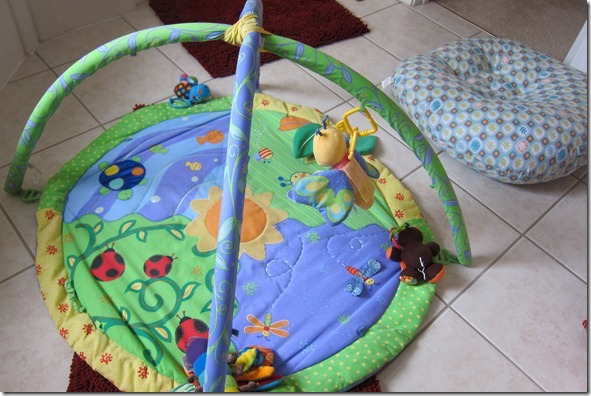 Nursery Items:  I love, love, love Henry's crib – the Graco Sarah Classic.  It's a 4-in-1 convertible crib so it will be able to grow up with him. Right after he began to roll, he got his leg trapped in the rails – I let that happen ONE TIME and then drove to Babies 'R Us ASAP to purchase a breathable bumper.  He sleeps on a Naturepedic No Compromise Organic Cotton Classic Mattress; it was the cheapest 100% organic mattress that I could find (a lot are partially organic, which kind of defeats the purpose).  I'm not sure why I was so obsessed with getting an organic mattress when he lays on a ton of stuff treated with chemicals but… there you have it.  Regardless, it's a really nice mattress.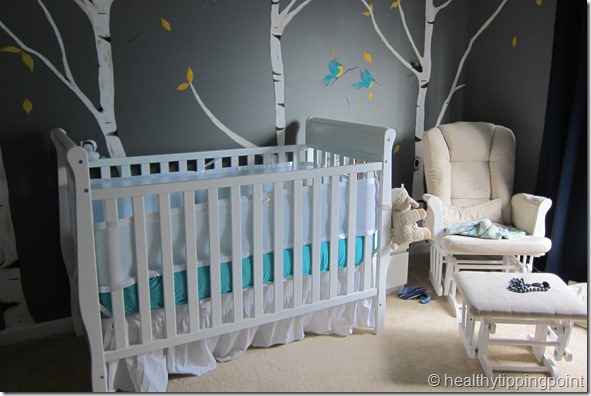 I also love our Stork Craft Glider (kind of like this one).  Gliders can be so expensive, but this one was more affordable, and it is still comfortable.  It doesn't squeak, and I like that there are side pockets.
Henry gets changed on this changing pad (with this cover).  I like that it's movable because it is usually on the floor!  It's easiest to change baby on the floor, especially when he is squirmy.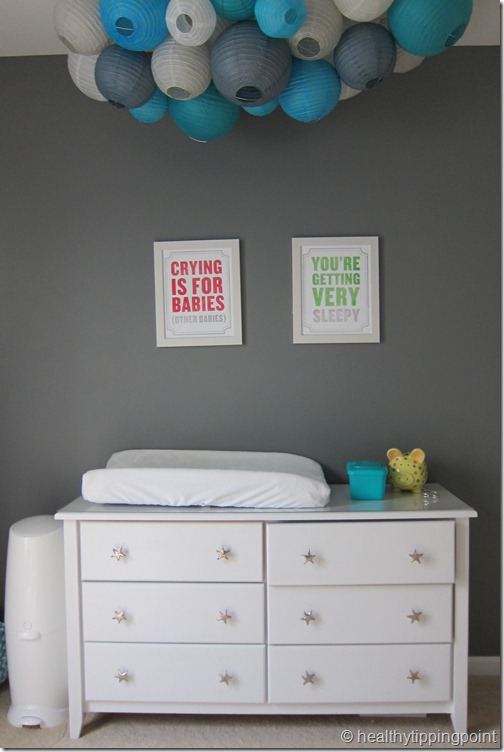 I asked the Husband what his favorite piece of baby gear was, and our diaper pail – the Platex Diaper Genie Elite – won!  I was pretty surprised to hear this, but then again, it is a pretty awesome pail.  It never smells, it's easy to trash the bags when full, and the refill system is super simple to install.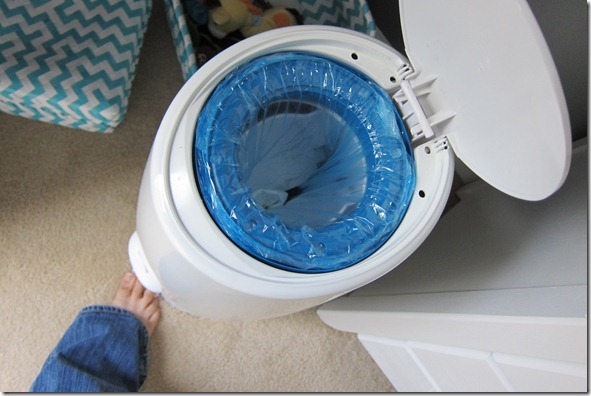 Blackout Curtains:  Absolutely necessary.  I resisted blackout curtains because – let's face it – white, flow-y curtains look prettier, but Henry needs the room to be pitch black to sleep during the day.  These navy ones block out a lot of the light and feel nice to the touch, too.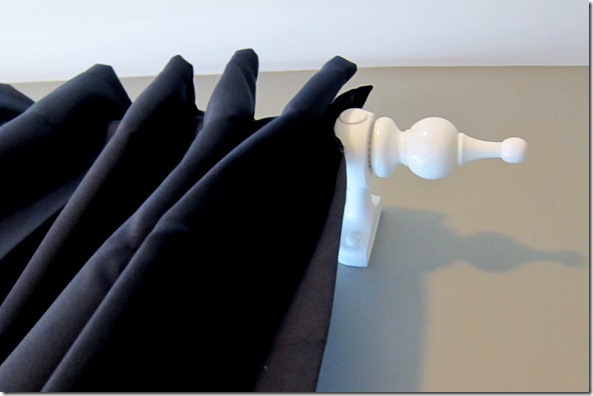 Winter Gear:  I rarely buy baby clothes retail (consignment is where it is at!) but I had to spring for this shaggy winter hat and the matching booties.  They are TOO cute.  Henry really likes the hat (it keeps his ears warm) and the booties stay on his feet (unlike socks, which he pulls off immediately).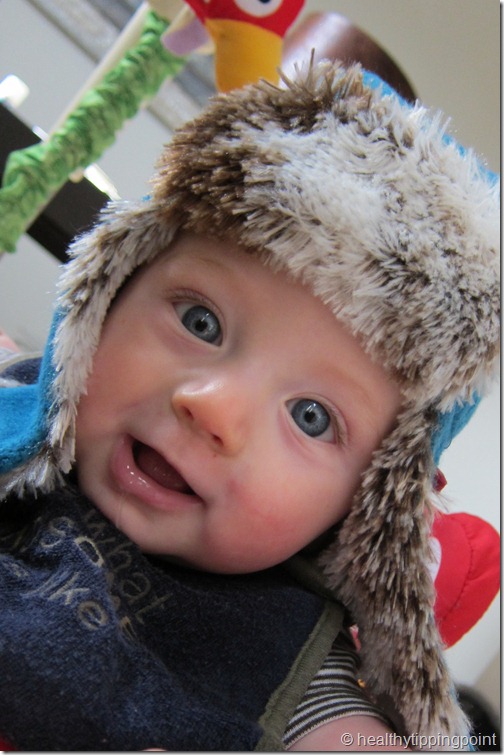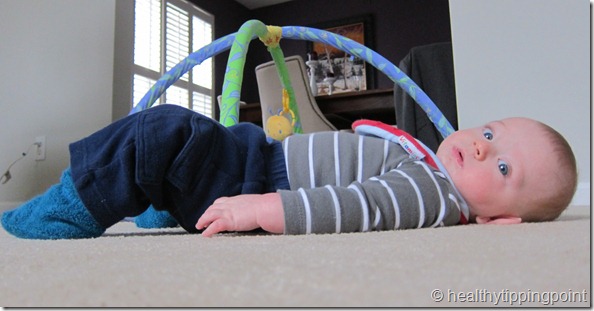 For Drool and Chewing:  Henry is a drool master.  I thought he was teething when the drool started in earnest two months ago, but no teeth yet!  Just lots and lots of drool.  We go through four or five bibs a day.  I really like these plastic-backed ones from Carter's (worth every penny).  Henry also loves sucking on my new Chewbeads necklace.  It's made of the same material as bottle nipples but looks like a 'real' necklace.  Win, win!  I really want to get this turquoise Chewbeads necklace next.
Ultimate Baby Toy:  My iPhone.  I swore that I'd never let him play with my phone but… Yeah.  There are so many things you think you are / aren't going to do with your kids, and then your baby is born…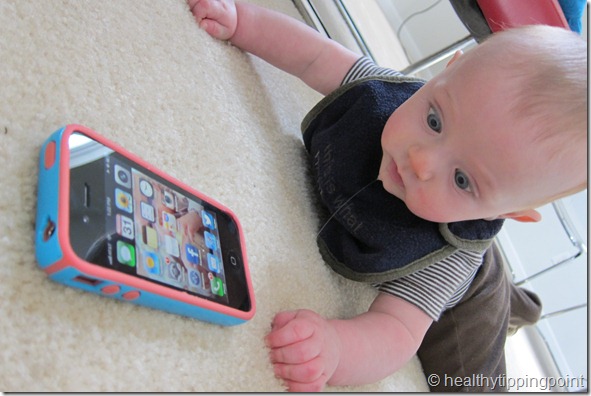 Check out that drool!
Favorite Ball: Rhino Toys Oball.  Henry LOVES this ball. It's soft and flexible, and there are many holes so it's easy to hold.  A great shower gift!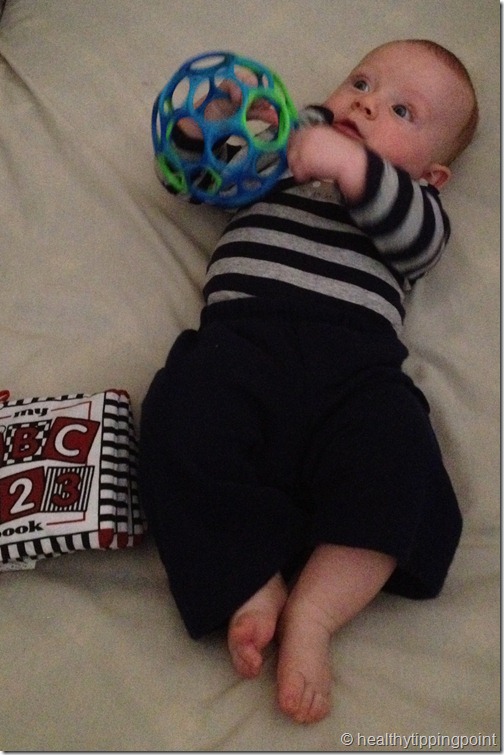 But his real favorite toy is definitely Freddie the Firefly (which was a gift from the Fitnessista!).  This is truly a toy that grows with a child – the wings crinkle, squeak, and make other noises; there's a mirror; there are several teething rings; and it can hang from a stroller or car seat.  I have bought this for three of my friends' babies since Gina gave it to me.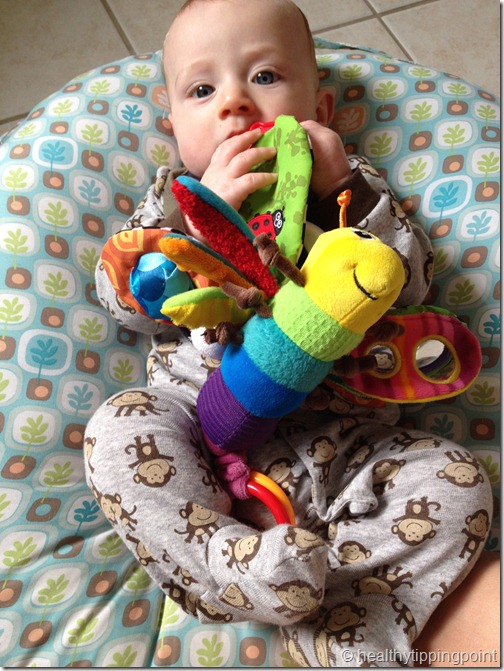 Feeding:  Still love my Medala Pump in Style Advanced and the bottles that came with the pump.  But I absolutely am obsessed with my SkipHop bottle drying rack.  It's small – so it doesn't take up a lot of counter space – but it can hold so much – up to 9 bottles!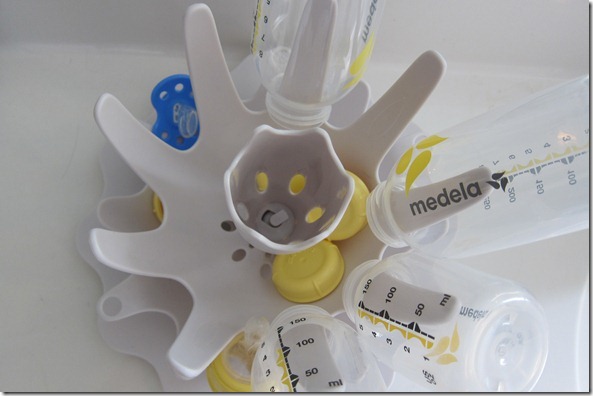 Especially now that Henry sleeps in his nursery, I am so grateful for our video monitor.  It's so detailed that I can even see his chest rise and fall with every breath.  I also like how it shows the temperature in the room – we've been having trouble getting the heat just so in the nursery, and it's nice to know whether or not he's too cold.  This was a gift from my sister-in-law who has three kids; she loved it with her children, and I love using it with Henry.  Peace of mind is priceless.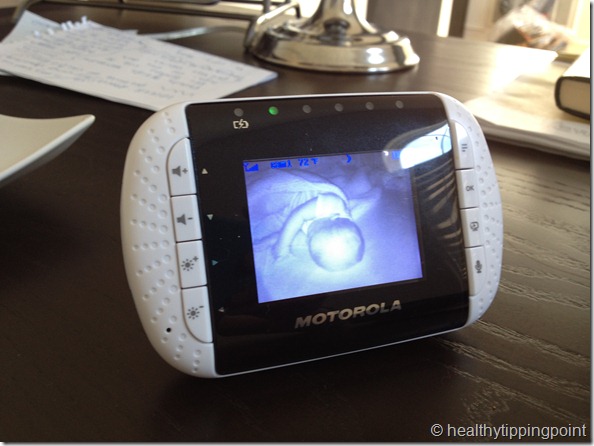 And last, but certainly not least, I still think my stroller is great.  We bought the City Mini 2012.  We are just now beginning to put Henry in the actual seat (instead of the car seat with the stroller attachment).  Babies aren't ready to ride upright in the seat until they are either six months or have good head control and can sit up on their own; however, you can recline the seat so much younger babies (even newborns) can sit in the stroller.  Henry has perfect head control, so I recline it a bit, and he gets to comfortably sit in the front (he hated being in his car seat on walks).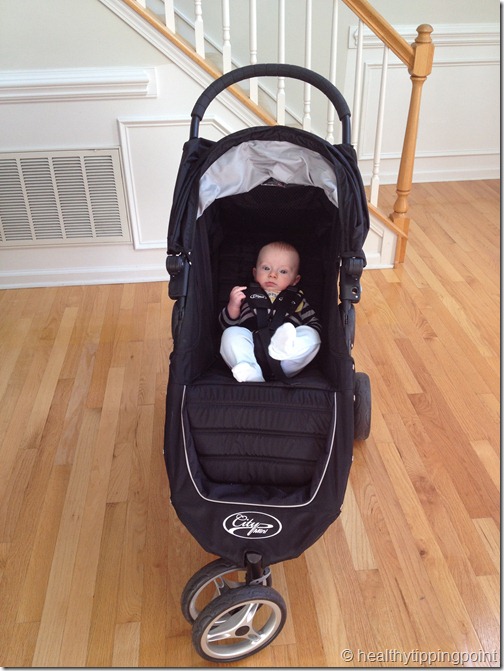 Yes.  My son is throwing the bird.
I'd love to hear what baby gear you love – or your favorite items to give for baby showers!