A paradox: I love to cook but I do not like to spend a lot of time actually cooking.  So I guess I should really say that I like eating.  Hah.  This dish is one of my favorites because it tastes AMAZING and looks BEAUTIFUL but involves very little kitchen time.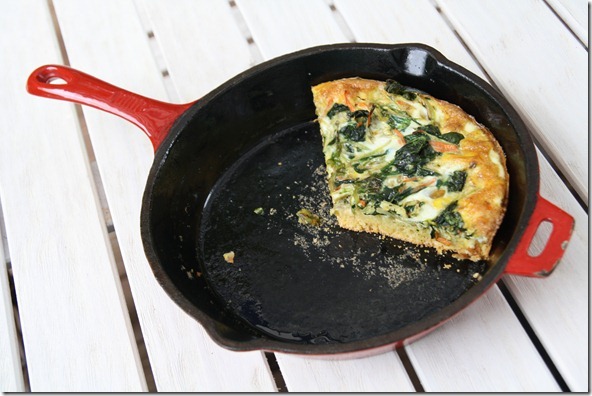 Ah, yes – the beloved Cornbread Quiche.  The other things that's cool about this dish is the endless variations.  You can make it with cheese or without.  You can use any veggie in your fridge.  It can be spicy or savory.  But it's always good.
We have a ton of guests coming to visit us over the next week, and I plan to whip up a variation of Cornbread Quiche for each.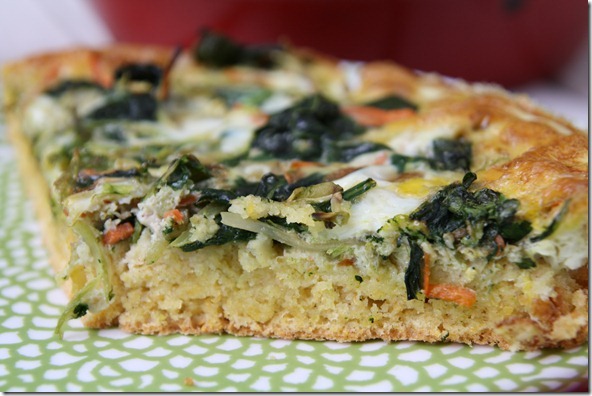 Egg on the top, cornbread on the bottom!
Todays variation was a standout.  Will definitely make it with these mix-ins again —> spinach and broccoli slaw.
Spinach and Broccoli Slaw Quiche Cornbread
Ingredients (for 4 servings):
3 cups loosely packed spinach

1/2 cup broccoli slaw

2 tablespoons coconut oil or other oil

1 and 1/4 cup dry cornbread mix, which should then be prepared according to package directions (i.e. with all the egg, water, milk, oil, etc.)

5 eggs

Salt and pepper to taste
Directions:
Preheat oven to 425 degrees.

Pace spinach and slaw in hot wok with oil.  Cook until limp. 

Meanwhile, prepare the cornbread mix according to package directions.

Pour cornbread into a greased cast iron dish and bake for 10 minutes at 425.

Remove cornbread from oven and place spinach and slaw on top.

Combine eggs, salt, and pepper in a small bowl.  Beat thoroughly.

Pour egg mix on top of veggies and cornbread.

Put back in the oven and bake for 20 minutes at 425.

Remove from oven and let stand for 5 minutes before slicing into quarters.

Enjoy!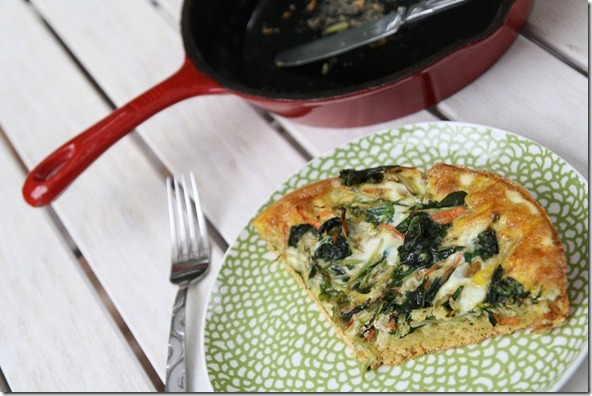 Other variations:
Up next… The technique that I've been using to get Henry to sleep (almost) through the night – BLISS!