Be still, my breakfast-lovin'-heart.  I just trumped Pancake Truffles.  Yes.  I said it.  Half-cornbread, half-quiche, this dish is super easy to prepare, especially if you prep the roasted broccoli the night before (while making dinner, perhaps?).  And it tastes AMAZING.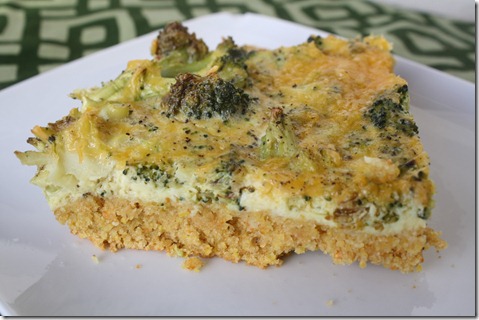 Quiche Cornbread
Ingredients (for 4 servings):
1 head roasted broccoli
1 and 1/4 cup dry cornbread mix, which should then be prepared according to package directions (i.e. with all the egg, water, milk, oil, etc.)
4 eggs
1/4 cup almond milk
Salt and Pepper to taste
1/2 cup cheddar cheese, shredded
Directions:
Preheat oven to 350 degrees.
Chop roasted broccoli and roast for 25 minutes (you can either do this ahead of time and keep in the fridge or you can stagger the cooking of the broccoli with the cornbread layer.  For example, roast for 10 minutes, do the next step, cook cornbread + broccoli for 15 minutes, remove both).
Meanwhile, prepare the cornbread mix according to package directions.  Make enough mix for 1 1/4 cup dry mix.  I used Bob's Red Mill mix.
Pour into a greased cast iron dish and bake for 15 minutes at 350.
After roasted broccoli, remove from oven and chop into bits.
Combine broccoli, 4 eggs, almond milk, and salt and pepper in a small bowl.  Beat thoroughly.
Pour egg mix on top of cornbread.
Sprinkle with cheese.
Put back in the oven and bake for 15 minutes at 350.  Increase temp to 400 degrees and bake for an additional 5 minutes.
Remove from oven and let stand for 5 minutes before slicing into quarters.
Enjoy!