Imagine that I snuck up on you in the middle of the night, shoved a big bowl of pasta under your nose, and fed it to you… and you slept through the entire thing.  Yup.  That's pretty much what I've been doing with Henry.  But with milk, of course.  Let me explain…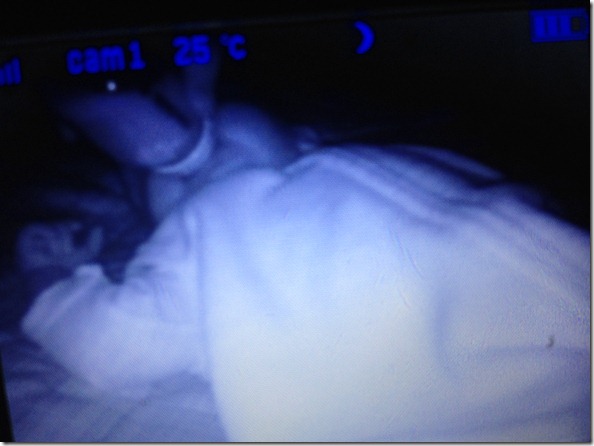 We are beginning to see the payoff of sleep training!  Sleep training is, by the way, just a term that describes getting babies/kids into a napping and sleeping routine.  It can be as flexible or as strict as you want.  Some parents believe in/resort to crying it out (CIO) as part of sleep training, but we're not willing to go there yet (maybe never) and are using a more middle-of-the-line approach.  I want Henry to be able to sleep in his own crib (still by our bed) for naps and evening without a huge fight – as opposed to sleeping on me all the time or in a moving prop like a swing or car seat or sleeping only after a 20-minute screaming session that exhausts us both.  A lot of this is about self-soothing.  I really, really want Henry to be a good sleeper who can soothe himself back to sleep under most circumstances.  I'm convinced it's not going to happen by accident, which is why we are sleep training. 
I picked up Secrets of the Baby Whisperer and have been attempting to implement some of her advice.  The author advises structuring the baby's day around E.A.S.Y., which stands for Eat, Activity, Sleep, You.  Basically, the baby eats, then plays, and then naps, during which you get you time.  I'm trying to get H used to eating before playing and not before napping, but it's hard.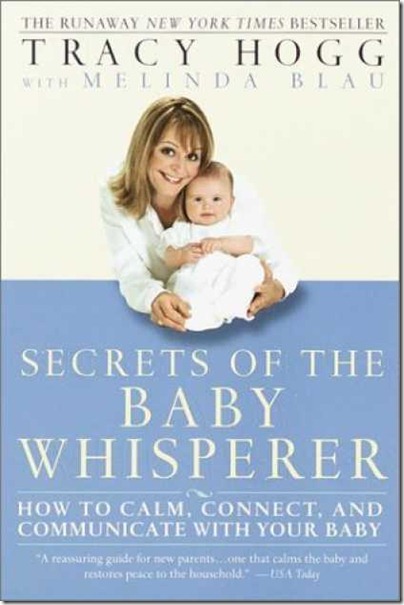 There are some things that I loved about the Baby Whisperer book and some things that I hated.  I really, really hated the breastfeeding chapter.  Although I liked how it struck a good balance between breastfeeding and formula and didn't make women feel guilty for their choices, I didn't agree with some of the points made about breastfeeding.  Such as: it's impossible to pump full time (I do!), very young newborns shouldn't feed on demand (of course they should, they are ridiculously hungry), and a good reason not to breastfeeding is that it makes your breasts saggy (I don't even care if that's true).  There's also a semi-ridiculous side note about how scientists are working on genetically modifying cows to produce human breast milk, which may be true but seriously… Gross.  So take that section with a grain of salt.
However, the sleep section of the book was very helpful.  I'm not doing everything she recommends (for example, CIO in older babies), but some ideas are genius.  One of the techniques described is the Dream Feed, which a few of you told me about previously.  After reading how to do it in the book, I decided to implement it about a week ago.
Henry usually falls asleep around 8 PM and sleeps for 4 – 5  hours before waking up to eat (the first stretch of nighttime sleep is usually the longest).  Sounds great, right?  Not really.  I don't want to go to bed at 8; I need to clean, watch TV, talk to my husband, or get work done!  That means we were being consistently woken up only two hours after crashing, which was so, so rough.  Then, Henry would wake back up two or three more times before morning.  The Dream Feed technique eliminates this problem.  Basically, you feed the baby while he is asleep to 'top him off.'  Yes, babies can apparently eat while they sleep.  Here's how it works.
I'm not sure how old a baby needs to be to start Dream Feeding, but it seemed to make sense for us now because Henry is consistently going down at the same time and sleeping a long stretch. 

We do the Dream Feed about two to three hours after he falls asleep at night.  I usually Dream Feed Henry around 10:30 PM.

If you use a bottle, simply stick the nipple in the sleeping baby's mouth.  Sometimes I have to use my fingers to open his little mouth first.  Twist the bottle around to trigger the sucking reflex.  I don't even usually lift Henry out of his crib – he just eats flat on his back (updated: some people are commenting this increases the risk of ear infections so proceed with caution!).  I've read that because the baby is relaxed and asleep, he won't gulp air during the Dream Feed and burping is unnecessary.  Last night, he was totally out of it and wouldn't Dream Feed, so I lifted him out of the crib to rouse him a bit and then fed him.  He was still asleep but probably in a lighter stage of REM.  If you breastfeed, you can gently lift the baby out of the crib and feed him while he sleeps.

Henry will usually drink 2.5 to 3.5 ounces while asleep.  He doesn't even open his little eyes!  It amazes me every time.
Instead of waking up at 1 or 2 AM, the Dream Feed means that Henry wakes up at 4 AM… and we get a solid 4 or 5 hours of sleep before being woken up.  For some reason, the Dream Feed technique also starves off the later wake-ups so he's only waking up ONCE a night (pun intended).  While the Dream Feed isn't about self-soothing, it does result in more restful sleep for Henry, which makes it easier for him to nap during the day.  It's all-around miraculous!  The first time we did it, I felt like I scaled Mt. Everest or figured out how to fly.
I realized yesterday that after a week of Dream Feeding, I am more rested than I have been in three months.  Hence my crazy DIY and decorating spree!  I actually have the energy to do stuff beyond the bare necessities.  It is so, so, so nice.  I still look tired, though.  It might take a few weeks of Dream Feeding to make these mama bags go away…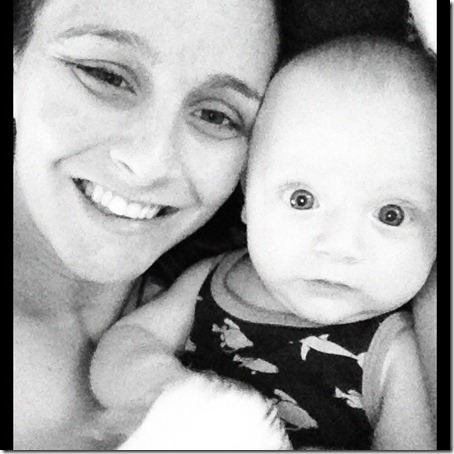 Fun and interesting fact:  Babies eat a lot and grow ridiculously fast.  Henry sometimes wakes up from napping screaming his face off because he's so hungry (and he just ate an hour before!).  I calculated how many calories Henry eats a day – probably 440 – and determined that it's the equivalent of a woman my size eating 3,800 calories a day, every day.  Crazy.
Do you Dream Feed your baby?