For more, check out:  Race Prep:  One Week Out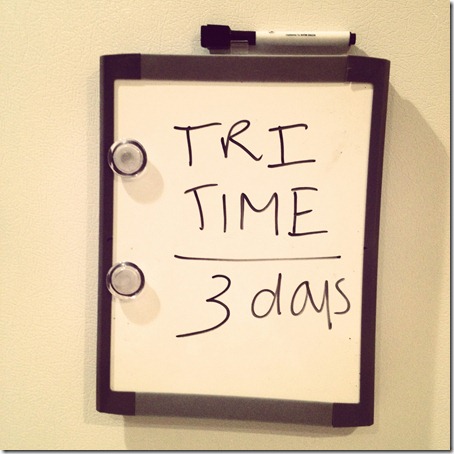 Ah.  Three days to go.
I'm nervous.  Whenever I say, "I'm nervous," my mom says, "Are you nervous or just excited?" and the answer is usually, "Oh, I'm actually excited."  I am excited for this triathlon, but yes – I'm nervous, too.  It's okay to be nervous.  If I wasn't nervous, I would be insane.  Doing all my race prep has made me feel a lot better, though!
So, we already covered what to do One Week Out, and now it's time to address the more acute issues.  Here's what I've been doing to get ready:
Check the weather.  Oh God.  The weather.  Does anyone else check the race day forecast over and over, even though we all know weather forecasts aren't really reliable until 24 hours or so before?  Yeah.  Me too.  Saturday is lookin' good, though!  Partly cloudy would be wonderful.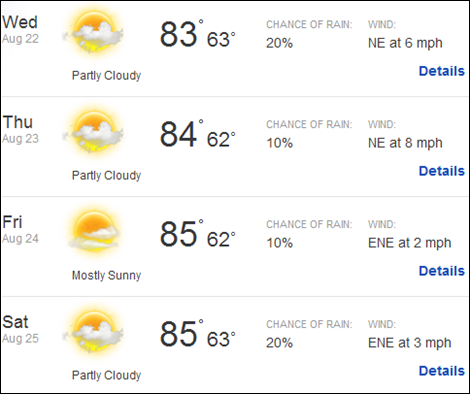 Figure out driving directions.  If the race is nearby and in a very unfamiliar location, I will sometimes do a test drive to the race start just so I don't get lost the morning of the event.  My tri is about 40 minutes away, so I've made do by studying Google Maps.  I definitely, definitely, definitely know how to get there.
Make a playlist.  There's no music allowed during the bike or run portions of USAT triathlons, so I'll be sans musical motivation for this race.  However, I really love to craft a fun playlist for running races.  I am not ashamed to admit that my current favorite running song is…. 
Figure out your race outfit.  Now, this is way, way, way more complex for triathlons than it is for running races.  For running races, all you need to do is wear something you have already run a long run in.  Very important!  Don't buy a cute new outfit for race day unless you're willing to risk chafing.  Also, consider the weather forecast – if it's going to be chilly, consider wearing layers that you can take off as you go or bring a throw-away sweatshirt to wear at the starting line (most races will pick up tossed clothes and donate to Goodwill).  If you've already got your bib number, pin it on your shirt.  Also, if you have a long drive home, bring an extra change of clothes.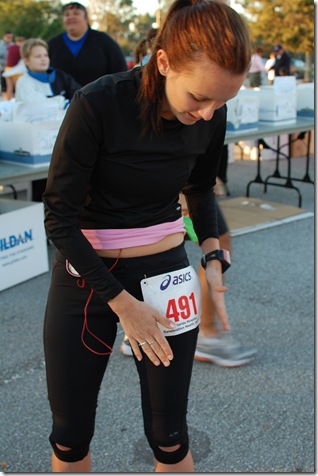 As mentioned, packing for triathlons is a little harder, which is why I start organizing my gear a few days ahead of time.  Here's my Essential Sprint Triathlon Packing List.
One of my current conundrums is that I'm not sure what I'll be wearing during the triathlon.  Usually, I wear my one-piece trisuit (that's tri-suit, not Triscuit cracker…).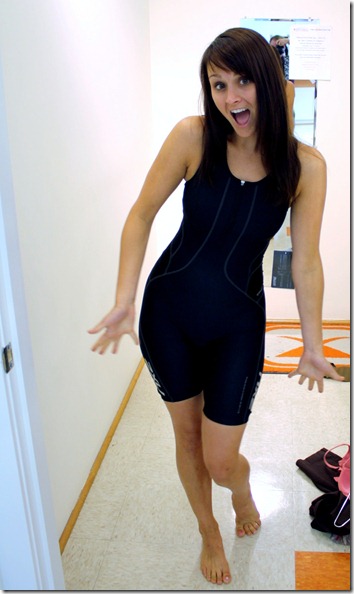 However, I am 99% sure that my trisuit will not fit my post-partum body (still need to pull it on), and I'm not willing to buy a new suit for a few races, so I need to make do with what I have.  I'm thinking about swimming in a sports bra and bike shorts and pulling on a jersey for the bike and run.  I'll just give the seat of the shorts a good squeeze before sitting on the bike; otherwise, water will POUR down into my shoes.  I don't want to race in a swimsuit because I don't really own one that fits (by the way, I ordered the Tsunami suit and am super pumped for it to arrive).
I also need to check my bike and make sure I have all the tools necessary to repair a flat in my bike bag.  Let's pray I don't blow a tire mid-race, though.
There are a few more things to do before the race, but I'm saving all that until Friday night.  Until then… I'll just be trying to calm my nerves!