When it comes to sports bras, I'm a pretty tough critic.  That's why I was intrigued when Champion sent me a link to their Bra Finder website.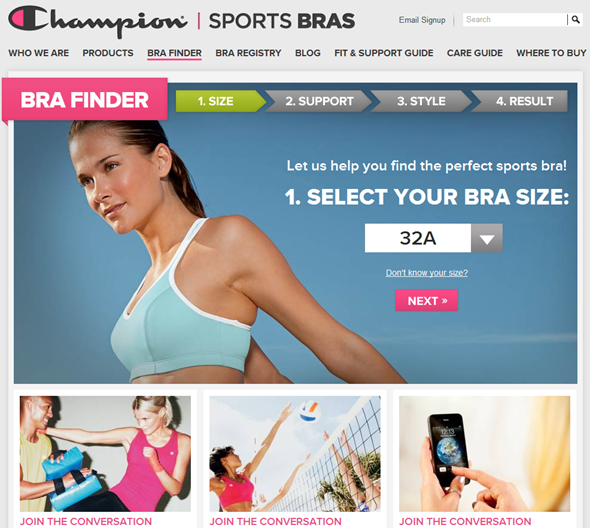 You answer a few questions (size, activity level, bra style – such as racer back, wire free, front closure) and the site whittles down your options to a few bras that are the best fit for you.
My selections drew me to the Custom Criss-Cross and the Spot Comfort High Support, which Champion sent me over.  The Criss-Cross was very comfy and I loved the feel of the fabric, but it was definitely not 'maximum support' for someone with a larger chest.  Same with the Spot Comfort.  Both were ideal for yoga or walking but would not cut it (for me) for running.  I wore the Criss-Cross bra during yesterday's Ripped in 30 workout and ended up holding my chest during some of the cardio moves – bra fail!  I need those girls to be locked 'n loaded for hard workouts; I've never really found true high support in a Champion bra.  Regardless, I thought the site was pretty cool and would be especially useful for someone who already liked Champion bras (I know a lot of you are fans!).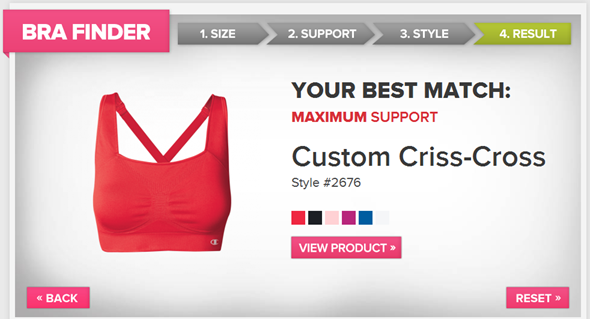 Another cool part of the site is their Care Guide, which details how to care for a sports bra to maximize its life expectancy and four ways to know when it's time to replace the bra (you can even register your sports bra with the site so you get an email reminder).  I was curious about some of the Care Guide recommendations – like not washing your bra with fabric softener – so I asked Champion more information.
Why shouldn't you use chlorine bleach or brighteners when washing your sports bra? 
Any chlorine-based laundry product is destructive to the Lycra/spandex fibers found in every sports bra.  The specific nasty result is a premature loss of strength in the bra fabric (think less powerful compression and support), so you end up compromising the anti-bounce qualities and fit of your sports bra.  Incidentally, heat will also kill the strength of spandex, which is why we also recommend keeping your sports bras out of the dryer and letting them air-dry naturally instead.
Why shouldn't you use fabric softeners when washing your sports bra? 
Due to their chemical composition, fabric softeners can have a very dramatic, negative effect on moisture management fibers and treatments, preventing them from effectively moving perspiration away from your sweaty body.  So we recommend avoiding fabric softeners not only with sports bras, but with all of our active wear pieces (most of which also have some sort of special treatment to help whisk sweat away and help you avoid a soggy workout).
For more sports bra posts and reviews, including a list of my favorite bras, check out these posts.