Some days, I really feel like I have my shhhhh all together, if you know what I mean.  Henry is super happy, I'm keeping the house all tidy, I'm getting my work done, and I'm even showered and wearing real people clothes.  Other days… not so much. 
I can't help but feel totally flustered when I look at the clock and realize it's 9:00 PM, I'm still wearing my pajamas, someone smells (and it's me), I haven't eaten since noon, and there's spit-up down the back of my shirt.  This, I know, is just part of life with a baby, which is totally fine.  But still… I much prefer those pulled-together-supermom kind of days.
It might've been a flustered day, but Henry and I did manage to build an IKEA bed (he sucks at using the screwdriver) and take the dogs on a long walk.  In the dark.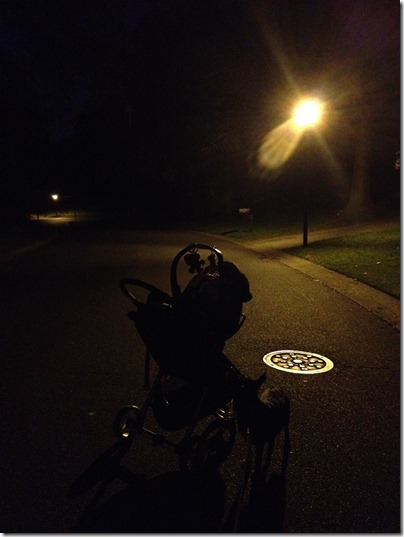 Hey, at least it got done, right?
Dinner was kind of a mish-mash – although I did make an excellent side dish; I'll share the recipe tomorrow – so let's flashback to last night's dinner, which was really tasty and worth sharing.
Southern-style: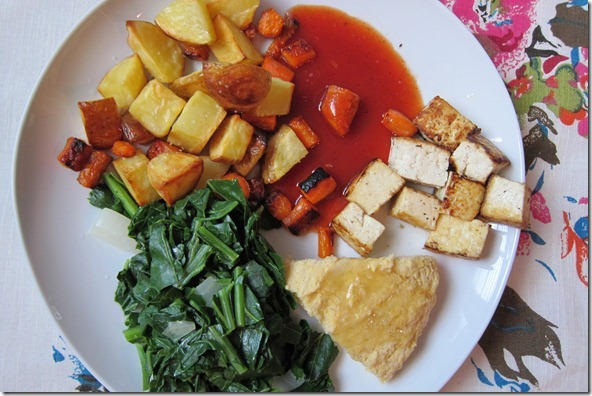 Steamed collard greens (made using this method)
Roasted potatoes and carrots
A lake of Bone Suckin' BBQ sauce
Bob Red Mill GF Cornbread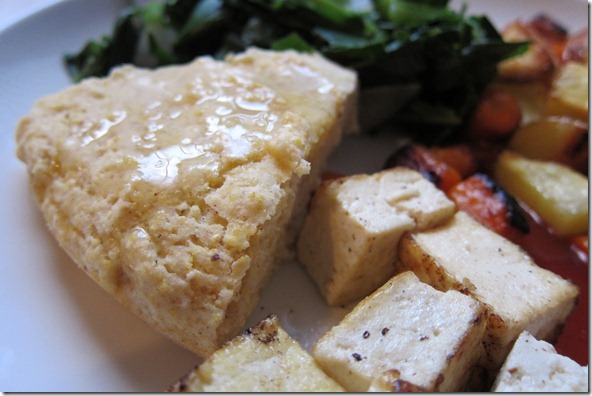 Thought of the Day:
"You think the only people who are people are the people who look and think like you. But if you walk the footsteps of a stranger, you'll learn things you never knew you never knew." – Pocahontas (yes, I went there)