A few months after I first got into running, I decided to run a 10K.  Now, I only had one friend who ran regularly and hadn't discovered the wonderful world of blogs, so I didn't have many resources on training.  I just winged it, slowly increasing my mileage bit by bit until race day.  One of the things that I didn't really consider was whether I could train entirely indoors on a treadmill.  I didn't realize how much of mileage I had ran indoors until race day.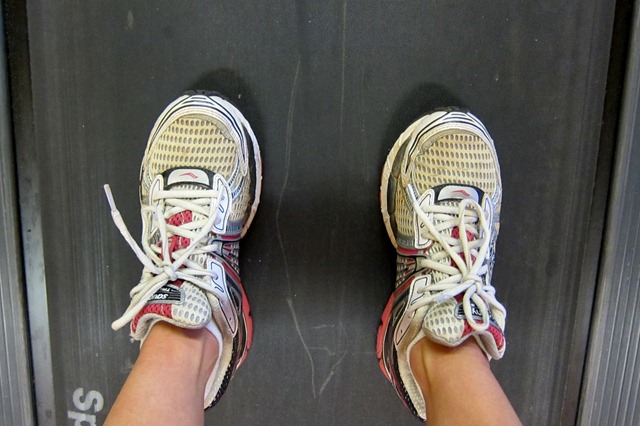 Running up that first hill was a rude awakening.  I remember thinking, "Hmmm…. maybe I should've actually ran outside every now and then!"  And then I paused to place my hands on my knees and dry heave.
There are many advantages to running indoors, of course.  You can run indoors any time of day, it's a great alternative during the peak of winter or summer, and, in some neighborhoods, running outside just isn't feasible or safe.  However, there are a few disadvantages to treadmill running, at least when it comes to training for a race:
Unless you constantly adjust the incline, running on a treadmill fails to properly simulate the ups and downs of natural terrain.  Running on a flat surface is much easier!

The treadmill propels you forward very slightly.  This is why most of us feel that treadmill running is easier.

The treadmill inherently paces you.  This means that you may have trouble self-pacing during a race and end up coming out too fast (or too slow).

The treadmill has much more 'give' than the sidewalk; this means your body isn't as prepare for the pounding of the sidewalk or the road.  I find that running on a treadmill results in less soreness in my legs, knees, and hips.  If you are 100% treadmill-based and want to switch to outdoor running, running experts will recommend you transition slowly over several weeks (not cold turkey) so you don't hurt your muscles, bones, or joints.

You may get used to running indoors and find outdoor running to be a bit disheartening due to issues above.  This is not something you want to experience for the first time on race day!
Can you train for a road race indoors?  I think you can… to a point.  Clearly, it's better if you can do some of your runs outdoors, too.
Anyway, I found myself pondering this very issue because I've been thinking a lot about cycling.  I am eyeing an end-of-August sprint triathlon and know that I can handle the swim and the run (if I walk/run, which I'm fine with doing – I'm not going to break any personal records right now; I just want to get back out there before the season is over).  But I'm a bit concerned about the bike, mostly because I've spent the last three weeks swimming or running but not biking… not even once.
Biking is definitely my weakest triathlon sport – it's also my least favorite (funny how that works out).  I am painfully slow on the bike because I never train hard enough.  God only knows how slow I'll be this time around!  One of my issues with cycling is that my part of Charlotte is not very conducive to riding.  I am not a huge fan of riding in traffic; you can't safely ride a road bike on the sidewalk (tires are too tiny and I always pop 'em); and I'm not typically willing to pop my bike in the car and drive somewhere to train.  The other issue, of course, is that cycling is inherently time consuming, and I'm not exactly dying to be away from the baby for hours on end just to ride my bike.
So, I've been wondering – can I train for the bike entirely indoors?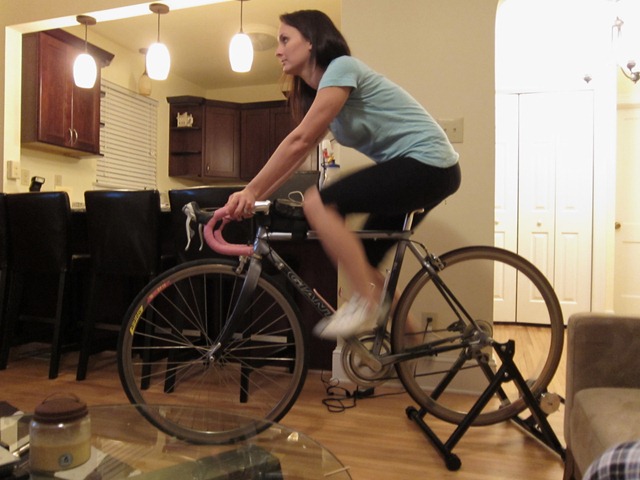 I have an indoor trainer that I love.  I can adjust the resistance by changing gears, which will help simulate riding on hills.  Riding indoors certainly won't help me practice shift gears, balancing, or passing other cyclists.  But time on the bike is time on the bike, and riding indoors is certainly better than nothing.  Right?
Plus… an indoor trainer means I get to ride while watching the Olympics!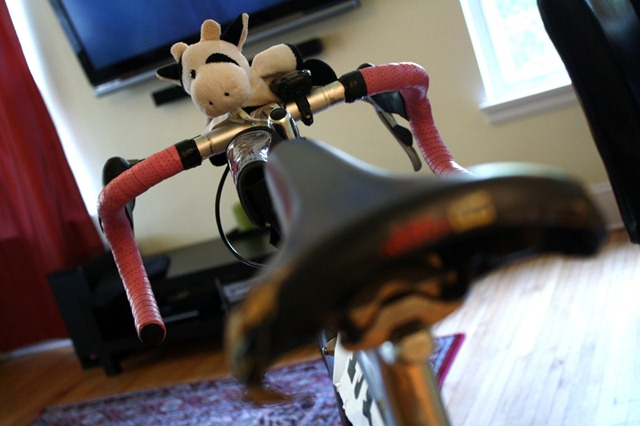 As a side note, of course there are also issues with training for a swim entirely in a pool!  It definitely helps if you can get into a lake or bay before the big day.  But I think that's more of a psychological issue than a physical one.
I'd love to hear your thoughts on training indoors… whether for running, swimming, or biking. Have you ever trained for a race entirely indoors?  How did race day go?