When I was doing The Naked Face Project (my 60-day experiment to give up all beauty products), the question I was asked most frequently was, without a doubt, "HOW are you giving up deodorant?"  People thought it was weird, unhygienic, and gross that I would go without deo.  The reality was that the Project started in the early springtime, and it wasn't hot out yet. 
I quickly discovered that, when the weather was cooler, I didn't need deodorant the way that I had been 'trained' to believe.  This revelation eventually proved true for a lot of beauty products (I've probably worn makeup ten times since the Project concluded at the end of March; a big switch from being a daily wearer).  Anyway, by the time the Project was at the halfway mark, the temperature had risen significantly in Charlotte, and I soon realized that – for at least part of the year – I actually did need to wear deo unless I wanted to be a social outcast. 
Now, all of our bodies are different, and I'm sure many people would disagree with me and say that deodorant is a year-round necessity.  That's cool – this is just what I figured out works for me!
A few years back, I was very committed to the Mitchum brand of deodorant, specifically their Power Gel.  The Power Gel uses aluminum zirconium tetrachlorohydrex glycine as an antiperspirant (AZG for short).  AZG works by triggering the pores in your armpits to close and preventing sweat production.  AZG literally diffuses into your pores and clogs them; your body will eventually break down the plug, breaking the antiperspirant effect.  One of my favorite websites is the Environmental Working Group, which has a huge database of beauty product chemicals and their safety.  AZG is generally considered safe and EWG gives a good safety rating (2 out of 10) to the Power Gel.  Pretty great for a conventional product!
Despite the OK from the EWG, the Husband and I started to switch over to 'natural' deodorant last year. Conventional products had always irritated his armpits (they got all red and blotchy), and I was interested in reducing the amount of aluminum I was putting on or in my body before getting pregnant – here's why (I also stopped baking on aluminum cookie sheets and switched to glass for the same reason).  You all know that I've chosen to have a rather panic-free pregnancy and don't generally freak out over things like 'don't eat that' or 'don't do that,' but I figured natural deo was a small and easy switch that I could make.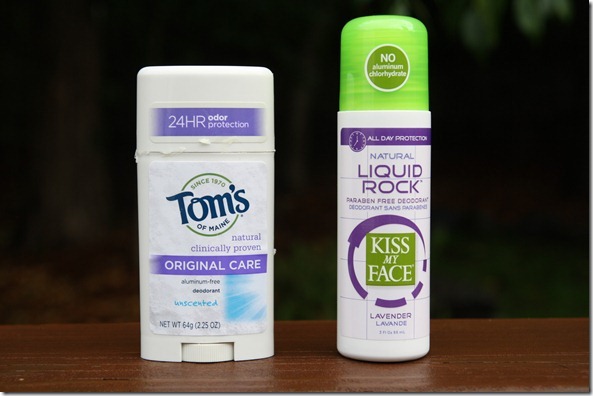 It took a long time for us to find natural deodorants that we liked and worked with our respective body chemistries. Eventually, I settled on Tom's of Maine (which scored a #1 on EWG) and the Husband selected Natural Liquid Rock by Kiss My Face (which scored a #2).  I think Tom's is better because it's a cream; the Husband prefers roll-on deodorant.  And a huge bonus for Tom's is that they do not do any animal testing.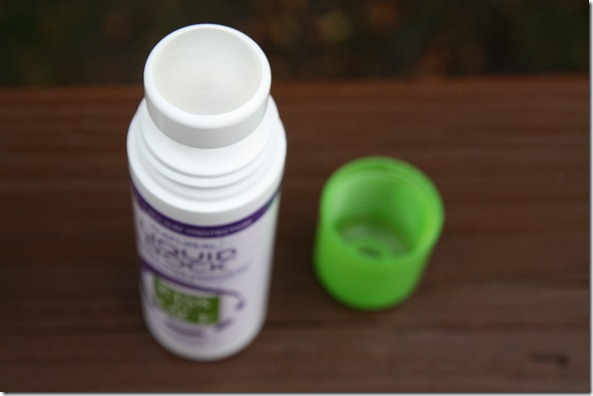 The other day, I was curious how, exactly, my Tom's deodorant worked, so I headed over to their website to break down the ingredients.  Most of the ingredients are for 'consistency' and 'soothing feel.' The following ingredients do the real work:
Glyceryl laurate

: A vegetable oil that provides a deodorant effect. "In deodorant applications, it inhibits the growth of skin bacteria responsible for odor production. The mechanism of how it works hasn't clearly been shown, but it is thought that the glyceryl laurate dissolves the outer membranes of the skin bacteria that produce body odor." (

Source

)

Humulus lupulus

: Derived from hops cones (yes, like in beer).  "The "bitter principles" that help hops to preserve beer also, it turns out, fight odor. [Tom's] research team has shown that hops extract inhibits the growth of odor-causing bacteria… Hops acts by causing leakage in the bacterial cell membrane, which impairs bacterial function and therefore prevents odor formation." (

Source

)

Cymbopogon flexuosus oil:  An oil derived from the lemongrass plant that provides a deodorant effect.
Now, of course, if you read deodorant labels, there are deodorants (which stop stinkage) and deodorant/antiperspirants (which also stop sweating).  Tom's doesn't necessarily keep you from getting wet under the pits; just from smelling.  And just because a product is natural doesn't mean some people don't react negatively to it.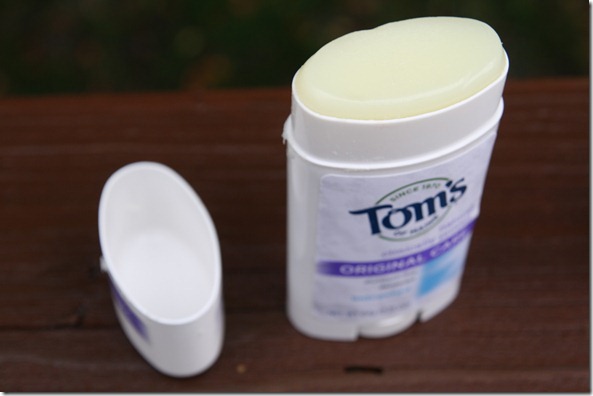 So – that's how Tom's natural deodorant works!  I wouldn't say it's as effective as my old conventional brand, but it works decently enough for me.  And I like knowing that I'm not rolling aluminum under my armpits every day, even if most research says it's safe in low doses.
For more: Four Natural Beauty Products that I Love (and One I Hate) and Seven Awesome Resources from the EWG
What's your favorite brand of deodorant, conventional or alternative?