The Husband and I have been slowly switching over our beauty products and cleaning products to more natural alternatives.  Swapping everything out at once would be really expensive!  When we run out of one product, we simply head to the store and buy a new, natural replacement.  
Here are 12 ingredients worth avoiding and why, according to this source:
Benzoyl Peroxide:  Toxic if inhaled, facilitates carcinogens
Diethanolamine (DEA), Monoethanolamine (MEA, Triethanolamine (TEA): Possible carcinogen, skin and mucous membrane irritant
Disodium Laureth Sulfosuccinate (DLS): Produces byproducts that are possible carcinogens
DMDM Hydantoin & Imidazolidinyl Urea: Stresses the immune system, skin irritant, releases formaldehyde when combined with water
Sodium Lauryl Sulfate (SLS) & Sodium Dodecyl Sulfate (SDS); Sodium Laureth Sulfate & Sodium Lauryl Ether Sulfate (SLES):  Skin and eye irritant, can cause ulcers or canker sores, possible carcinogen
Parabens (Butyl, Ethyl, Methyl, Propyl): Mimics estrogen and has been linked to breast cancer; may contribute to male infertility
Petrolatum (Petroleum jelly): Traps toxins on your skin and interferes with cell development
Phenoxyethanol:  Skin and eye irritant, hormone disruptor, possible carcinogen
Phthalates: Can damage the liver and kidneys, can cause birth defects and decreased sperm counts
Polyethylene glycol & Polyethylene (PEG):  Manufacturing process produces carcinogen, can damage the kidneys, skin irritant
Propylene Glycol (PG) & Butylene Glycol: Skin irritant, possibly toxic if combined with certain other ingredients
Here are four natural beauty products that I (okay, we – the Husband uses them all, too) love.  And one that I hate!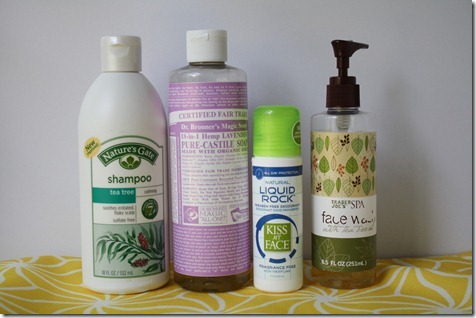 My favorite is Dr. Bronner's Magic Soap 18-in-1 Lavender Pure Castile Soap.  We use this soap as a body wash and it smells SO GOOD.  I like how squeaky clean it leaves my skin, with no creepy residue.   This soap is pretty cheap when you buy it from Dr. Bronner's website – just $6.39 for a 8-ounce bottle (I paid $9.99 in store).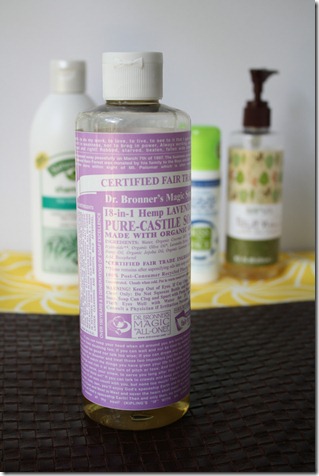 Next up,  Nature's Gate Tea Tree Shampoo.  This shampoo is free of parabens (which can disrupt the reproductive system), sodium lauryl (an irritant and pollutant), phthalate (a possible carcinogen and hormone disrupter), and butylene glycol (a preservative).  I like how it actually cleanses my hair (which definitely has a lot of dirt and grime in it due to all the sports and swimming I do!).  I haven't tried their conditioner yet but am hopeful it will work as well as conventional alternatives!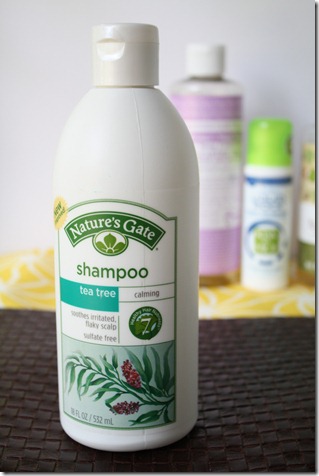 It took me a while to be convinced, but natural deodorant actually works – if you adjust your expectations.   I wanted a more natural deodorant that would work as well as my chemically favorites (Secret or Mitchum), but alas, it just doesn't stand up for a 12-hour test.  However, I toss Kiss My Face's Liquid Rock in my purse and reapply on really hot days, and then it seems to work quite well.  When I'm traveling, I still use conventional deodorant.  And I've never really worn deodorant for exercise – my entire body is sweaty and smelly, who cares if my armpits are super sweaty and smelly?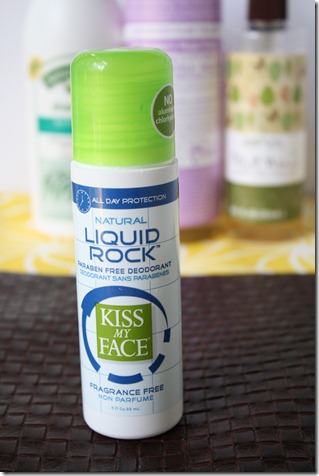 Last, but not least, Trader Joe's Face Wash.  I love this tea tree oil face wash because it really gets rid of grime and grease without drying out my skin – I use it multiple times a day!  Plus, I can pronounce all the ingredients, it smells good, and its cheap!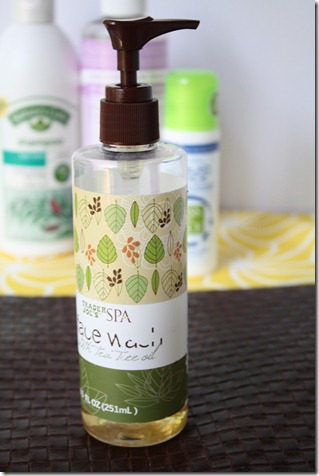 Now it's time for the natural beauty product that I hate… and I mean, I seriously hate this product with an undying, unrelenting passion.  I am so excited the tube is almost gone!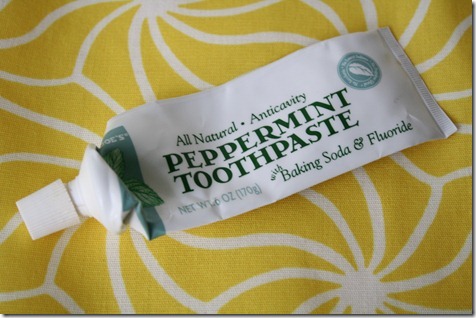 Trader Joe's All Natural Peppermint Toothpaste is a fail.  My teeth never feel "clean" with this tooth paste, no matter how thoroughly I brush.  I tried Tom's natural toothpaste before, and I had similar feelings – I miss the sudsy, bubbly feeling of conventional toothpaste.  Maybe this is just something I need to go over, but man – the chemicals in Crest rock.
What's your favorite natural beauty product?  Do you have a good natural toothpaste alternative?