Crazy morning. I find it endlessly ironic that the same week that I'm closing on my first home, I'm helping DadHTP look for a rental house. I'm up to my eyes and ears in real estate!  The Charlotte rental market is SUPER tight.  When I got a call this morning that a listing was available, I rushed out the door in my pajamas to see a potential place for Dad.  Hoping this one works out! 
I ended up eating breakfast in the car at red lights (not while driving!).  Coffee oatmeal – good at the table, better in the car.

On the stovetop:
1/2 cup oatmeal
1/2 cup soy milk
1/4 cup water
1/2 tablespoon instant coffee
1 sliced banana
Sugar on top.
Everything goes into the pot at once.  Just let it simmer on medium for 5 minutes or so.  Easy, easy.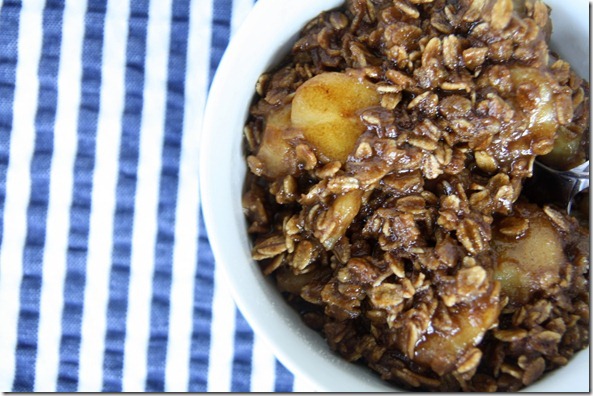 Seven Awesome Resources from the Environmental Working Group
One of my favorite websites is the Environmental Working Group.  The EWG is an environmental organization that "specializes in research and advocacy in the areas of toxic chemicals, agricultural subsidies, public lands, and corporate accountability."  Basically, the EWG fulfills a much-needed void by providing tons of valuable information to consumers.
I utilized the EWG to write several portions of the Healthy Tipping Point book (which comes out in a little over a month!) and wanted to share with you my favorite resources from the organization.  Happy learning!
The EWG Shopper's Guide:  This page provides information on the Clean 15 (the 15 least contaminated fruits and vegetables) and the Dirty Dozen (the 12 most contaminated).  For example, it's wise to always buy organic apples, celery, and strawberries; buying organic onions, sweet corn, and pineapples may not be 'worth it' because they top the Clean 15 list.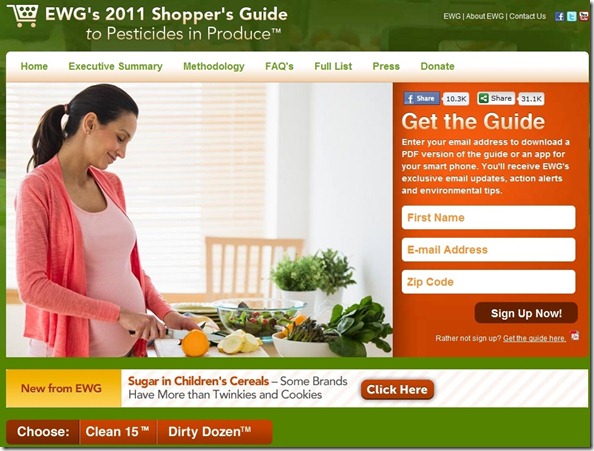 The EWG National Drinking Water Database: This page includes an "interactive ranking system to evaluate 100 water utilities that serve cities of more than 250,000 people."  Charlotte ranks #77 out of 100 in tap water quality – boo!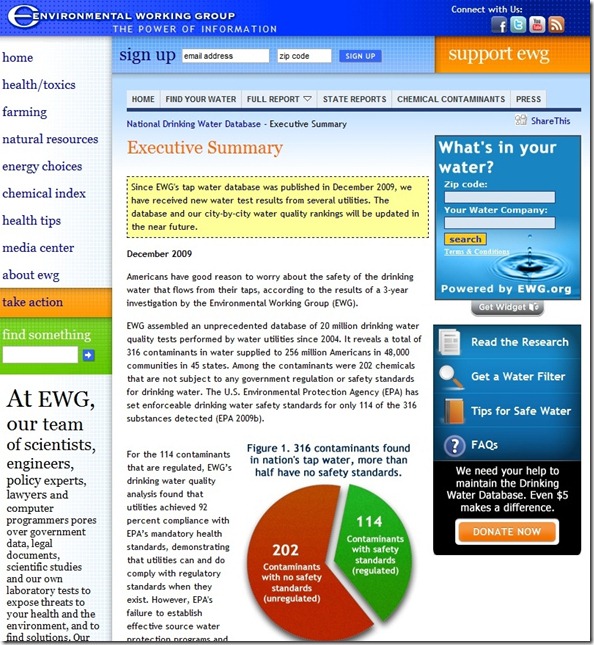 Skin Deep:  The general Skin Deep site has a database of more than 69,000 beauty and hygiene products, including makeup, hair products, eye care products, nail polish, fragrances, and baby-specific products.  Did you know that public health laws allow almost any chemical as an ingredient in personal care products (the no-no list is very short)?  There is also NO required safety testing for new beauty products.  Check out myths on cosmetics safety to  learn more.  "Every product added to Skin Deep is carefully reviewed by EWG staff to identify product type, product use and composition, target demographic, and special product claims."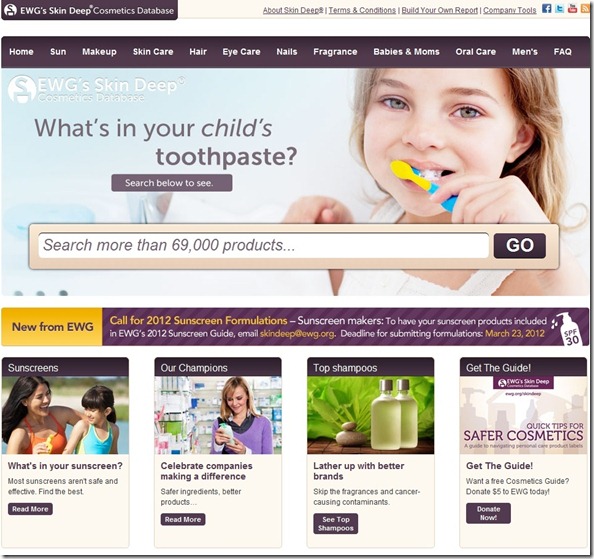 Skin Deep Sunscreens:  This is my favorite EWG resource.  Skin Deep's sunscreen section provides a massive database of 1,700 sunscreens.  I wrote a post summarizing which sunscreens the EWG recommends; you can also check out their Executive Summary for more information.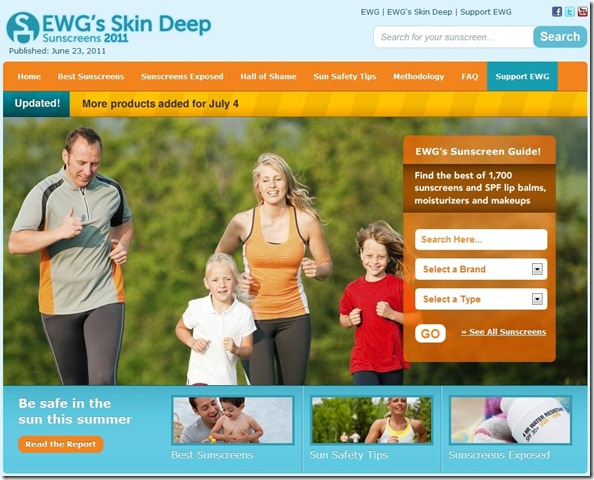 Cell Phone Radiation:  The government does not require cell phone manufacturers to provide any disclosure information about cell phone radiation output.  EWG ranks the top 10 best and worst phones and provides a database where you can look up your specific phone.  You can also read the EWG's full report on cell phone radiation here.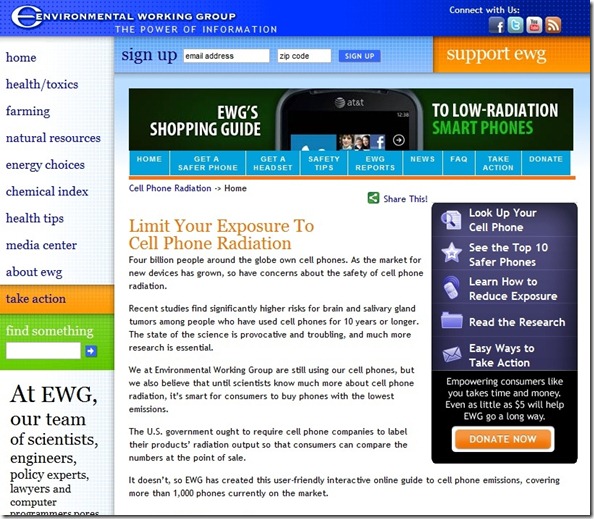 Meat Eater's Guide to Climate Change and Health:  A very interesting and informative page on buying 'greener' meat and dairy products.  You can read about the environmental impact of traditional farming methods and read the 'At a Glance' brochure.  Did you know that different meats have a different impact on the environment?  Lamb, beef, and cheese produce the most greenhouse gases.  And if you eat one less burger per week, it's like taking your car off the road for 320 miles?  Neat!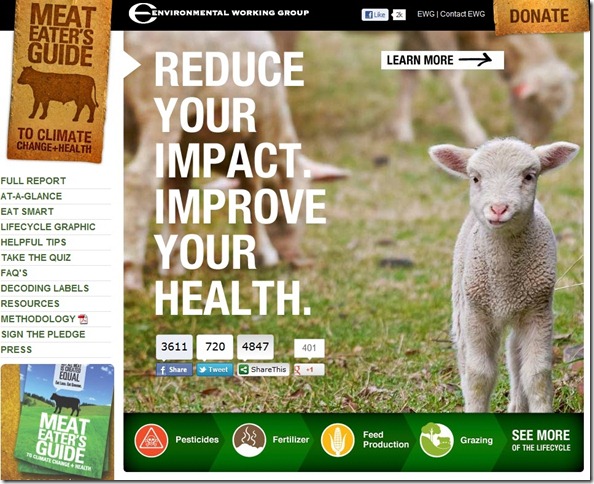 Health Tips:  And last, but certainly not least, check out the EWG's Health Tips page.  There's loads of general information, including Preventing Cancer, Guide to Kids' Personal Care Products, Guide to Feeding Baby, Healthy Pet Tips, and more.