Every year, we go to a golf tournament for the Husband's birthday – when we lived in Florida, it was TPC Sawgrass, and now, it's Quail Hollow.  I was really excited to go this year until yesterday, when I realized that it would be 90 degrees… and I'm 8.5 months pregnant.  Definitely not the best combination.  So, the Husband and my sister-in-law are going together, and I'm staying put.  While I'm disappointed to miss the tournament (golf tournies are actually really fun in real life – on TV, not so much), this means that I essentially get a day off work from the clinic and a lazy day at home entirely to myself.  Not too shabby!  Rock on, Friday.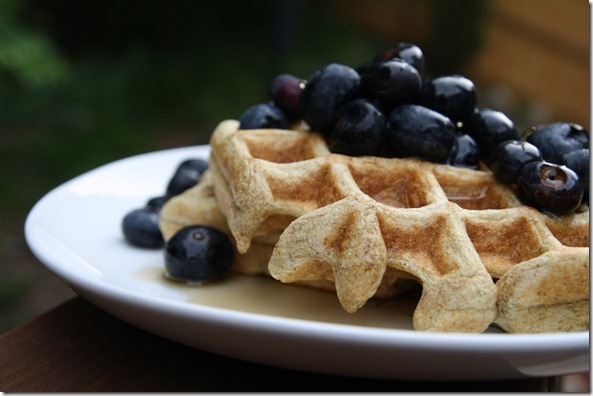 Other things that are awesome:
#1:  Adding protein powder to waffle mix – I really couldn't taste it at all.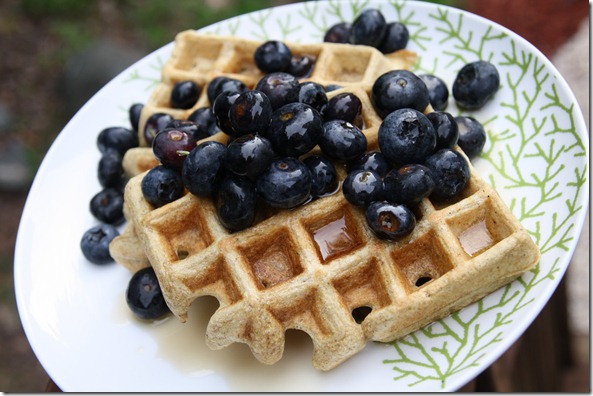 #2: These awesome success stories!  I hope you're finding them as motivating as I am.  I've said it once, and I'll say it again – I always loved reading about other people's journeys and seeing how others tackle challenges.  That's exactly why there's a few success stories nestled in the pages of the new Healthy Tipping Point book (if you're interested in checkin' it out before buying it, I'm going to release a PDF of about 10 – 12 pages within the next few days – stay tuned!).
Read on, my friends….
Justine's Battle Against Arthritis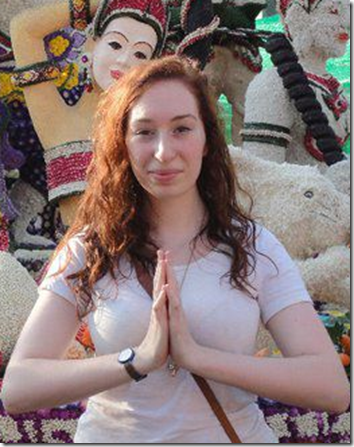 Justine wrote: Over the past 5 years I've struggled with psoriatic arthritis. It's a disease that can make you feel like you're not in control of your own body, and in some ways, you aren't. At least, that's how I saw it for the past five years. I was diagnosed with psoriatic arthritis in my junior year of high school after knee surgery for an unrelated injury. I had a fairly slow progression of arthritic joints and never felt that I needed to do anything more than stick to the medicine my doctor prescribed and sit around, waiting to feel better. But my psoriatic arthritis was sneaky (yes, I do personify it) and crept up on me during my sophomore year of college. In just a few months, after being very functional for three years, three joints (both elbows and my neck) suddenly acquired the characteristics of joints four times their age. I lost so much elbow mobility that I had to do most things one handed, and neck pain wreaked havoc on my sleeping schedule.
I was totally blindsided – I had no coping mechanisms for arthritis because I never felt I needed any! But watching your body deteriorate is tough to handle, and I ended that semester in shambles academically, physically, and mentally. My grades, which I had always prided myself on, were so bad that I ended up withdrawing for a year. That was the point where I sat myself down and decided I needed to do something –anything – to get myself to a healthy mental and physical place. It had taken me years of passively dealing with arthritis to get there, but I finally realized that if arthritis was going to be something I dealt with daily, then healthy living had to be too.
I started making changes. Classic changes like healthy eating and finding a proper sleep schedule were definitely important, but I'm most proud of the mental changes that I made. I was slowly incorporating daily exercise into my schedule, and instead of berating myself for being too out of shape to run a mile, I wrote down the awesome achievement that I had exercised for an hour! My personal mantra was "I believe in myself, because I am in control!" and when I knew I was leaning toward an unhealthy choice, I asked myself what "Responsible, adult Justine" would do. My supportive, positive thinking has let me focus on getting farther in healthy, athletic achievements than I ever have in my life! I kept working from that less-than-one-mile run and now I'm counting down the days to my first half-marathon, which I'm confident I'll be able to complete successfully.
I'm not a standard success story – my arthritis hasn't gone away and is still a part of my life every single day. Even the healthy changes that I've made haven't improved my symptoms that much – there are definitely still days when I have to wash my hair one-handed. But spending the last year actively working to fight arthritis has made me mentally and physically stronger so that I don't feel like my disease is in control anymore. I don't measure my success by the miles I can run or the meal choices that I make, although those are wonderful accomplishments that I'm proud of. I see my success in the way I view life as an opportunity to accomplish whatever I want, because I know that arthritis isn't enough to block my way.
Alex's True Version of Success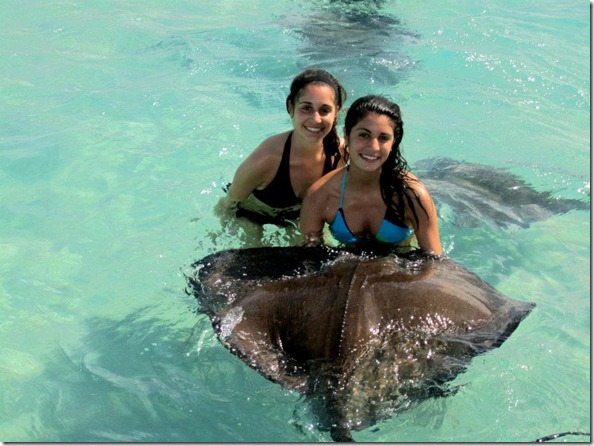 (Alex is on the left; her sister is on the right.  This was a photo from one of their first family vacations in well over five years – Alex previously couldn't go on vacations because of her disorder.)
Alex said:  For nearly five years, I lead this life that the outside world thought was an achievement. I was successful, held leadership positions, and got good grades. Yet since my sophomore year in high school, I developed anorexia, a disorder that revenged every molecule of my body for more than five years.  I had no faith in recovery and saw it as nonsense. In no way did I think it was possible or even desirable to end five years of starving and bingeing. I vividly remember my parents and family crying by my hospital bed when I was hospitalized for 10 days both in 2006 and 2007 for a low heart beat and malnourishment. I remember seeing them falling apart and feeling nothing. My focus was on how to get through this with minimal calorie consumption. Sick, it really shows me how much the eating disorder penetrates the mind, not just the body.
The average wait list for the inpatient facility place that I attended (and for most facilities) was a month. I met with the person for an interview, and I was admitted two days later. They saw the urgency, not just physically, but more importantly mentally. I was at a mental roadblock, not knowing where to turn and in complete denial. Nine weeks in inpatient was the toughest time, more difficult than I had ever imagined. A critical challenge for me was accepting the implications of recovery, the fact that I could not go back to the life I was living. It as as if I was breaking apart from my lover. Through impatient, I gradually started to shed that distorted mindset and façade that had stripped me of everything. I told myself everyday that although it may not feel good, it does good. My journey has had more tears and frustration than a normal lifetime, more digestive issues and painful memories than I would like to remember. The betrayal of abusing my mind and body kept me pushing forward, as did the amazing individuals I met in treatment – both the professional team and the patients that travelled the tough road with me. Emotions and memories will always exist but what I learned was that they do not have to hurt us. They can become part of us. Restricting and bingeing solved nothing for me. I held on to anorexia for five years… why not give life a chance?
And that is what I did. I went back to my college. I suffered through the stares and accepted the questions with my head held high. The thanks I have for those who refused to let anorexia eat me up can't be expressed. How am I in recovery? How did I get to this place? There is no way to answer this with one solution, I still keep those experiences with me so that I can learn. There has to be changes, not easy ones, but fundamental changes in how I lived my life. I had to relearn balance and moderation, I had to learn I deserved food. I had to most importantly commit to recovery. Commit to a recovered life. Recovering is not about gaining weight or winning a healthier body. It is not about being perfect, it is about gaining ourselves.
My success story is that I choose to share my story. I choose to not hide behind my shame but open up my experience for others to learn to help themselves. I recently publicly spoke to a college campus that has a higher percentage of eating disorders than the average population. I spoke without fear of judgment but with the desire to empower other females. I hope this success story is seen as a success, not just for me, but for anyone with the fear of recovery.  (You can read more on Alex's blog.)
Theodora Gets Healthy in the City
Theodora wrote: Almost exactly four years ago, I moved from Washington, D.C. – from where I had been living for seven years but was very unhappy – to New York City. I knew this would change my life, but at the time, I had no idea how. I moved to NYC 50 pounds overweight and spent the first few months enjoying as many of the city's indulgences as I could get my hands on, until I realized that I had to change my life, yet again, this time to take control of my health.
It was a series of moments that led to making the big change. Feeling like I was taking up way too much room in a seat on an airplane. A friend asking me to be a bridesmaid in Aruba. Falling down the stairs, hurting my tailbone, and – for the first time in a long time –  actually being disappointed that I couldn't work out.
But one night, sitting at a bar, I'd just had enough of all of my excuses and "I'll start tomorrows," and I ordered a salad with my hot dog (small changes!).  And then I went into my gym the next morning and found a trainer and haven't looked back since. I lost 50 pounds, have run 2 marathons, 12 half-marathons, and become a much happier, more fit person. My health success story has even rubbed off on my career — I transitioned from working as a legal reporter to working on social media strategy for fitness brands!  (You can read more on Theodora's blog.)
What's awesome about your Friday?