Pregnancy: My expectations v. my reality
Today is a very big day, indeed!  Today marks 37 weeks of pregnancy. That means that I'm officially 'term' (although I'm not due until 40 weeks), and if BabyHTP was born today, he or she would not be considered premature.  What a relief!  There are, of course, many health advantages for BabyHTP if he or she decides to bake another 3 weeks, so I hope he stays put.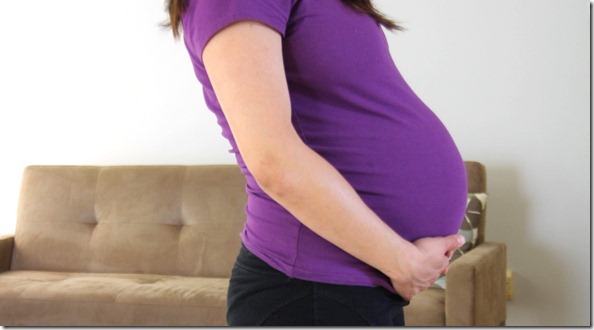 All things considering, I'm feeling pretty good.  Trying to keep up with exercise (lots of swimming this week!) and walking, although I fare better when swimming.
And, with the exception of some mural painting, the nursery is totally finished.  I organized the closet by adding more shelving and sorted out the changing area.  I think this is what people talk about when they talk about nesting.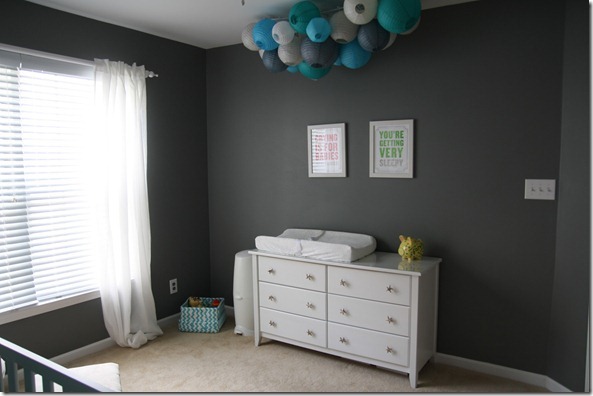 You can see the complete nursery tour here.
(My mom thinks I'm having a girl – hence, the dress.)
In other news… I know I scared a few people by not posting at all on Saturday – I got many emails and comments asking if I was in labor. I promise that, when I do go into labor, I will put up a post indicating that the baby is coming (assuming it's not an emergency situation).  I not only write a blog, but I am a voracious blog reader, and it kills me to wonder what's happening to a blogger if they go MIA – I hit refresh a million times, I complain to my Husband, I check Twitter… I want to know what is happening!  So – I promise.  I won't leave you hanging if I can help it.  I also plan to put up another post when the baby arrives to let everyone know we're okay, but I won't be revealing the sex/name until the end of the birth story because that's how we'll find out.
So – today's post is on my pregnancy expectations v. my reality.  When we found out that we were pregnant, I was scared and nervous, but I also felt like I knew a lot about pregnancy from my friends and reading.  I felt pretty prepared for what was next.  Or so I thought.
Expectation:  I will love every single minute of pregnancy.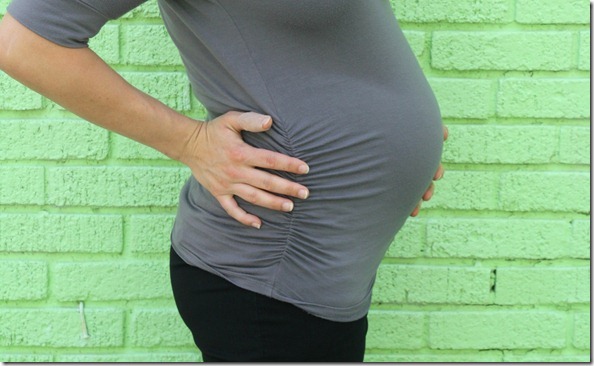 Reality: I think women feel pressured to say that they LOVE being pregnant.  It's almost as if you aren't a constant glowing, smiling pregnant lady, people think there is something wrong with you, you're ungrateful, or you don't love your baby. Look, pregnancy is hard (and I had an easy pregnancy). And just like parenting, just because it's hard doesn't mean it's not worth it.  But it's not all roses and sunshine – another person has literally hijacked your body. I'm looking forward to the baby being on the outside so I can take care of them in a different way… and I can go back to rolling over in bed without groaning, getting out of a chair normally, drinking big glasses of wine, etc.  I like 90% of the pregnancy experience.   I refuse to feel bad about the other 10%.  It doesn't mean I don't love my baby.
Expectation: I will be a pregnant runner.
(Source – My buddy Jen!)
Reality: I wrote about this pregnancy expectation on my Week 29 update.  As much as I wanted to be a pregnant runner, it just did not happen.  Running while pregnant did not agree with my body.  After my 5K at Week 16, I was reduced to walk/running, and shortly after, I quit all attempts at running altogether.  You know what? I'm okay with it. I really do miss running and can't wait to get back at it, but taking a 21 week break (so far) has been kind of nice.  The key has been to find OTHER exercises that I can do and enjoy – namely, swimming.  Swimming has been my lifesaver throughout pregnancy!
Expectation: My body is going to change a lot and, beyond the cute baby bump, I am probably going to hate it.
Reality:  I have gained about 32 pounds thus far.  32 pounds on my 5-foot, 3.5-inch frame.  Even though a lot of it is pure baby and baby accessories, that's additional weight no matter how you slice it.  My thighs do this awesome rubbing-together thing – that induces bleeding! – when I wear dresses.  I've got more cellulite.  I have to wear the Husband's pajamas bottoms… and not because of the bump (because of my widening rear).  I know that my breasts will never, ever look the same when this is all over.  I look back at pre-pregnancy photos of myself and cannot believe I looked so fit.  Damn!  Hindsight is 20/20 – I thought I was a little out of shape when I got pregnant.  But you know what?  I don't hate my 9 month pregnant body at all.  In fact, I usually actively love it.  And I don't just like it because it's the cost of baby – I like it because it's my body.  A few years ago, when writing the first Operation Beautiful book and editing a story about a woman struggling to come to terms with her post-baby body, I decided that no matter what journey my body went through – whether I gained weight, lost muscle, my boobs got big and saggy, I got stretch marks and cellulite – I would never hate my body again.  And I've made good on that promise.  It's not always easy to keep the promise, but when I start to feel negative, I make myself take off all my clothes, stand nekkid in front of the mirror, and think as many positive thoughts about myself and my body as I can.  It's totally corny, but it truly works for me.  (I also love The Shape of a Mother site – it's the ultimate mood lifter.)
Expectation:  I'm going to be sick as a dog.
Reality:  I never threw up.  Not once.  I didn't really have terrible food aversions either.  I never knew this before my own pregnancy, but not everyone gets morning sickness.  I'm thankful!  However, I did not anticipate how exhausting being pregnant would be – I get tired so easily.  I wear out fast.  Especially at this point, my body aches all the time.  It is a grueling experience physically, even if you're having an 'easy' time.
Expectation:  I will worry a lot.
Reality: I have tried really, really hard to have a panic-free pregnancy.  For the most part, I have been successful.  However, the worrying comes in waves.  I am currently feeling very worried all the time. I worry a lot about BabyHTP's health.  I have a hard time visualizing the baby because we don't know the sex, and I think that exacerbates the worrying about health issues (it's a weird correlation, I know, but because I can't see the baby in my mind, I worry about what could go wrong).  I'm trying to let go of these negative thoughts and energy, but it is very challenging.
Expectation:  We will enjoy not knowing the sex of the baby.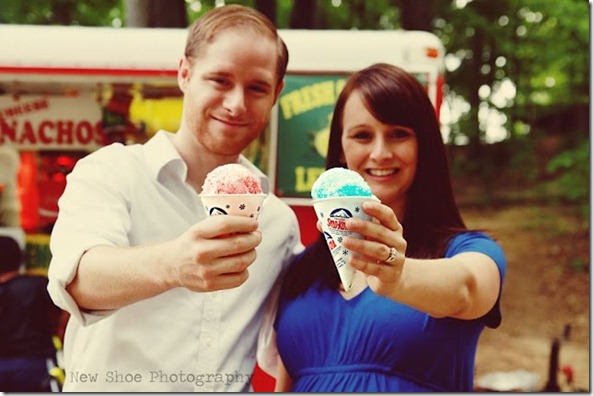 Reality:  WE LOVE NOT KNOWING THE SEX!  I know I just said it drives me a bit crazy, and it does, but overall, I love not knowing if BabyHTP is a girl or boy.  It is so much fun, and I would highly recommend anyone who is considering not finding out to DO IT.  I cannot wait to find out at birth.  It's going to be awesome!
Expectation:  My 'love life' is going down the drain.
Reality:  Without going into details, pregnancy does not have to mean the end of your horizontal polka activities.  Sorry if this is too much information, but I felt the need to add this 'reality' because I can't tell you how many people teased me that the romance – and all that it entails – was over.  I was terrified – others made it sound like pregnancy was the worst thing that could happen to a marriage.  Sure – it's all different.  But your marriage as you know it doesn't have to completely die for 9 months.
Expectation:  Laboring is terrifying.  Parenting is even more terrifying.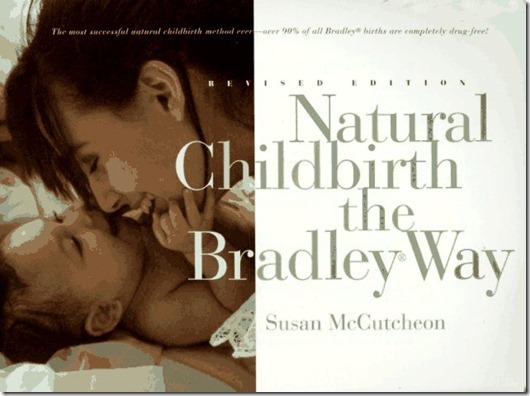 Reality:  I am not scared of labor anymore, thanks mainly to my Bradley classes.  Even if labor doesn't go according to my birth plan, I feel so much more prepared for ANY circumstance and know that I can emotionally and physically deal with it.  Now – parenting is actually truly terrifying.  I think I can handle the newborn stage, but I'm so scared to be the baby of a bigger baby… a toddler… a kid!  I'm confident we'll figure it out as we go – and figure that if I wasn't a little scared, I would be pretty stupid – but still.  I'm nervous to be someone's momma.  I just want to do the best job that I can.
All in all – has pregnancy been everything I thought it would be?  Nope.  In some ways, it was harder.  In some ways, it was a lot easier.  In every way, it was more amazing and beautiful than I imagined.  I have a feeling that's what labor and parenting will be like, too.  You never really know what it's going to be like until you're living it.  Hold on.  It's gonna be a crazy ride.
Of course – this is just MY version of pregnancy.  What were your pregnancy expectations and realities?