Sometimes, all you want is cereal.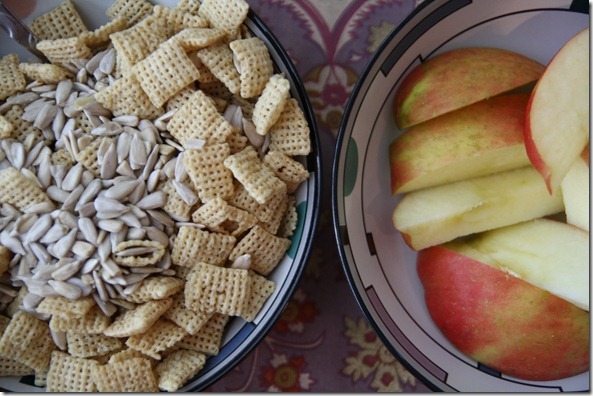 I'm loving Rice Chex lately.  It's inexpensive, available at every grocery store I walk into (not just the fancy ones), is gluten-free, has a pretty short ingredient list, and only has two grams of sugar per serving.  Also – I love that it doesn't get instantly soggy in the milk!  Soggy cereal is the worst.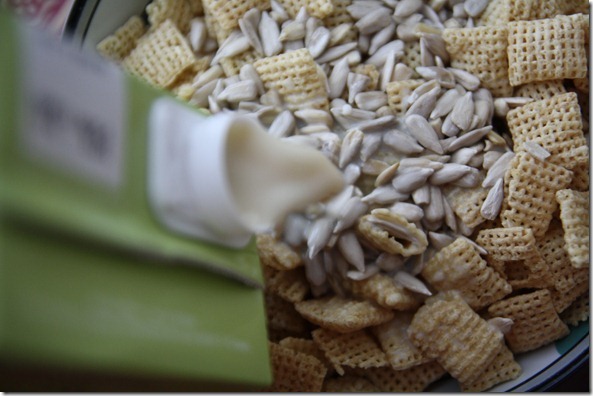 It's a pretty low-calorie cereal, so I end up eating 2 – 2.5 servings to have a proper breakfast.  And I like to pump it up with nuts and fruit.  Yum. 
A few weeks ago, I stumbled on this report on the Environmental Working Group about the unhealthiest kids' cereals.  It was kind of a "duh" study – Wait, kids' cereals are full of sugar?! You don't say! – but interesting nevertheless.  Honey Smacks is nearly 56% sugar by weight, and one cup of the cereal has more sugar in it than a Twinkie (for comparison, the government's voluntary guidelines suggest kids' cereals should have no more than 26% sugar by weight).  In fact, one cup of the other 44 out of 84 cereals surveyed have more sugar than three Chips Ahoy! cookies.  One of my all-time favorite kids' cereals – Honey Oh!s – made the list of the top 10 worst cereals… Damn.  According to the EWG, kids who eat a high-sugar breakfast have more problems at school, have less energy, make more mistakes on their school work, and ultimately feel hungrier by lunchtime than kids who ate a low sugar breakfast.
They've also got a list of the best and worst brands: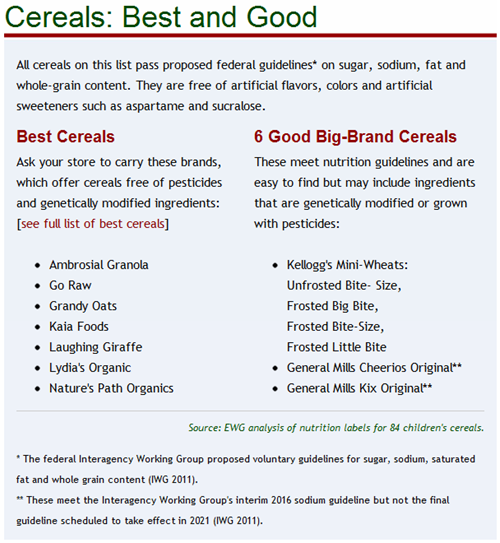 I like that they included big-brand cereals because, let's face it, not everyone can afford or has access to fancy organic cereals like Nature's Path.
Here are 7 Other Awesome Resources from the EWG (I especially love their sunscreen page).
What's your favorite cereal (healthy or otherwise – sometimes, cereal makes a pretty awesome dessert)?