We bought a house with a backyard, and all he wants to do is stare out the front window.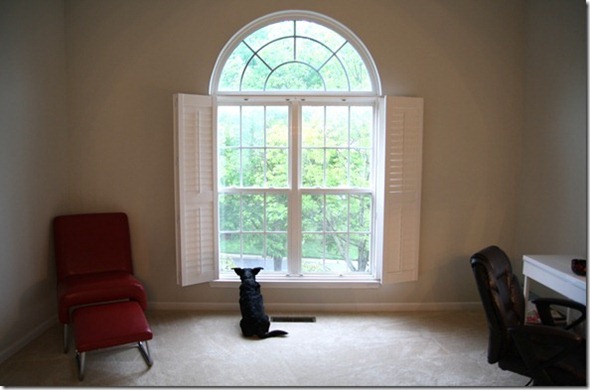 What gives?  All I know is that it makes me feel a lot better about living in a backyard-less apartment for the last five years.
Rise and shine.  Slowly.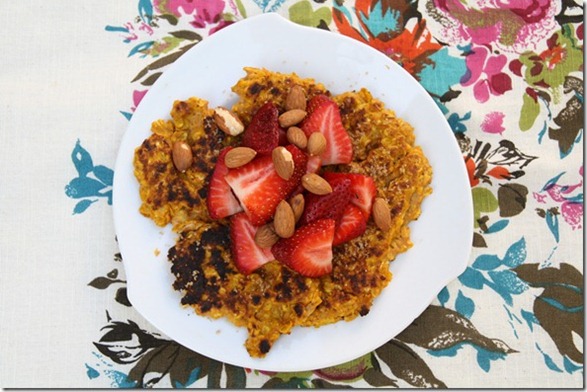 Of all my breakfast recipes, I think this one is in the Top 3.  Sweet Potato Pancake, but made with canned pumpkin instead of potato.
This wasn't the prettiest SPP… it was still tasty though.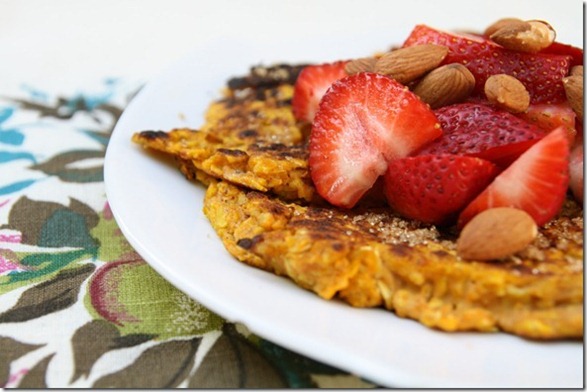 My highlight of yesterday? I gave an Operation Beautiful presentation to a group of 60 local 5th graders.  Although I've spoken to middle schoolers, I've never presented the concept to elementary schoolers, so it was challenging and fun.  I didn't expect them to be entertained through an hour of my babbling, so I broke it up by asking them to write down two negative thoughts that they've ever had about themselves (or heard their mom or friends say about themselves), and then volunteers read their statements aloud… "I'm bad at math," "My mom likes my sister more than me," "I'm weird," "No one wants to be my friend," "I'll never be good at soccer," or "I'm ugly." 
We then ceremoniously tore up our negative thoughts and fed them to my Girls on the Run buddy Negative Nelly.  They had a lot of fun with that.  I explained that we all have a Nelly in our heads that we can feed negative thoughts to whenever we experience them.  She's always hungry!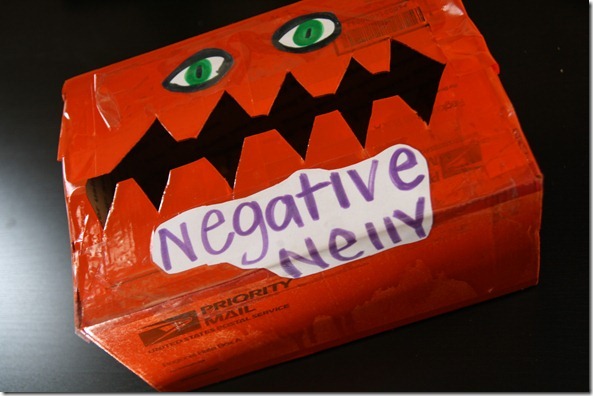 Next, we wrote down two positive thoughts about ourselves – but I asked them to be sure they included at least one internal characteristic so we didn't focus too much on appearance.  I asked the girls if they found it easier to think of positive or negative characteristics, and most said positive, which made me so happy!  Gems included: "I'm a really good friend," "I'm awesome at science," "I always help my dad with chores," "I have shiny hair," "I can trust my friends and they can trust me," "I'm beautiful and unique," and more.  We read a few aloud and then they swapped their cards with the girls sitting next to them so they could see what each other thought was valuable and awesome.
One of the girls had a really good idea – we should all keep a Positive Polly in our heads, too.  But Polly is filled up with positive thoughts.  When you feed Negative Nelly a thought, you should take one from Polly.
Kids… they are so wise.