Happy April Fool's Day!  There is no Maggie 2.0 in my life.  For what it's worth, I would never clone a pet.  I just love the holiday and always do an elaborate blog prank (I think of them months in advance!).  I don't think I'll ever top Wealthy Tipping Point, in which I convinced a ton of people we had won the lottery, thanks in part to this epic blog header that stayed up all day long.

Did anyone else do any great pranks?  Or get pranked?
Our weekend was spent moving into our new place and unpacking.  I never want to see a cardboard box again!  In all seriousness, it was a wonderful weekend – the weekend we've been dreaming about for over a year, when we started the house buying process.  Many of you have asked for a house tour, but I don't want to share messy, unpacked rooms – so let's start with the one room that is as finished as it will be for a while… the kitchen!
But first – one of the big debates between the Husband and I was buying a smaller, older, un-renovated house close to the city (because very nice houses in the city are super pricey) or a larger, newer, nicer house in suburbia.  As a former urban planner, I was firmly in the "city camp," and then Husband was staunchly in "suburbia land." The house we went under contract for this summer (and lost a week before closing) was in the cool part of town.  It was small, older, and un-renovated, but I still loved it.  When we decided to house hunt again, I was pregnant, and my mentality had definitely changed.  Suddenly, I wanted space.  I also didn't want to have to commit to as much work; the first house desperately needed a kitchen facelift and a new master bath, which would've been a huge and expensive project.  So we expanded our search radius by another 3 – 4 miles (which makes a huge difference in a medium-sized city like Charlotte) and ended up buying what amounts to a suburban house – our city friends won't stop ribbing us about it!  But after living here for two days, I'm glad we did.  Sure, I can't walk to coffee shops (boo), but there are lots of stuff within close driving distance, and the house more than makes up for it.  I know location is everything in real estate, but you got to live there, too.  Consider me a changed woman.
Okay, on to the kitchen…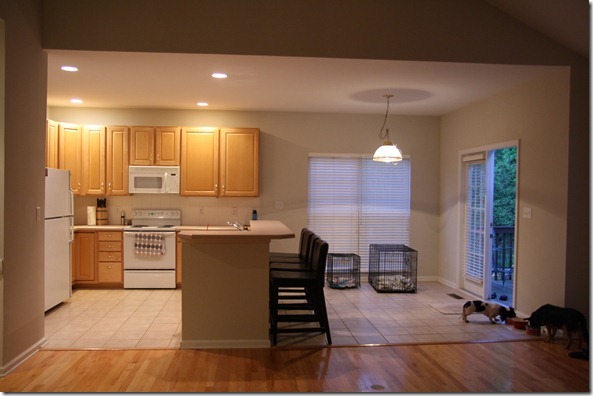 While there are some things I don't LOVE about the kitchen (it's original to the house and thus 15 years old), I certainly like it, and improvements will not happen for a long, long time. 
Things I like: countertop space!  Compared to our city apartment, so much space!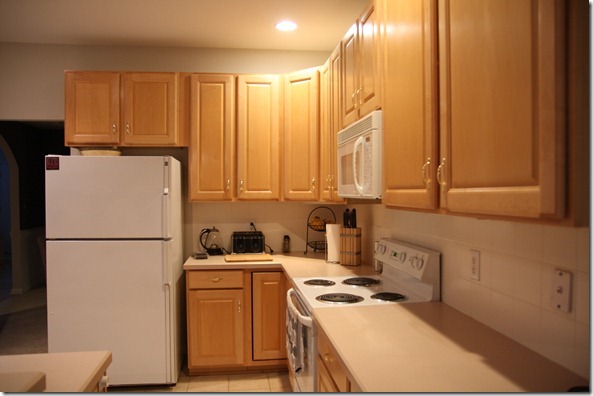 The appliances are also amazing.  We had fancy stainless steel ones in our old place, but our new (old) white stove heats up a million times faster.  Score.  I've only cooked two meals in the kitchen and am still trying to figure out the 'flow' between the stove, fridge, and sink, but so far, it seems pretty functional.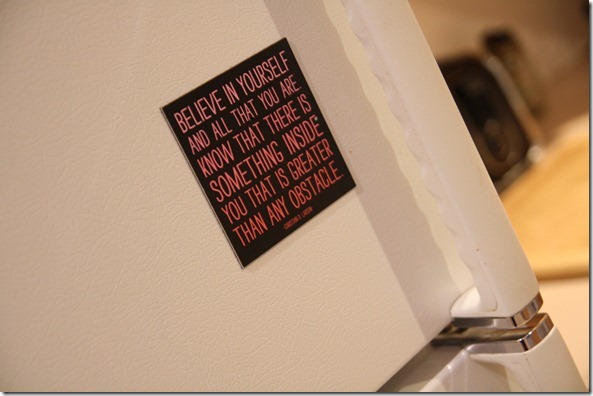 One last wonderful aspect of the kitchen:  There's an eat-in kitchen area that opens to the backyard, so I can open the door and let the breeze in.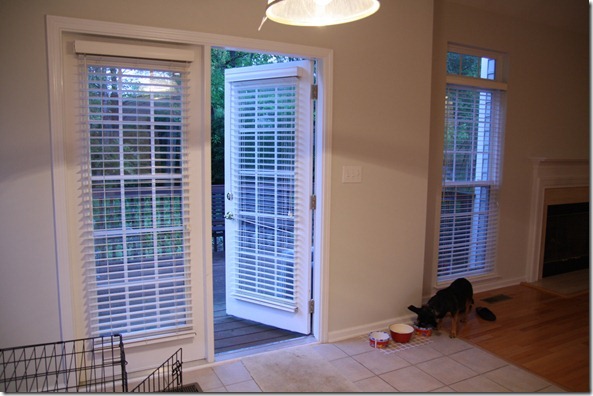 The only ones eating in the kitchen right now, however, are the doggies (just the two – no Maggie 2.0).  We opted to invest in a dining room table first (we've never owned a dining room table in the 9 years we've been together).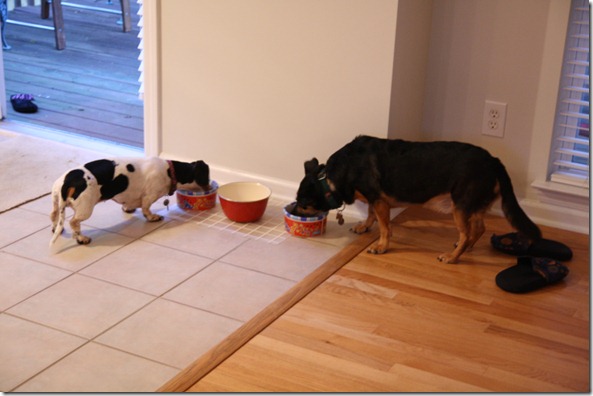 Things that I don't like:  GOLD FIXTURES.  Everywhere. Very mid-1990s.  The entire house is a shrine to gold fixtures.
I strung up the kitchen chandelier so we don't smack ourselves walking under it.
Down the road, we'd love to paint the cabinets white, replace the backsplash and countertops, and change the floor.  But the kitchen is perfectly nice as it is (just not our style), so that reno isn't going to happen for a long time.
So – that's the kitchen where I made this wonderful breakfast.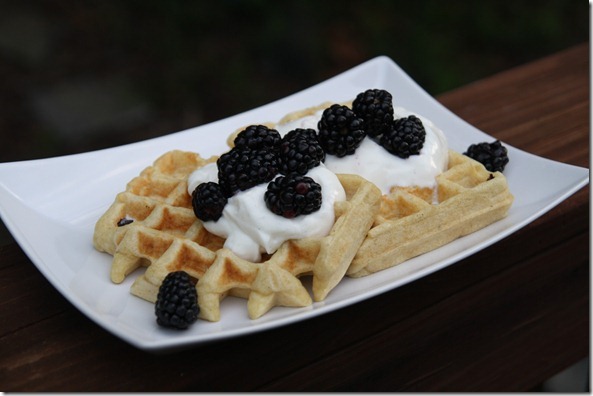 This brand of gluten-free waffle and pancake mix is really good.  I love chewy waffles, not crunchy ones.  This was perfectly chewy.
With yogurt and blackberries.
What do you love and dislike about your kitchen space?