I was the first one up by HOURS and decided to squeeze in a medium-pace "longer" run per my training plan.  We had a rainy night and the grass was covered in dew this morning – perfect running weather!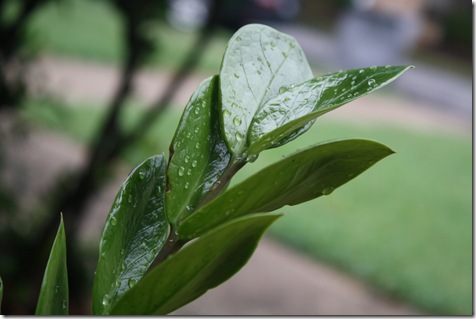 I am so happy to report that I'm within running distance to a large park and a greenway.  After three years of running through commercial districts and past strip malls, I nearly cried with joy this morning as I passed a river, green space, and other lovely amenities.
Here's my statistics:
Duration: 43:27 minutes
Distance: 4.5 miles
Mile 1: 10:03
Mile 2: 9:33
Mile 3: 9:23
Mile 4: 9:55
Mile 4.0 – 4.5: 4:33 (a 9:03 pace)
An excellent run!
Breakfast was eaten in parts. Before my run, I had a slice of bread with PB: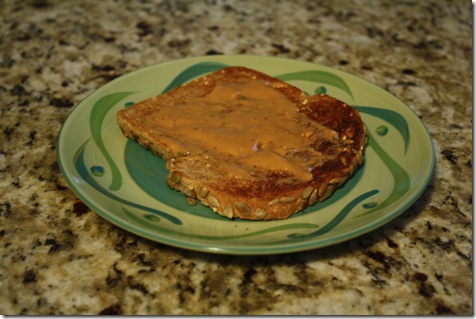 When I got back, I grabbed the Hus and the dogs and we went for a stroll.  Before leaving, I had Chobani pineapple.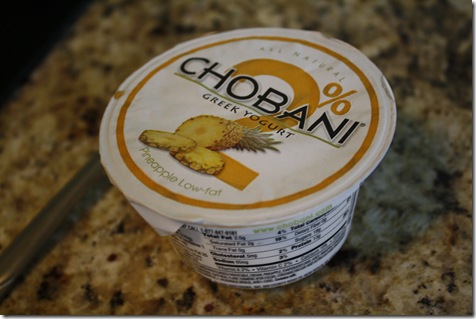 And when we returned, I had a banana.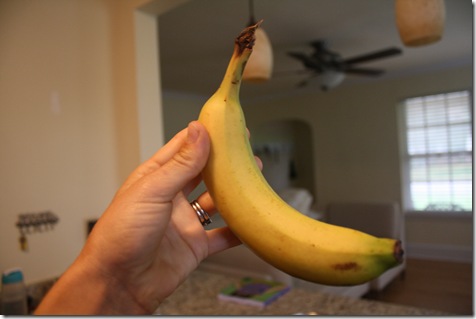 My Former Life as an Urban Planner
Based on the comments from last night's post, it seems a lot of you are interested in walkable neighborhoods!  Did you know I used to be an urban planner for a private consulting firm?
One of my former projects (this is a commercial and industrial project in California – it was recently approved, which is why I can show you!):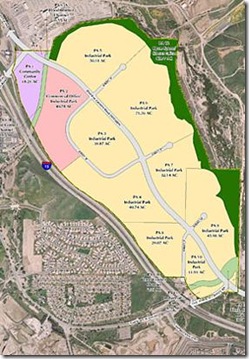 When I was an urban planner, part of my job was to help private land developers work with city and state governments to create attractive communities (mostly residential and mixed-use).  I would write design guidelines and sometimes help formulate land use plans that showed how the different land uses would be laid out (this all relates back to zoning, too).
A few things that make a neighborhood a "good" neighborhood from an urban planning perspective:
Walkability:  We tried to lay out the land uses so people could walk from their homes to work, schools, parks, and commercial shops.  Our plans included lots of sidewalks and trails.  One thing I always notice about an area is whether there is a landscaped parkway (a strip of grass) separating the curb from the sidewalk.  This is a sign of a really nice neighborhood!
Recreation Centers:  In California (where most of my projects were located), the State requires that new projects provide 5.0 acres of parkland for every 1,000 projected residents.   Pretty cool, huh?
Mixed-Use Areas:  We hardly ever built projects that were straight residential communities and tried to integrate shopping centers into the neighborhoods.  Plus, when people can walk to shops, they create less pollution. 
Open Space:  There's a fine balance between good, clustered development and TOO MUCH development.  I really believe it's important to set aside some land for open space, whether it's for recreation or conversation.  California's CEQA (California Environmental Quality Act) law is really strict in requiring mitigation, which means developers have to protect land if there's an endangered species on the property.  Pretty cool!
I really liked urban planning because I felt like I was doing something that directly impacted how people experienced life.  A single sidewalk can really improve someone's quality of life!  I don't really miss the actual job, though.  :) 
Have you made a career change? What was your previous job and what are you currently doing?  Do you WANT to make a change?